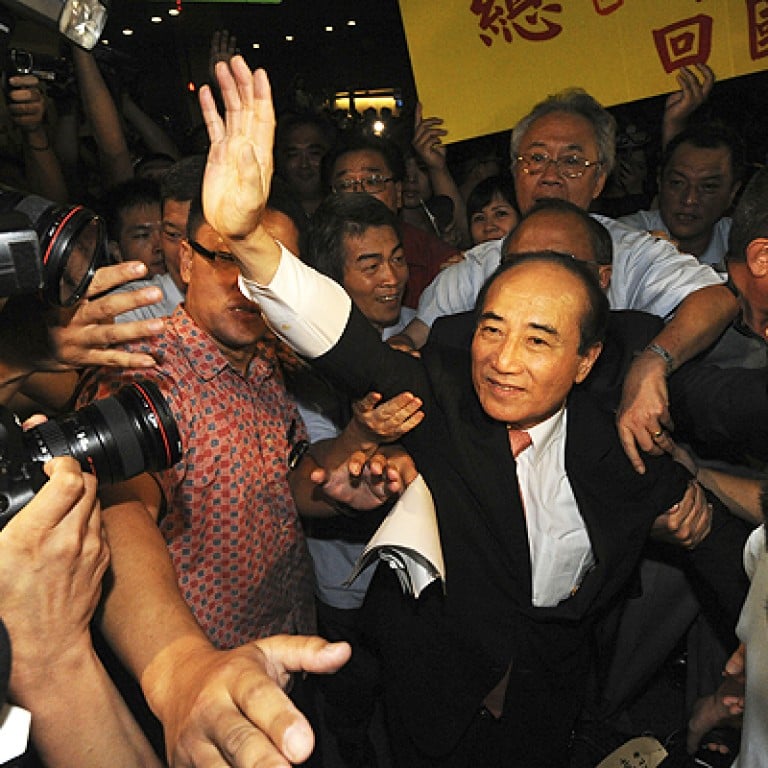 Taiwan legislature speaker denies claims of influence-peddling
Long-time legislative leader Wang Jin-pyng returns from abroad amid storm over alleged court interference that led justice chief to quit
Taiwanese Legislative Yuan President Wang Jin-pyng last night denied influence-peddling allegations that could see him expelled from his party and the powerful post he has held for more than a decade.
Wang's remarks upon returning from a trip abroad were his first public response to claims by Supreme Prosecutor's Office investigators that he used his influence to interfere in a criminal case against a prominent lawmaker.
The ruling Kuomintang, which is led by Wang's longtime rival, President Ma Ying-jeou, has called a disciplinary committee meeting for today in his capacity as Kuomintang chairman to consider how to handle Wang's actions. Expulsion would cost Wang the legislative post he has held since 1999.
In a news conference at Taiwan Taoyuan International Airport, Wang criticised the Supreme Prosecutors Office for "unilaterally determining that I was involved in an influence-peddling case while I was abroad".
"This is tantamount to giving a sentence without a trial," told a crowd of about 1,000 supporters who greeted him at the airport. He was returning from his daughter's wedding in Malaysia.
The Supreme Prosecutors Office's special investigations division has accused Wang of lobbying former justice minister Tseng Yung-fu to quash an appeal in a criminal case against Democratic Progressive Party whip Ker Chien-ming. It has presented wiretap transcripts to back up its claims.
Tseng resigned from his post after the allegations were first made public on Friday.
Last night, Wang said he only told Tseng and Taiwan High Prosecutors Office chief Chen Shou-huang to adhere to a legislative resolution directing prosecutors to avoid wasting resources on unnecessary prosecutions or appeals.
"[I] did not ask [them] not to appeal," Wang said. "Therefore my telephone conversations with Tseng and Chen are not influence peddling."
Ma has called the allegations against Wang "the most serious infringement of Taiwan's judicial independence" and the "most shameful day in the development of Taiwan's democracy".
Wang continues to have strong support in the KMT and some insiders have warned that Ma risks causing a split in the ruling party with his harsh criticism of the long-time legislative leader.
"I have been a KMT member for years and have supported my party all along," Wang said. "I will never leave or abandon my party."
In response, Lo Chih-chiang, deputy secretary general of the Presidential Office, said Ma was "very disappointed that Wang tried to shift the focus".
Earlier, Lien Chan, the former KMT chairman and vice-president, told local media that Ma should never have used such harsh words to humiliate the head of the legislature, especially in his absence.
This article appeared in the South China Morning Post print edition as: Speaker denies claims of influence-peddling