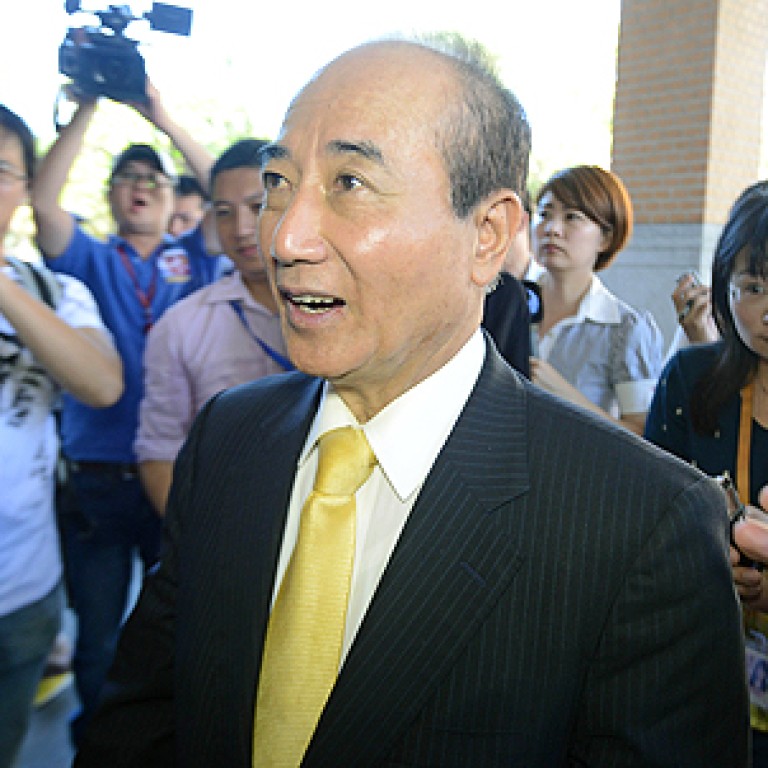 Taiwan speaker Wang Jin-pyng wins reprieve
Crisis for KMT deepens as Wang Jin-pyng wins court order against his expulsion by party and is set to remain in post for start of new session
Taiwanese President Ma Ying-jeou faces a deepening political crisis after legislative speaker Wang Jin-pyng secured a court order blocking Ma's bid to oust him from his post.
Barring any further court action, the injunction issued by Taipei District Court means Wang will be free to preside over Taiwan's Legislative Yuan when its new session begins on Tuesday.
"The court said if the injunction was rejected, it could create a substantial risk and an imminent crisis caused by Wang not being able to perform his duty," said Chen Ming, a lawyer for Ma's ruling Kuomintang.
Chen said the KMT would file an appeal on Monday.
The ruling restores a political foe to a position of influence over Ma's agenda and risks opening a rift in the KMT, in which Ma and Wang both have strong bases of support.
As speaker, Wang and his allies could delay or prevent Ma's efforts to push through controversial measures, observers said.
Ma - a longtime rival of Wang's - has already been struggling amid low popularity to advance his legislative agenda, including a pact to open more trade services between Taiwan and the mainland.
The widening political storm will be closely watched by Beijing, which has credited Ma with helping to establish the closest cross-strait ties since the end of the civil war six decades ago.
Wang sought the injunction after the disciplinary committee of the KMT voted on Wednesday to strip him of his party membership, thereby barring him from serving as speaker.
Ma, as KMT chairman, had called for Wang to step down after internal investigators from the Supreme Prosecutors Office accused him of lobbying former justice minister Tseng Yung-fu to drop an appeal against an opposition lawmaker's conviction in a breach-of-trust case. Tseng resigned last week.
Ma's attack on Wang was privately criticised by some KMT members, who warned that he risked creating a split in the party.
Wang, who was abroad when the scandal broke, denied allegations that he attempted to interfere in the court proceedings.
But the KMT expelled him, nullifying his status as a legislator and removing him as speaker.
Wang's lawyer Hsu Ying-chieh hailed the court's ruling and urged the KMT not to waste more judicial resources with an appeal to a higher court. Hsu said the court ruled Wang must pay a bond of NT$9.38 million (HK$2.5 million).
Ma's office said yesterday the president respected the court's ruling. Meanwhile, Premier Jiang Yi-huah, who had also called for Wang's resignation, said he would attend the opening of the new legislative session on Tuesday to deliver the administrative report required by the constitution.
This article appeared in the South China Morning Post print edition as: Speaker scuppers moves to sack him