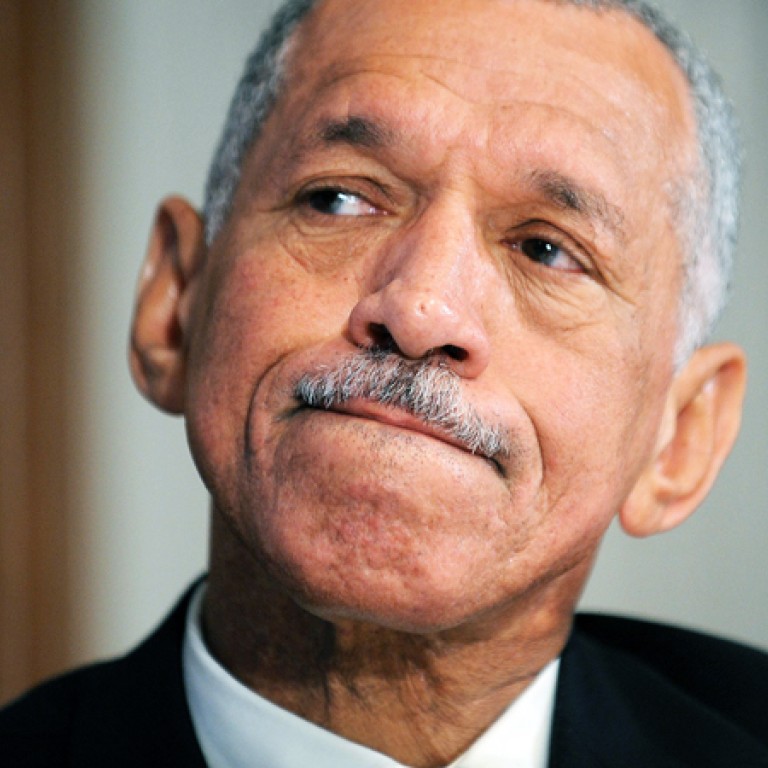 Nasa chief Charles Bolden to visit Beijing
US space agency boss to attend gathering under watchful eye of US Congress which has blocked efforts to co-operate with Chinese counterparts
Nasa chief Charles Bolden will visit Beijing next week to take part in an annual gathering of space agency chiefs, although he avoided saying whether he would meet his Chinese counterparts.
Direct contact between the two sides is carefully watched by US congressional lawmakers, suspicious that co-operation could give Beijing an opportunity to steal technology.
Bolden, the administrator of the American space agency, said in Tokyo yesterday he would visit Beijing on September 27 to attend the last day of the International Astronautical Congress (IAC).
"In China we will be meeting with the heads of international partners of the International Space Station [ISS], as well as the heads of some space agencies that don't participate, but with whom we have partnership," he said.
Bolden did not respond directly when the in a media conference call asked about collaboration between US and China in such areas as manned space flights. "We also support any nation that seeks peaceful utilisation of space, and that goes to everyone," he said.
The visit would be Bolden's second. In 2010, he led a small delegation to China and spent six days visiting facilities, such as the Jiuquan Satellite Launch Centre, and held discussions with national space authorities.
In a statement released after that visit, Bolden said: "I believe that my delegation's visit to China … can form the basis for further dialogue and co-operation in a manner that is consistent with the national interests of both of our countries."
But the trip drew criticism from some US lawmakers. The following year, Congress banned the use of federal funds for any collaboration between Nasa and China. The clause was inserted into a spending bill, by congressman Frank Wolf, a Republican from Virginia, who opposed working with any space programme "run by the People's Liberation Army".
While Bolden shied away from the topic, Wang Zhaoyao , the director of the national manned space engineering office, told Xinhua on Monday they had started talks and exchanges with the US.
China plans to finish construction of its space station by 2020, the same year when the International Space Station is scheduled to be retired.
The Chinese space station, although smaller in size, is designed to have 20 pressurised compartments, compared to the ISS's 16, Wang said.
After the space station went into operation, the nation would open its door to astronauts from other countries, including to help train them, he said.
"Co-operation should be either bilateral or multilateral, with diversified and flexible models based on peace and a win-win co-operation," Wang said.
Joint Sino-US efforts to advance space technology, while welcomed by many in the industry, may be some time away.
Professor Huang Hai, assistant dean of the School of Astronautics at Beihang University and who plans to attend the IAC next week, said there were no signs the more co-operation would happen any time soon.
"In international meetings the US partners are often very careful when speaking to us," he said. "We have lots of things to share, but no one dares to speak. The situation is hurting the development of global space efforts. If China and the United States could join hands, we would reach Mars much sooner."
This article appeared in the South China Morning Post print edition as: NASA chief plans visit to Beijing