Bo Xilai
Get more with myNEWS
A personalised news feed of stories that matter to you
Learn more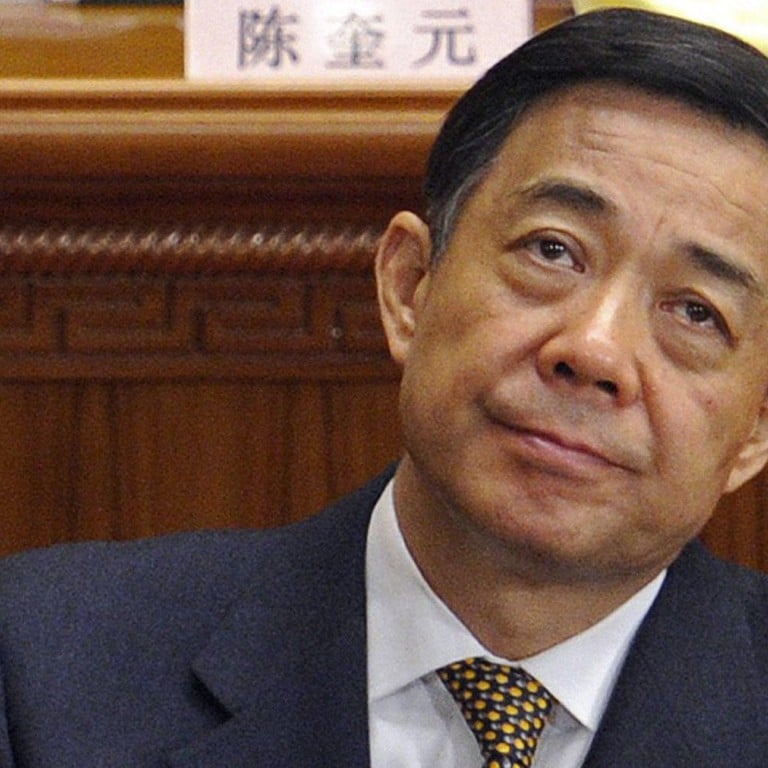 Court's point-by-point verdict on Bo Xilai
Bo Xilai's spirited rejection of some of the claims against him attracted worldwide attention. But it cut little ice with those who sat in judgment
The Jinan Intermediate People's Court accepted just two of the points former Chongqing party chief Bo Xilai made in his defence as it jailed him for life yesterday. The court, in a transcript released on its official weibo account, set out its point-by-point rebuttal of Bo's defence. It also detailed ways in which he abused his power after the crimes of his wife, Gu Kailai, and the attempted defection to the US by his key lieutenant, Wang Lijun.
I confessed under duress.
Under Chinese law, the use of corporal punishment, corporal punishment in disguised form, or spiritual torture to interrogate and extort confessions is illegal. The "pressure" Bo faced did not involve any such act.
I did not know that [Dalian -based billionaire] Xu Ming was paying the expenses for my wife and son [Bo Guagua].
Bo's denial in court is invalid as his written statements before the trial matched the testimony of Xu Ming and others, showing he not only knew that Xu Ming was financing Bo Guagua's study abroad but also understood well their deal - exchanging power for money. Whether Bo knows the exact amount or not makes no difference.
I had no knowledge of the villa in France [bought on behalf of Bo's family with cash from Xu Ming].
Bo mentioned the villa in his statements before the court heard evidence and testimony from others, ruling out the possibility that he was forced to confess on the point.
Gu's testimony was inadmissible as she was crazy and perjured me.
Gu's testimony was given when she was in custody and off drugs.
Testimony from Xu Ming, Wang Lijun and others was questionable.
Their testimonials supported each other's and were partially echoed by Bo's own statements. There was no basis for Bo to question the veracity of the testimony.
Evidence regarding the French villa was collected outside the People's Republic of China and was therefore inadmissible.
Though collected outside China, evidence can be admitted as long as the court approves it. Evidence regarding the French villa was clearly sourced (submitted to the court from French architect Patrick Devillers, Xu's mistress Jiang Feng Dolby and from documents acquired from Xu's home) and supported by testimonials.
The court lacked evidence that Gu was the true owner of the villa.
Gu had been the sole shareholder of the company that owned the company that owned the villa. Gu's manipulation of the nominal owner of the villa showed Gu's de facto ownership of the villa, even though the home was not registered under Gu's name.
Gu's testimonial that she withdrew US dollars and yuan from the family safe three times is invalid.
Gu's testimonial could prove she did withdraw money, but could not prove a link to bribes Bo accepted from [former business associate] Tang Xiaolin .
Receipts submitted for Bo Guagua's expenses, paid by Xu Ming, do not add up.
The key facts were clear, but some amounts were not supported by receipts. The court partially accepts the point and 1,343,211 yuan (HK$1.7 million) is removed from the sum his family is said to have received in bribes.
After Wang Lijun told Bo Xilai that Gu Kailai murdered [British businessman] Neil Heywood, Bo put the personnel on the case under investigation, tried to remove Wang from power and announced Wang's removal without following the legal procedures. Wang's testimony showed that his decision to flee was driven by fear for his own safety and was directly related to Bo's abuse of power. After Wang fled, Bo allowed Gu to help decide how to handle the situation and agreed to blame Wang's flight on mental illness. "Bo authorised the release of bogus news that Wang went on 'holiday-style treatment' while knowing his true whereabouts, misled public opinion and resulted in bad social impacts," the court said.
This article appeared in the South China Morning Post print edition as: The court's verdict on Bo