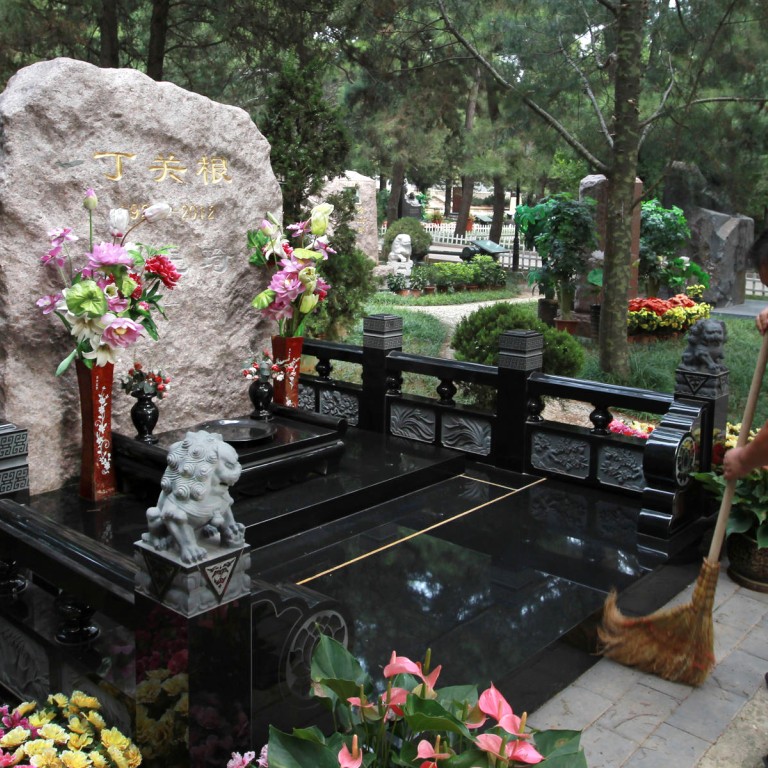 Babaoshan struggles to meet demand as cadres' final resting place
For party veterans, few honours match being laid to rest alongside comrades in Babaoshan
The prestigious Babaoshan Revolutionary Cemetery, where revolutionary heroes and mid- and high-level cadres are buried, mirrors the history of the Communist Party.
That is why an expansion plan announced by the Beijing municipal government last week served as a reminder that many of the first- and second-generation senior party cadres have passed away as the People's Republic of China approaches its 64th anniversary on October 1.
The cemetery was originally a temple garden built by an emperor in the Ming dynasty (1368-1644) to commemorate a favourite eunuch.
After the founding of the People's Republic in 1949, then premier Zhou Enlai ordered the capital to find a location to bury communist revolutionary heroes. The temple garden, which sits in Shijingshan district in western Beijing, was chosen as the site of a cemetery covering about 100,000 square metres.
It is the resting place of early Politburo figures Qu Qiubai and Ren Bishi. The ashes of marshal Zhu De and Bo Yibo, the late father of disgraced Chongqing party boss Bo Xilai, are also kept in the cemetery.
Video: Beijing plans cemetery expansion
Babaoshan, which translates as "Eight Treasure Mountain", was divided into three districts for cadres of different ranks. Currently, only the bodies of cadres at the bureau level and above can be buried in the cemetery.
An outdoor wall with niches was built to accommodate more urns in 1958. In 2006, a new wall, with seven rows of shelves, was built to for 3,400 niches.
"To be buried in the Babaoshan Revolutionary Cemetery has been a symbol of high power and position. That's why people fight for a slot," said Zhang Lifan, a party historian.
In recent weeks, a comment attributed to disgraced oil firm chief Jiang Jiemin has been circulating online. It claims Jiang told his former associates his aim was "to set foot in Zhongnanhai [the office of the state leaders] when he was alive and to be laid to rest in Babaoshan when he died".
The Beijing Municipal Commission of Urban Planning revealed last week that it would expand the columbarium by 9,540 square metres and the cemetery's office space by 630 square metres. The wall would be 620 metres long with room for 10,020 niches when completed next May, reported
When the expansion is complete, one niche was expected to cost 15,000 yuan (HK$19,000), which included construction of a steel character carving, an official said, adding: "There's no graveyard space left."
The ashes of Zhang's father, Zhang Naiqi, also a historian who once served as the head of the Food Ministry, are at Babaoshan.
He died in 1977 and was cremated. With a rank equal to a State Council member, the family was permitted to store his ashes in the indoor hall. "The ashes of lower ranking officials go to the outdoor niche wall," Zhang said.
One of the cemetery's highest-profile funerals in recent years was that of disgraced party boss Zhao Ziyang in 2005. He was cremated in Babaoshan, but due to his role in the June 4 pro-democracy movement in 1989, the ashes were moved to his family's home.
Not all late leading figures are placed in the cemetery. Mao Zedong's remains have been placed in the mausoleum bearing his name in Tiananmen Square. Deng Xiaoping's ashes were scattered at sea.
"There has been a trend whereby some officials' families want to bury their parents in their hometown, where there is more space and ideally with water and mountain views," Zhang said.
This article appeared in the South China Morning Post print edition as: Eight Treasure Mountain still holds its allure