Bo Xilai
Get more with myNEWS
A personalised news feed of stories that matter to you
Learn more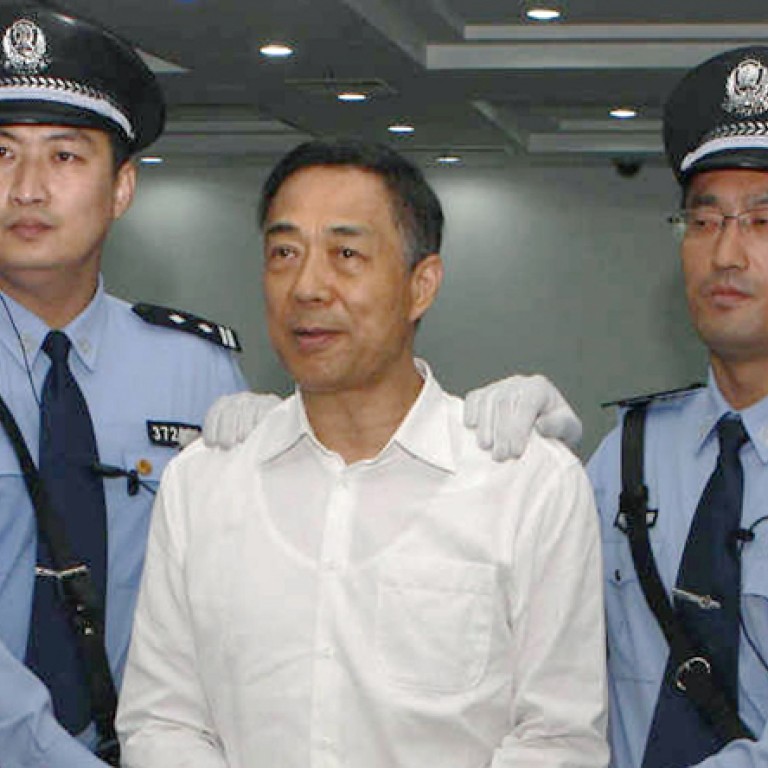 Bo Xilai's cries of defiance after he is sentenced to life in prison for corruption
Explosive ending to politically charged trial as shamed princeling yells out 'Unjust!' after being found guilty of corruption and abuse of power
Bo Xilai erupted in anger as he was sentenced to life in prison for corruption yesterday.
The fallen former Politburo member yelled out "Unfair!" and "Unjust!" in an explosive ending to one of the country's most politically charged trials in decades.
The Jinan Intermediate People's Court in Shandong found him guilty on all three counts of bribery, embezzlement and abuse of power.
But before being forcibly taken away by the court's guards, Bo shouted: "The decision was not based on facts. The court is neither open nor just and didn't take the points made by my defence lawyers and me."
The defiant outburst - consistent with the combative defence Bo maintained during his five-day trial last month - was omitted from official accounts of the proceedings.
The court's microblog said only that Bo "was escorted out of the courtroom" after the verdict was announced.
China Central Television broadcast footage of handcuffed Bo - wearing an open-necked white shirt, black slacks and black trainers - showing a hint of a smile as the verdict was read out.
Outside the court, the police presence appeared heavier than during the trial, underscoring the sensitivity of the event.
The sentence is the most severe punishment of a former Politburo member since the so-called Gang of Four's trial in 1980-81.
And it capped an 18-month political drama that some feared would cause a major rift in the Communist Party.
The sentence surprised some analysts who believed that Bo, formerly the Chongqing party boss, would receive a relatively light punishment.
Zhang Ming, a political science professor with Renmin University in Beijing, had expected a sentence of 20 years.
"The severe punishment was due to Bo's refusal to admit to the charges against him," Zhang said. "The top authorities were certainly not happy about that."
He added that the sentence would also demonstrate the leadership's resolve in the anti-corruption drive launched by President Xi Jinping.
As the princeling son of the late revolutionary Bo Yibo , Bo was seen as a standard-bearer for the party's more conservative wing.
His campaigns to revive Mao Zedong-era culture and to crack down on crime made him popular in Chongqing, but a controversial figure among rights advocates and party liberals.
Bo, 64, now faces the prospect of life behind bars, although mainland criminal law could allow his sentence to be commuted to 15-20 years after he has served two years and made an "extraordinary contribution".
However, the sentence means Bo cannot expect to be released until after the 20th party congress in 2022, when Xi would be expected to retire as party chief.
Zhang said: "It serves to manifest [the leadership's] determination and also ensures Bo won't get out during their tenure."
A source with the State Council, China's cabinet, said the leadership tried to account for all possibilities while deciding on Bo's sentence.
If he had been given a lighter sentence, such as 15-20 years, he could potentially have been released in as few as eight years.
"Then, he could still become a very destabilising factor for the party," the source said.
Specifically, Bo was sentenced to life for taking bribes worth 20.4 million yuan (HK$25.7 million), 15 years for embezzling 5 million yuan and seven years for abuse of power by demoting his former police chief, Wang Lijun . The sentences will run concurrently.
But the court accepted that the prosecution failed to present enough evidence to convict him of taking 1.3 million yuan from Dalian businessman Xu Ming to provide air travel for his wife Gu Kailai and son Bo Guagua.
Gu has already received a suspended death sentence for murdering British businessman Neil Heywood. Wang was sentenced to 15 years in prison for bribery and abuse of power, among other crimes.
Bo has 10 days to file an appeal, something his family and associates expected him to do.
Former Politburo member, former Beijing party chief Chen Xitong sought unsuccessfully to overturn his corruption conviction a decade ago.
Additional reporting by staff reporter
This article appeared in the South China Morning Post print edition as: Bo sentenced to life with a final cry of defiance