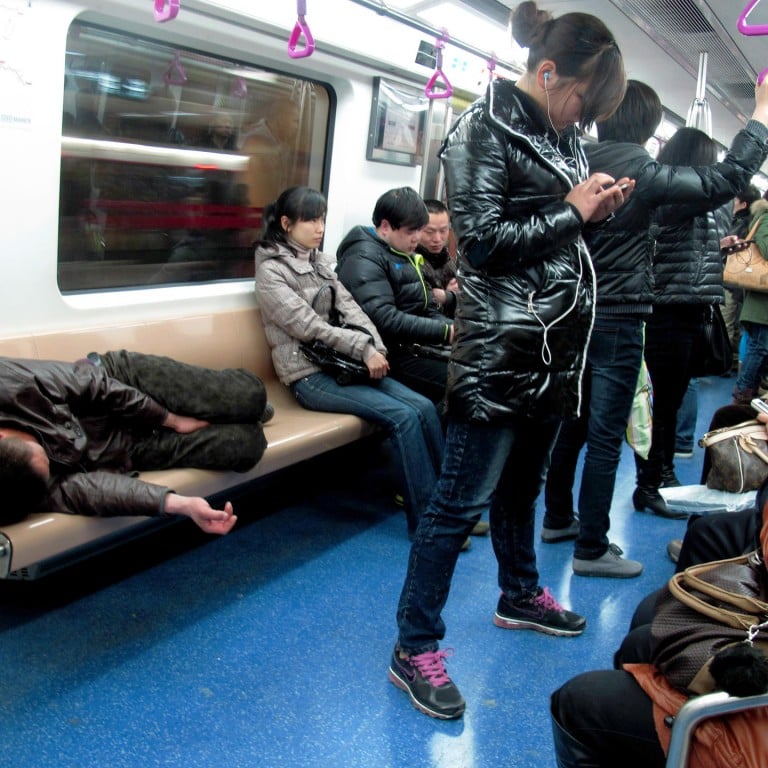 Debate over behaviour on Beijing's subways
Rules conferring rights on mainlanders who travel for leisure take effect next week. Can they also change public behaviour?
A new tourism law that comes into force on Tuesday is designed to address the woes that have long dogged the mainland's soaring tourism industry. But will it put a stop to children urinating on the subway?
Children answering the call of nature on public transport, sometimes with the consent of their parents, is just one type of misbehaviour that a rising number of mainlanders, aspiring to more refined norms of public manners, find embarrassing.
Song Yating, a 25-year-old fashion industry worker, is one of many Beijingers who witness arguments, fights and other kinds of misbehaviour on the huge Beijing Subway on a daily basis.
What bothered her most recently was seeing a mother take up three subway seats during the rush hour to change her baby's diaper.
"It was so crowded. Why would the mother need three seats to change a diaper?" Song said. "If I become a mother, I will never do that. Or I would try to avoid travelling with a baby during rush hours."
Another woman, 51, who also rides the subway to work, said she saw fights every day. "When it gets crowded, people lose their tempers easily," she said.
Recently, she witnessed two fights in one day, with arguments breaking out between people when they bumped against each other by accident and the situation escalating from there.
"I think it's because of the gap between the rich and the poor," she said. "People who are struggling in life need some way to show their anger. They snap on subways."
The Beijing Subway has a ridership of more than 10 million per day - more than twice the four million of Hong Kong's MTR, according to data from the Beijing Mass Transit Railway Operation Corporation.
The network, which had 440 kilometres of track last year, is expected to grow to 660 kilometres by 2015 - about twice the size of Hong Kong's.
Johnny Li, 33, a Hong Kong native whose business is in Beijing, said he had never seen a fight break out on the capital's subways. But he travels mostly outside of rush hours.
He also thinks Beijing subways are more civilised than those in southern cities such as Guangzhou.
"People there have less sense of keeping their distance," he said. "In general, mainlanders are less sensitive than Hongkongers or Westerners about the need for [personal] space."
The most embarrassing subway scenes he has seen are children urinating in Hong Kong and Guangzhou. "When such things occur, local media assume the misbehaviour is all by mainlanders. But I'm not so sure."
In Hong Kong, a Putonghua-speaking girl was seen urinating inside an MTR carriage in late July. In April, a video clip showing a couple allowing their child to defecate in an MTR station went viral.
In Shanghai, police recently arrested a family for physically attacking a passenger who tried to stop them from allowing their infant to urinate in a subway, Dragon TV reported.
Dai Bin , director of the China Tourism Academy, says it is a Chinese cultural trait that people do not necessarily think that infants urinating in public is something dirty. "But that doesn't mean we encourage children to do that," Dai said.
In an effort to tame its own subway system, Shanghai has proposed banning eating and drinking on the Metro. It would be the third mainland city, after Guangzhou and Xian , to do so.
Dai said that when considering mainlanders' behaviour when they travelled, it was important to note that domestic and especially overseas tourism was a relatively new experience for most of them.
"There is a lot for Chinese to learn when they travel," he said.
That education should be helped by the new law. It sets out the rights of tourists, safety standards requirements, the dos and don'ts for tour operators, as well as the handling of complaints.
It comes as mainlanders, with rising disposable incomes, flock to attractions both at home and overseas. Dai's organisation estimates that more than 300 million mainlanders will travel domestically this year while the number visiting other countries will surpass 95 million.
"Many of these people are not used to travelling across the country or abroad."
So far Beijing has no bylaws on passengers' behaviour, such as the ban on eating and drinking on Hong Kong's MTR. However, the new tourism law may help to control people's public behaviour. "The law defines people's obligations when they travel. When they fail to behave properly they may get punished."
This article appeared in the South China Morning Post print edition as: Debate over behaviour on Beijing's subways