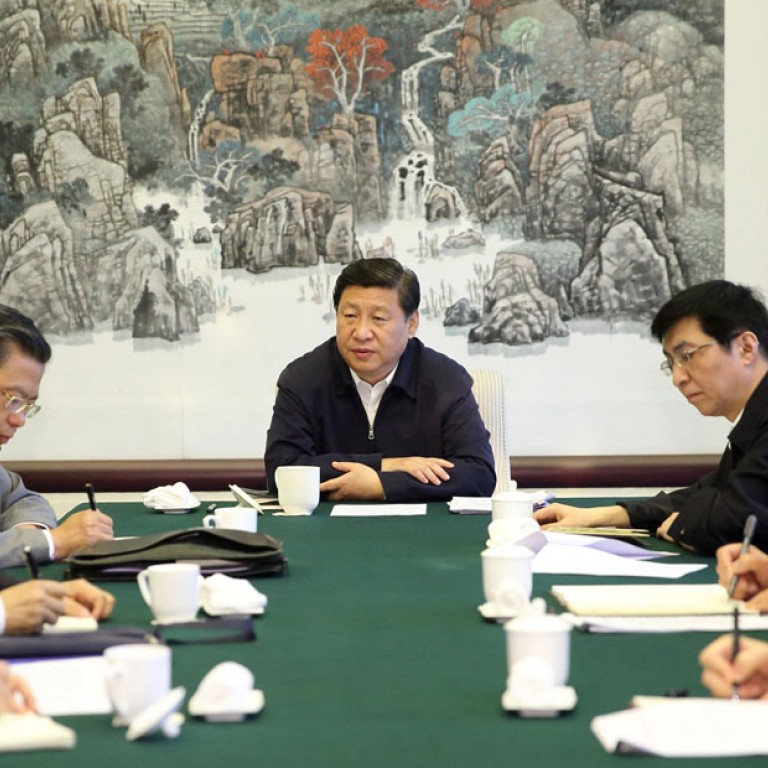 Sweating and on the verge of tears: Chinese officials carry out self-criticism on TV
The "democratic life meetings" were spread over four half-days in Shijiazhuang, capital of Hebei this week.
Senior officials revising their self-criticisms nearly 30 times, sweating and "almost in tears", confessing their mistakes and accusing others.
Such meetings used to be closed-door sessions. But this time they were held in front of state TV cameras, and with president and party chairman Xi Jinping sitting next to them.
The "democratic life meetings" were spread over four half-days in Shijiazhuang, capital of Hebei this week.
The concept was introduced by the communists in Yanan in the early 1940s and hailed by the party as a tool to bring democracy to the party by allowing people to voice their opinions about one another.
However, they have become better known as platforms for power struggles. Late party chief Hu Yaobang was sacked at a "democratic life meeting" in January 1987.
According to Hebei's senior officials started preparing for the meetings in mid-July. Coached by a central supervisory team, senior provincial officials collected 171,200 suggestions and grass-roots complaints from 8,000 villages via 24,000 village officials.
After that, they held one-to-one exchanges, then were required to write self-criticism reports. Most of them had to revise their articles several times, and in one case 29 times.
"I sweated and several times almost broke into tears [in soul searching]," an unnamed official was quoted by Xinhua as saying.
Propaganda head Ai Wenli admitted they had spent 3.3 million yuan (HK$4.2 million) in inviting pop stars to a spring festival gala. Executive deputy governor Yang Congyong said the Hebei government had overspent its budget by over two times last year, according to CCTV.
"After being posted to Hebei, I was too eager to change and cared too much about economic growth. I didn't pay enough attention to normal people's concerns," quoted Zhou Benshun as saying. Zhou was previously secretary general of the party's Political and Legal Affairs Commission.
The officials were also made to point fingers at each other. Zhou was criticised for not being democratic; in turn he criticised the party chief of Qinhuangdao for being too eager to win the praise of supervisors.
"More [provincial heads] will follow. They need to show their loyalty to Xi in this form," commented Zhang Lifan , a political affairs analyst in Beijing.
"Xi wants to further strengthen his authority before the third plenary meeting [of the party's Central Committee in November, when some observers expect major reforms to be discussed]. Such campaigns create an atmosphere that senior officials would worry about their safety. However, it's not possible for Xi to get the kind of authority Mao Zedong had," said Zhang. "This is outdated. In the current information era, its impact will be short-lived."
This article appeared in the South China Morning Post print edition as: Senior officials sweat over self-criticisms