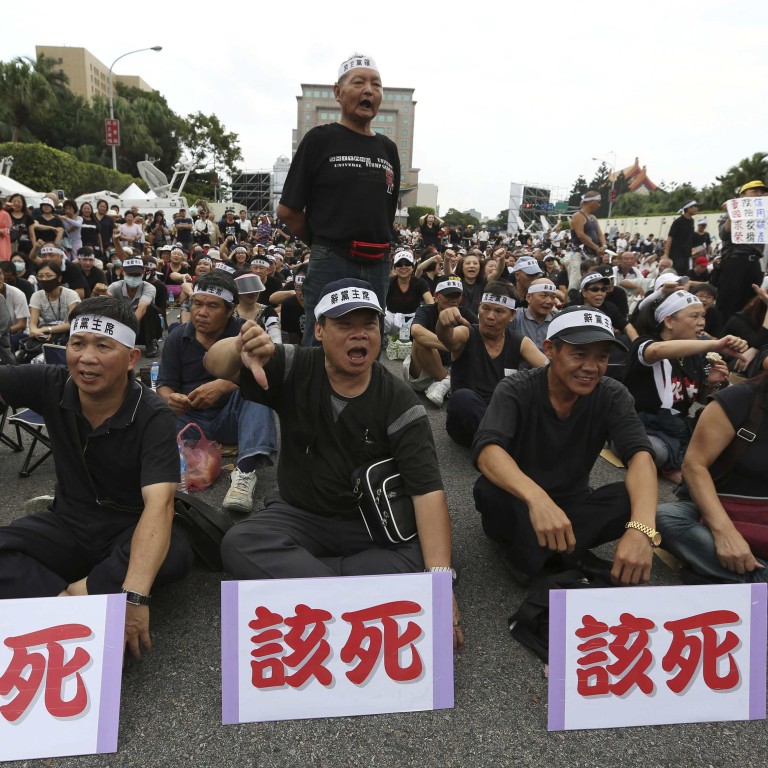 Thousands rally for Taiwan leader's resignation
Angry protestors demand Taiwan's President Ma Ying-jeou step down
Thousands of people took to the streets of Taipei in a series of protests on Sunday, hurling shoes at the portrait of the beleaguered President Ma Ying-jeou and demanding he step down.
The demonstrators, from several groups, asked Ma, also the chairman of the ruling Kuomintang (KMT), to shoulder responsibility for the economic sluggishness and controversial government policies that have pushed his approval rate down to low levels.
Kicking off the series of demonstrations, hundreds of angry protestors gathered at a rally barricaded by police outside the presidential residence in downtown Taipei in the morning.
Television images showed the protestors chanting slogans and holding signs reading "Down with Ma Ying-jeou!"
At nearly the same time, hundreds of people from another group called the "National Alliance of Workers from National Factory Shutdowns" vented their anger at another corner of the capital, hurling shoes towards the portraits of Ma and some other politicians.
Pressure on the Ma administration has mounted after local workers lost their jobs following the mass shifting of assembly lines from the island to the Chinese mainland to capitalise on cheap manpower and land prices there.
"People have been suffering these days, we simply hope that our voice could be heard by Ma," said the organiser of a third event, that gathered more than 1,000 demonstrators on the square in front of the presidential office in Taipei in the afternoon.
Ma swept to victory in presidential polls in 2008 on a platform of beefing up trade and tourism links with former rival China. He was re-elected for a second and final four-year term in January last year.
However, his approval ratings took a severe hit later that year after a bribery scandal implicating top cabinet official Lin Yi-shih, formerly a KMT vice chairman and one of his key confidants.
Ma and the KMT suffered a further blow when another of his top aides, Lai Su-ju, was taken into custody in March this year on bribery charges.
The latest controversy came about earlier this month, when the ruling party cited phone call records and kicked parliamentary speaker Wang Jin-pyng out of the party on accusations of Wang meddling in a lawmaker's court case, rendering him unable to serve as the speaker.
The opposition accused the government authorities of what they said was the illegal tapping of lawmakers' phones, comparing the case to the Watergate scandal in the United States that resulted in the resignation of then-president Richard Nixon in 1974.
Ma's approval rating had hit a record low of around 9.0 per cent earlier this year before rising to more than 21 per cent in a recent poll.