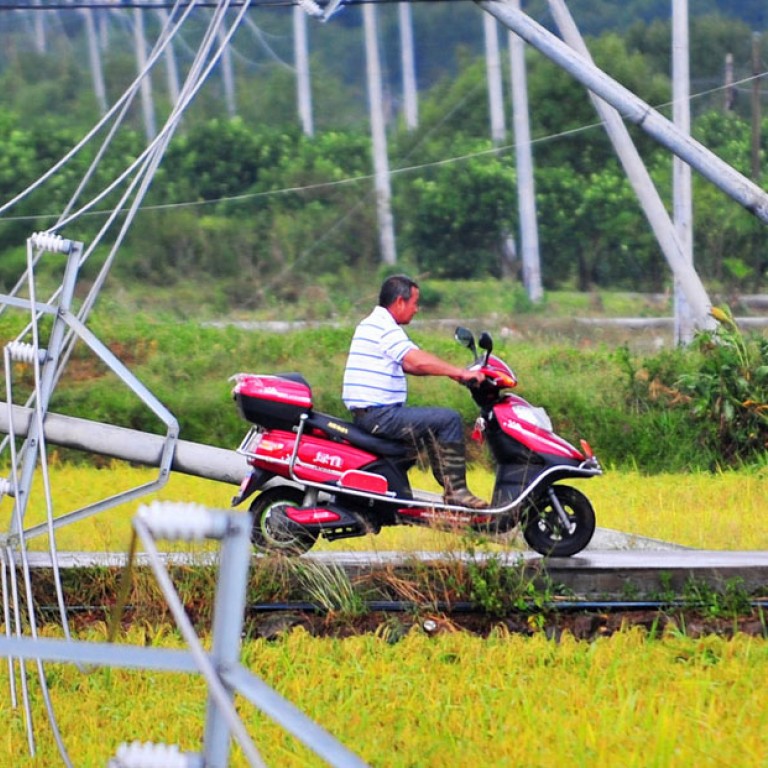 Update
Fujian, Zhejiang reel in wake of Typhoon Fitow
Five reported dead and thousands of homes destroyed as late storm lashes eastern provinces
Typhoon Fitow barrelled into the country's east coast early yesterday, packing winds in excess of 200km/h as hundreds of thousands of people were evacuated and bullet train services suspended, state media reported.
At least five people were killed in Zhejiang province, according to Xinhua.
Parts of the province near Shanghai saw nearly 290mm of rain over 17 hours from Sunday to early yesterday, while areas in Fujian to the south saw up to 160mm, China News Service said.
At least two men died in Wenzhou , a major city in Zhejiang. Xinhua said a rescuer was "blown off a hill" by a strong gust late on Sunday. Another man died when his duck breeding facility collapsed on him. Three people in Ruian city were electrocuted to death.
Two port workers in Wenzhou were missing and may have fallen into the sea, Xinhua said.
State radio reported that more than 1,200 homes in the province had collapsed. Authorities evacuated hundreds of thousands of people and issued the nation's highest alert on Sunday as Typhoon Fitow approached the mainland.
The National Meteorological Centre issued a red alert for the storm, which was packing winds of up to 151km/h late Sunday night as it moved towards the coast. Winds of 200km/h were later recorded in parts of Wenzhou, according to Xinhua, which cited local flood control authorities.
Zhejiang evacuated more than 574,000 people, while 177,000 were displaced in Fujian, Xinhua said.
"We must not leave anybody in danger," said Li Qiang , Zhejiang's provincial governor. He called for more frequent inspections of dams and reservoirs as well as safety checks of chemical plants and other important facilities, Xinhua reported.
The storm also forced the suspension of bullet train services in several cities in Zhejiang, Fujian and Jiangxi provinces, Xinhua said. Wenzhou's airport cancelled 27 flights Sunday, the agency said.
Xinhua quoted the weather centre as saying it was unusual for a typhoon to come ashore so late in the season.
Chinese maritime authorities also issued red alerts, warning of storm tides and waves, with fishermen urged to return to port and local authorities told to prepare harbour facilities and sea walls for high tides.
In Zhejiang more than 35,000 boats returned to harbour while in Fujian nearly 30,000 vessels were called back, according to Xinhua.
Named after a flower from Micronesia, Fitow has hit just two weeks after Typhoon Usagi narrowly missed Hong Kong before wreaking havoc in the region, leaving at least 25 reported dead in southern China, mostly in Guangdong.
Fitow, which Xinhua described as the 23rd storm to hit China this year, earlier passed through Japan's Okinawa island chain, forcing flight cancellations and causing blackouts.
Taiwan's Central Weather Bureau issued storm warnings on Sunday morning as Fitow surged past the north of the island. A total of 103 international flights were cancelled in Taiwan, while 14 flights were delayed. Seventeen ferry services to offshore islands were also halted.
This article appeared in the South China Morning Post print edition as: Fujian, Zhejiang reel in wake of Typhoon Fitow