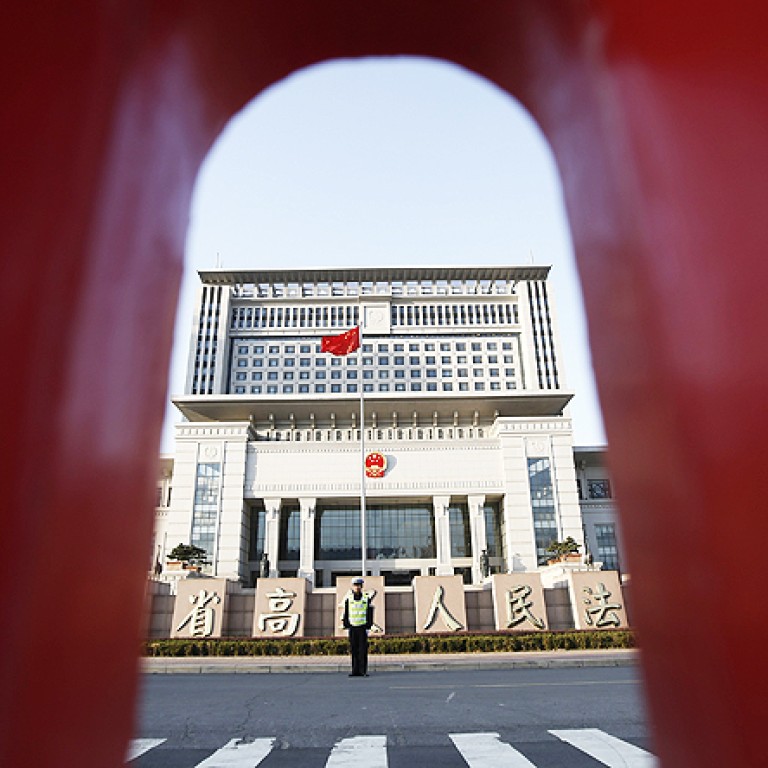 China's top court urges judicial independence, end to interference
China must rid its courts of corruption and stop officials interfering in decisions, a paper on reforms by the top court said on Tuesday, referring to a judicial system that answers to the Communist Party and almost never sides with defendants.
The paper, published on an official website managed by the Supreme People's Court, comes ahead of the third plenum of the ruling Communist Party's 205-member Central Committee next month, a key meeting of party elite where economic and social reforms are expected to emerge.
It also coincides with a report by Xinhua state news agency that the party had agreed to set up an anti-corruption mechanism that will oversee top military officers to ensure they are doing their jobs properly.
"Resolutely implement the courts' independent exercise of judicial authority based on constitutional principles, and resolutely resist all forms of local and departmental protectionism," the judicial document said in a long list of recommendations.
"Eliminate power, money, allegiances, relationships and other extrajudicial disturbances."
Local protectionism refers to municipal officials exercising political influence over verdicts – a pervasive problem in China, where rule of law and independence of the judiciary are given lip service only and courts must answer to party authorities.
The document also called for making trials more efficient, greater protections for lawyers, and "open justice" through microblogs and other new technologies.
Guilty verdicts are usually a foregone conclusion in China. The trial of ousted politician Bo Xilai's wife, Gu Kailai, accused of murdering a British businessman in China's highest-profile political saga in decades, lasted just a day before she was found guilty and given a suspended death sentence.
Local governments are also charged with paying judges' salaries and court proceedings are largely opaque.
President Xi Jinping has vowed to tackle corruption, calling it a threat to the party's very survival. A top leader on Saturday promised "unprecedented" economic and societal reforms would come from the plenum.
Historically, third plenums in China have served as a springboard for key economic reforms. Former leader Deng Xiaoping launched reforms at the third plenum of the 11th party committee in 1978 to rescue the economy from the verge of collapse after Mao Zedong's disastrous Cultural Revolution.
The party, which has shown no sign of giving up its tight grip on power, has struggled to contain public anger at a seemingly endless stream of corruption scandals, particularly when officials are seen as abusing their posts to amass wealth.
China intensified a crackdown on graft in the military in the late 1990s, banning the People's Liberation Army from engaging in business. But it has crept back in recent years due to a lack of checks and balances.
Seeking to address that, the party began a trial programme two years ago to improve oversight of the military and make sure its officers were incorruptible, something that will now be taken to the whole military, Xinhua news agency said.
"The basis of the inspection work is supervision, it is to discover problems, to reflect problems and to push for the resolution of problems," the report said.
The inspection teams would focus on senior officers' "work style" – the party's euphemism for not slacking off and not being corrupt or extravagant – and making sure they are both clean and diligent.
Xi, on assuming leadership of the Communist Party, banned senior military officers from holding alcohol-fuelled banquets or from staying in luxury hotels when on work trips.
China has poured billions of dollars into the military in recent years to replace outdated equipment first designed in Soviet times and is now developing a formidable capacity including aircraft carriers and stealth jets.