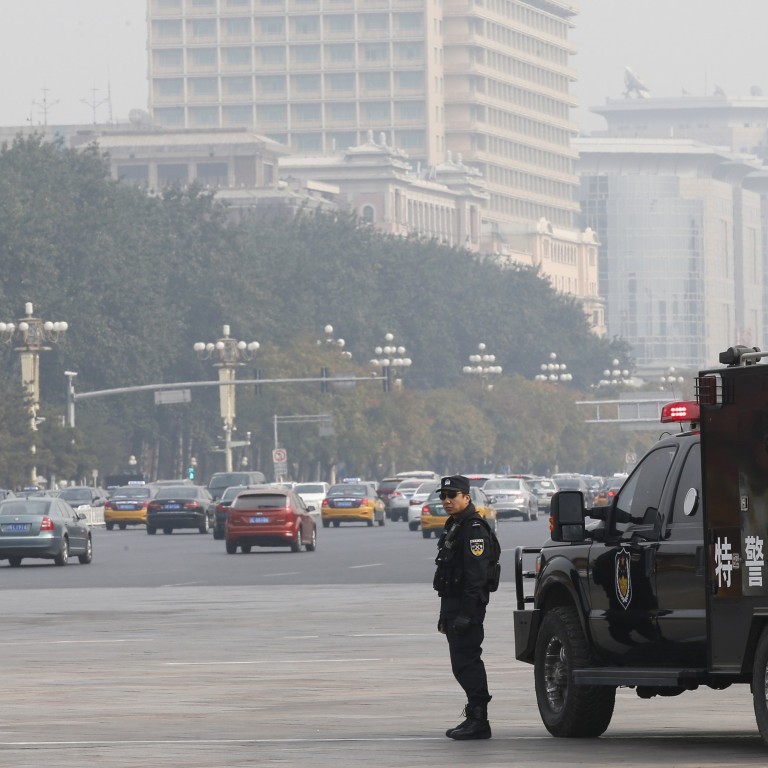 Update

|
Beijing says Uygur militants behind suspected Tiananmen terrorist attack
Security chief says separatists behind Tiananmen Square incident that left five dead
The country's security chief has blamed a Uygur militant group for Monday's suspected terrorist attack in Tiananmen Square and called on the Shanghai Co-operation Organisation (SCO) to help combat the threat.
Meng Jianzhu , head of the Communist Party's Central Politics and Law Commission and a member of the decision-making Politburo, said on the sidelines of an SCO meeting in Uzbekistan on Thursday that the fatal car crash was orchestrated by the East Turkestan Islamic Movement (ETIM).
The small separatist group, which Beijing has long implicated in terrorist activities in Xinjiang , has been listed by the UN as an al-Qaeda associate and designated by the United States for anti-terrorism sanctions.
State television reported online last night that all eight suspects came from Hotan in Xinjiang and had "canvassed the site three times" before launching the attack, citing the police.
It said the suspects, comprising three families and an individual, decided to set up a "terrorist group" in September and arrived in Beijing on October 7, hiding in Xicheng district.
Five of them returned to Urumqi five days before the remaining three on Monday crashed a Mercedes SUV in front of the Tiananmen gate tower, the CCTV English News channel said on its official .
But the Japanese newspaper reported that family members of Husanjan Wuxur, one of the detained suspects, said he was innocent and had never been involved in terrorism.
Meng's remarks mark the first time Beijing has blamed a specific group for the attack, which struck at the symbolic heart of the capital little more than a week before a key party policy meeting.
"The violent terrorist incident in Beijing was an organised, premeditated act," Meng told Phoenix TV reporters. "The group that was behind it was the East Turkestan Islamic Movement, which is entrenched in central and western Asia."
Three Uygurs were inside the SUV that careened along a packed pedestrian walkway and struck dozens of people before bursting into flames, according to Beijing police and state media reports. Five more Uygurs have been detained by police.
Five people were killed in the incident - two tourists and the SUV's three occupants, who were from the same family. Forty pedestrians were injured.
Meng's claim was rejected by the World Uygur Congress (WUC), a Uygur exile group.
"China wants to generate favourable opinion with the international community and it wants to portray the WUC as a terrorist organisation and Uygurs as a terrorist ethnic group," said Ilham Mahmut, vice-president of the organisation. He questioned whether the ETIM existed.
No group has claimed responsibility for the incident.
Meng made his remarks at an anti-terrorism gathering of the SCO, founded in 2001 by China, Kazakhstan, Kyrgyzstan, Russia, Tajikistan and Uzbekistan.
Li Wei , an anti-terrorism expert with the China Institute of Contemporary International Relations, said the suspected attack in the capital appeared to be an attempt by the group to expand its influence.
This article appeared in the South China Morning Post print edition as: Beijing blames Uygur militant group for attack