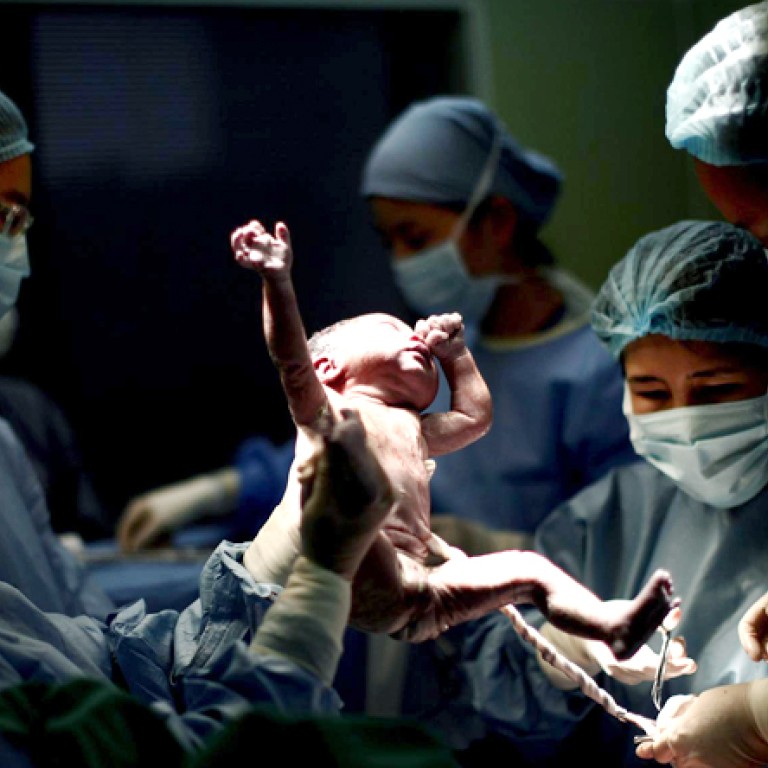 Nearly one in two Chinese mothers chose to give birth by caesarean
Three decades ago, caesarean sections were rare; nearly half of today's mums have them
Wu Xi recalled her college friend's horrifying tale of how she spent a whole day in labour in a hospital maternity ward, moaning in pain, with no family by her side and just occasional checks by nurses, only in the end to have her son delivered by caesarean section.
"I can't imagine enduring that much pain, so I just told my doctor during my pregnancy that I wanted a C-section, period," Wu said. Although she spent three days in bed after the procedure and needed painkillers while the wound healed, she said it was worth it.
"Besides, my daughter might be cleverer because her head was not squeezed in labour," Wu said.
The number of mainland women like Wu who opt for a caesarean section instead of natural delivery has risen from about 5 per cent three decades ago to 46 per cent in 2010 - the highest rate globally. The World Health Organisation recommends the rate should not be higher than 10 per cent to 15 per cent.
A 2011 report in the found the proportion of caesarean births on the mainland rose dramatically within a decade, becoming common not only among the wealthy and well-educated, but across the socio-economic spectrum, including the poor, the uneducated and the rural population.
Many factors have contributed to the rise, said Zhang Xiaohong, a professor of obstetrics at Peking University People's Hospital. Natural delivery is believed by some to be extremely painful and presents an avoidable health risk.
"Most mothers today are single children themselves and they are giving birth at a later age, so the unborn baby has become more and more 'precious'. Parents consider all the factors and decide to minimise the uncertainty [of natural delivery] and have the child quickly in spite of the risks," Zhang said.
Allowing parents to decide exactly when their child is born has led some to time the procedure so the child's later birthday falls on the right side of age rules for admittance to schools. Primary schools on the mainland requires be at least six years old in August, prompting a spike in the number of caesarean sections before the cut off.
"My doctor encouraged me to try natural delivery but my daughter's due date was August 30. What if she was born several days later? I don't want her to waste a year in kindergarten," said Zhao Xing, from Shanghai.
She decided to have her child by caesarean two years ago after she repeatedly told her doctor she had no confidence a natural birth would be successful due to her narrow pelvis.
There are also women who choose caesareans for medical reasons, such as gestational hypertension, gestational diabetes mellitus or macrosomia, known as "big baby syndrome" where a fetus weighs 4kg or more.
Song Li, a maternal and child-health care official at the National Health and Family Planning Commission, described the high incidence of macrosomia - up to 10 per cent - among overweight mothers as "very serious".
Meanwhile, the shortage of midwives on the mainland was another factor behind the declining number of natural births, Zhang said.
One hospital Zhang visited in Britain delivers more than 5,000 babies a year, but with more than 200 midwives on call, mothers receive individual attention and are helped through labour in greater comfort. But in Zhang's department on the mainland, a dozen midwives help deliver more than 2,000 babies a year.
Other pain-relief methods for natural labour, such as epidurals, are not popular in the mainland as there are fewer anaesthetists.
Despite the apparent convenience of caesarean sections, there were serious risks, Zhang warned. Short-term complications for the mother include heavy blood loss, infection, constipation and bowel obstruction, Zhang said. Long-term risks for babies are immature lungs and sensory integration dysfunction.
The risk with natural delivery, however, is the uncertainty in the process, requiring hospitals to be able to deal with emergencies, and having medical staff available at any time.
"I can understand why at some lower-level hospitals there are so many C-sections, as it is easier to control the process and they may lack the capability to handle all kinds of crises that can occur during natural births," Zhang said.
This article appeared in the South China Morning Post print edition as: Turning away from natural birth