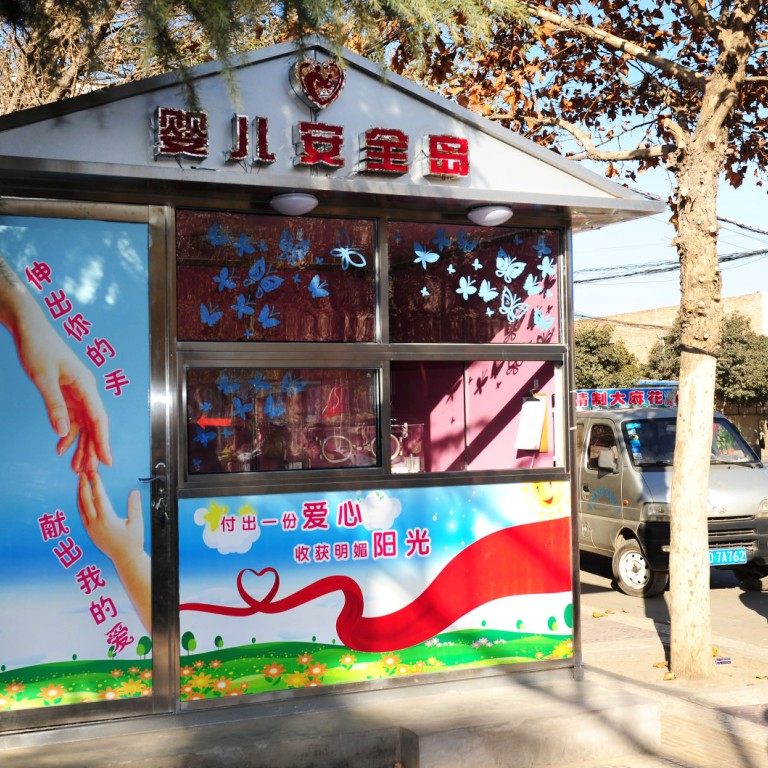 Update
Shenzhen to open baby hatch where parents can abandon unwanted infants
City to provide hatch where desperate mothers can leave their child
It happens so often in Shenzhen it is almost commonplace: a baby is abandoned by its mother on the streets, sometimes in a skip, or even in a public toilet near the factory where she works. The mothers are often migrant workers lured to manufacturing centres by the promise of a job. These young women are usually unmarried and desperate enough to abandon their child.
Next year the fate of these unwanted children may be a little more secure. The city will open a baby hatch where parents can leave their child without fear of facing charges or revealing their identity. The project has created widespread controversy, with many arguing it could lead to an increase in the number of children abandoned.
Other cities in the mainland are also starting similar programmes.
Xian, the capital of northwestern Shaanxi province, launched a centre for abandoned babies last week.
Such havens for abandoned newborns have also been opened in several other countries.
A survey by the Shenzhen official news portal
sznews.com
found 35 per cent of the 1,348 respondents feared the centre would encourage parents to abandon unwanted babies, while 17 per cent opposed it.
The shelter will have an incubator, cribs, a ventilator and other life-support equipment. It will be near Shenzhen's Welfare Centre, which has cared for more than 3,500 abandoned babies since it was set up in 1992.
About 90 babies have been abandoned in the city this year.
The shelter will not have surveillance cameras to ensure parents' privacy, according to welfare centre director Tang Rongsheng. Parents press an alarm with a delay of several minutes to warn they are leaving a baby and staff will collect the child.
Shenzhen journalist David Xiao, who has interviewed women who have abandoned and even killed their babies, welcomed the opening of the shelter.
"Babies will continue to be abandoned whether there's a safe place for it or not,'' he said. "The programme means all unwanted children and their mothers can be given a second chance at life.''
Xiao said that covering the cases of abandoned children had haunted him.
"I can't forget these babies. They all looked like little kittens and were dumped like a piece of rubbish," he said. "Their mothers were migrant workers with poor education and salary. Most of them were only girls. They just delivered their child in a public toilet or on the stairs and left, or even strangled the baby right there."
According to a survey by Guangdong's family planning department in 2011, about half the women migrant workers in the province have premarital sex. Of those, about half become pregnant at least once.
Single mainland mothers also face a fine and prosecution, as having a child outside marriage is a criminal offence.
If their boyfriends leave them, abandoning or killing the child is the most frequent result.
In the Baoan district of Shenzhen, at least 10 unmarried mothers, all migrant workers aged 16 to 23, have been convicted since 2009 of killing their newborn babies.
Xiao Hongxia, the founder of Modern Female Workers, an NGO that helps the city's women migrant workers, is pleased the authorities are taking steps to avert future tragedies.
"There are more than five million female migrant workers in Shenzhen. Most were born in the late 1980s and early 1990s, but the government did too little to take care of them or teach them how to protect themselves and have safe sex," she said.
This article appeared in the South China Morning Post print edition as: Shenzhen haven for cast-off babies