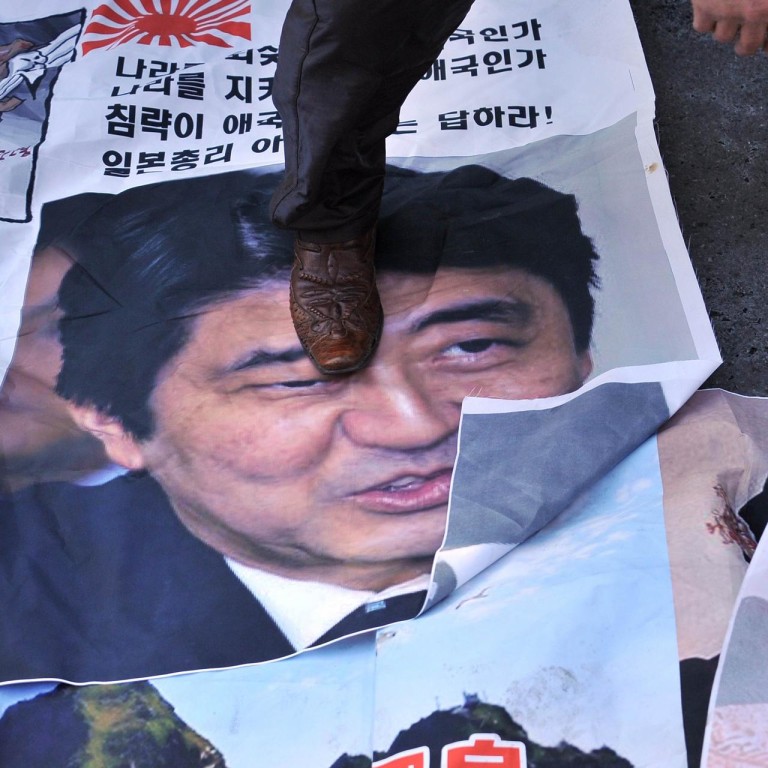 Beijing holds fire after Shinzo Abe's controversial visit to war shrine
For now, China may only condemn Japanese PM and step up patrols around disputed islands
Beijing will refrain from taking any concrete response to Japanese Prime Minister Shinzo Abe's visit to a controversial war shrine as the central government assesses the impact on Tokyo's relationship with its neighbours and Washington.
Buoyed by the US government's strong criticism of Abe's visit, President Xi Jinping's administration is unlikely to do much more than condemn the move and step up patrols around the Diaoyu Islands, or Senkaku Islands as Japan calls them, which are claimed by both China and Japan.
The US embassy in Tokyo on Thursday expressed "disappointment" over the trip to the Yasukuni Shrine, which honours 2.5 million Japanese war dead, including 14 top-level war criminals. It said the visit would "exacerbate tensions".
Zhang Baohui , a security specialist at Lingnan University, said that while the alliance between Washington and Tokyo would probably remain strong, China would attempt to exploit any divisions between the two.
"China will not appear to be provocative so as to avoid forcing the US into giving strong backing to Tokyo," he said.
Japan's Jiji Press quoted a Japanese government source as saying that the US "worked again and again behind the scenes" to block the shrine visit.
"Washington is more cautious towards Abe because he seems to be getting out of control," said Jia Qingguo , an international relations specialist at Peking University.
Chinese state media continued to attack Abe. A commentary on the website of the , the Communist Party's mouthpiece, said Beijing should recall its ambassador to Tokyo. An editorial in the , which is published under the , called on Beijing to put Abe administration officials on a "most unwelcome" list.
But the Foreign Ministry stopped short of threatening direct action. "I will not respond to commentaries in the media," ministry spokeswoman Hua Chunying said. "But I believe all of us can see that the behaviour of Japanese leaders have ignited protest and anger from Chinese people."
Chinese-language media outlets based in Japan have speculated that Abe may have decided to visit the shrine after his requests to visit Beijing and Seoul were turned down last week. A spokesman for the Chinese embassy in Tokyo said yesterday the time was "not suitable" to talk about any Abe visit.
In a sign that Beijing was refraining from any provocative moves, mainland activists supporting Chinese sovereignty over the Diaoyus said authorities had barred them from protesting.
"We planned to give petition letters to the Japanese embassy in Beijing and consulate in Shanghai," said Li Yiqiang , an executive member of the China Federation for Defending the Diaoyu Islands. "But we were blocked by police on the way."
Meanwhile, a lawsuit brought against Japanese authorities by two Diaoyus activists from Hong Kong was rejected by the Supreme People's Court. Campaigners Lo Chau and Chan Miu-tak flew to Beijing on Thursday to sue the Japanese coastguard and Okinawan authorities for 165 million yuan (HK$209 million) for "mental anguish" and damage to Lo's boat during their arrest for landing on the disputed islands in August last year. They were told they must first petition lower-level courts.
The island dispute highlights the difficult diplomatic issues facing the Obama administration in its "pivot" towards the Asia-Pacific region.
Sun Zhe , professor of international relations at Tsinghua University, said the US would not be too critical of Abe because it still needed Japan to offset China's growing influence in the region.
Business analysts are watching whether the shrine dispute will cause more setbacks to Japanese businesses in China.
Olive Xia, an analyst with brokerage firm Core Pacific-Yamaichi International, said Japanese carmakers' share of the China market would likely probably drop one to two percentage points to about 19 per cent. "We see limited impact as the anti-Japan sentiment is less serious than that caused by the territorial dispute," Xia said.
This article appeared in the South China Morning Post print edition as: Beijing holds fire after Abe's visit to war shrine