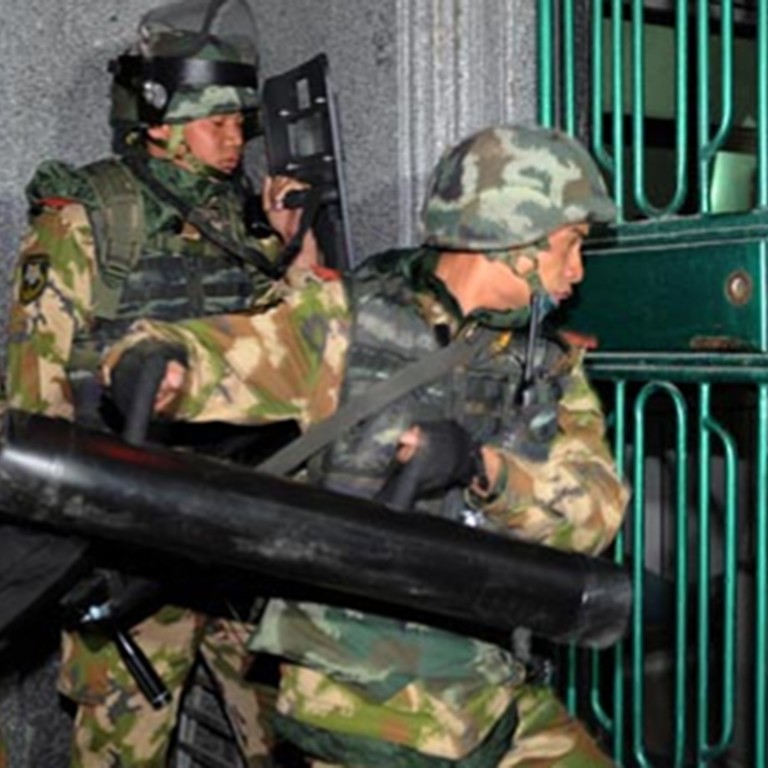 Drug raids seize 3 tonnes of crystal meth in single Guangdong village
Massive crackdown on community near Lufeng ends in seizure of 3 tonnes of Ice and 182 arrests
A massive Guangdong drugs operation involving more than 3,000 personnel in 109 separate raids ended in the seizure of three tonnes of Ice and 182 arrests - all in a single village.
The huge swoop was on the village of Boshe in the notorious drug-producing area centred on the eastern city of Lufeng .
The 182 suspects allegedly belonged to 18 production and trafficking rings based in and around Boshe. Another 23 tonnes of raw materials for drug production were recovered.
Police did not reveal whether the seized Ice, or crystal methamphetamine was for export or domestic consumption. Nor did they reveal its value, but it is estimated to be worth about HK$1.8 billion in Hong Kong.
"Lufeng has long been notorious for drugs. Over the past three years, it has been providing one-third of the crystal meth nationwide," Xinhua quoted a senior official of the Guangdong police anti-narcotics bureau, Qiu Wei , as saying.
He added that Boshe was the most notorious area for drugs in Lufeng, with more than a fifth of households linked to production and trafficking rings.
Watch: China seizes three tonnes of crystal meth
Paramilitary personnel, police and border guards from Guangzhou, Shantou , Huizhou , Meizhou and Heyuan launched the raids on the village - population 14,000 - before dawn on Sunday using helicopters and speedboats.
Provincial police deputy director Guo Shaobo said it was the province's largest drug bust in terms of arrests, drugs and raw materials seized. It also represented the broadest co-operation among government units.
Lufeng has a long history of producing drugs since the 1990s. More than half the 500 prisoners in the city's detention centre were involved in drug-related crimes, the reported. It said Lufeng was an impoverished area where most of the farmland was sandy.
Growing numbers of villagers had joined the drug rings and turned their homes and farms into crystal meth factories, it said.
The drug rings were usually armed with guns and local villagers helped with tip-offs about impending raids, thwarting recent police crackdowns.
"It's an open secret in Lufeng and Shantou that many local corrupt officials have helped protect those drug gangs for years," said Li Wei, a Shantou resident.
Guo said Guangdong police had detained 10,836 suspected drug traffickers and seized 8.1 tonnes of drugs since launching "Operation Thunder" on July 30 to curb the drug trade.
The Public Security Ministry's Narcotics Control Bureau said last year that police cracked more than 122,000 drug-related cases in 2012 and arrested 133,000 suspects. Among the 45.1 tonnes of drugs seized were 16.2 tonnes of crystal meth.
This article appeared in the South China Morning Post print edition as: Drugs industry smashed in village of crystal meth