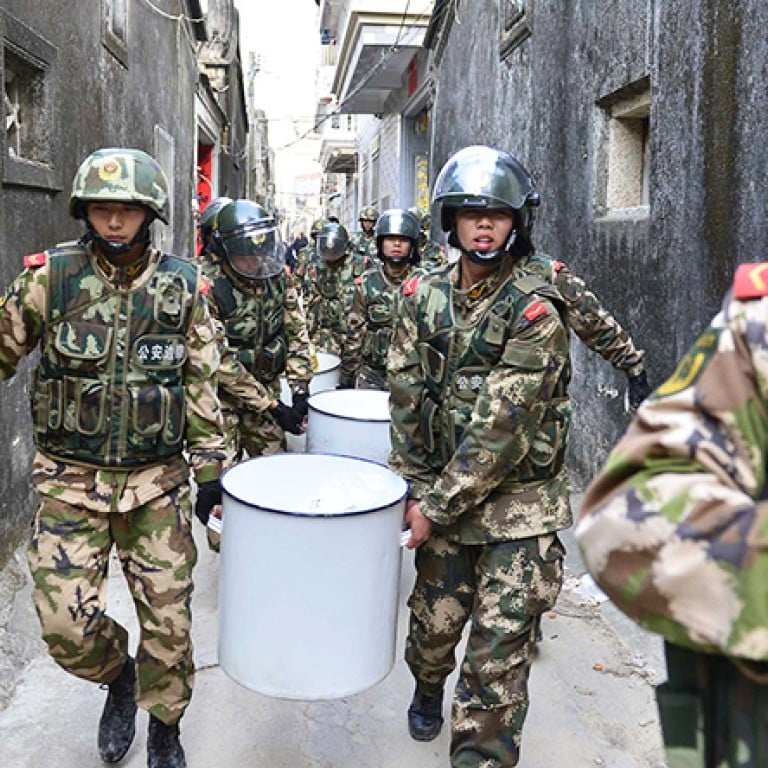 Update

|
Guangdong drug villagers wary days after big police raid
Signs of massive police action to bring down crystal meth ring are evident, but people plead ignorance of trade that has blighted area
Five days after a huge pre-dawn raid in which police seized three tonnes of crystal meth, an uneasy quiet has descended on Boshe, a Guangdong village of 14,000.
Evidence of the crackdown can be seen throughout the community - empty houses with smashed windows, a police car at the entrance of the village and suspicious locals.
The few residents who will speak say many people vanished in the darkness when helicopters and 3,000 paramilitary troops and police officers raided the village, arresting 182 suspects.
More than a fifth of the households were suspected to be involved in or linked to the production and trafficking of drugs.
Watch: China seizes three tonnes of crystal meth
Police had tried to raid the village before but were met with defiant resistance from villagers armed with replica AK-47 automatic rifles and grenades.
But Sunday's operation managed to nab the prime target - the village's Communist Party chief, Cai Dongjia, and 13 other village officials and local police chiefs who operated or offered protection to the drug ring. Several drug lords from the Cai clan were also arrested, including those who controlled the meth markets in several provinces.
Most villagers are wary of strangers, refusing to offer any information and saying they know nothing about Sunday's raid.
But one elderly man was happy enough to talk. "I bet many gang members ran away during Sunday's raid," he said. "Many of them were in Shenzhen or other cities. It's so easy for locals to flee from the village.
"The drug gangs have made our village and even the whole township notorious. No one dares to buy our crops or vegetables.
"Girls who are of marriageable age can no longer find husbands. Men can't get married either."
The man said there was a big wealth gap in the village between the farmers and those families involved in the drug trade.
"I heard the drug rings had been rampant in the past three years, attracting more and more young people," the man said.
"As a farmer, I can earn just 700 yuan a month. Honestly, I have no idea whether my son has had any connection with those people."
A young villager in his 20s said some villagers envied those who joined the drug rings.
"We are envious of those drug manufacturers who recently pulled themselves out of poverty and built new houses," he said. "We didn't do it because we feared for our lives."
There are many luxury cars in the village. Villagers said they belonged to Boshe people who lived and earned big money in Shenzhen. But they refused to offer further details.
However, a native of Lufeng - the city that administers Boshe - who works in Shenzhen said it was an open secret the border city was a base from where ringleaders traded and transferred the drugs across the mainland and to Hong Kong and Macau.
Professor Chen Zhonglin, an expert on drug-related crimes at Chongqing University, said poverty and the area's remoteness made it ideal for drug production.
Provincial police estimate almost one-fifth of Boshe's population is involved in the drug business one way or the other.
"Basically this is a family clan business, otherwise the meth industry would not have been able to grow so quickly in the past few years," Chen said. "The tight family connections have made the anti-drug operations harder."
The young villager said police estimates of the extent of the network seemed exaggerated, as it was not that easy to join the drug rings. "Only those family members or relatives of the ringleaders have the chance to join them," he said.
This article appeared in the South China Morning Post print edition as: Drug den villagers wary after big raid