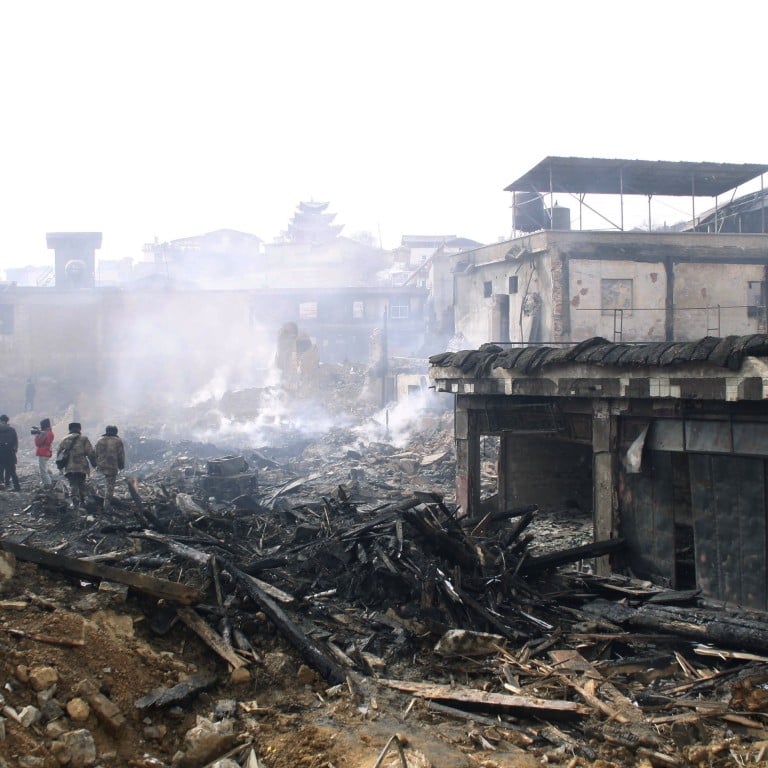 New

|
Local governments at odds over cause of fire that destroyed ancient Tibetan town in Shangri-la
As authorities scramble to provide temporary housing and daily necessities for hundreds of people made homeless in a devastating Saturday fire in western China's picturesque Shangri-la county, two local governments are now locked in a war of words over the cause of the blaze that destroyed the ancient Tibetan town of Dukezong.
Liu Qiusheng, an executive deputy governor of Shangri-la County, told a news briefing on Monday afternoon that a 41-year-old female shop owner was to blame as she had lit her window curtains on fire in an electrical accident, which then spread to neighbouring houses. The woman, a Shanghai native who ran a guesthouse in Dukezong, was put under police detention pending further investigation, Liu said.
But the finding was quickly rebutted by a police official from a higher government. Qi Xiaodong, deputy police chief at the Deqen Prefecture, which governs Shangri-la County, said at another press conference four hours later that a police investigation was still under way and refused to comment on the previous announcement by the county government, reported the Beijing Times.
When asked by reporters if he agreed with the county government's earlier finding, Qi said, "We only recognise [announcements of] our own." The prefecture police force was still investigating the cause of the fire and collecting evidence, and would release results when they reach a final conclusion, he said.
The blaze, which started early Saturday morning in Dukezong, a 1,300-year-old town known for its well-preserved ancient Tibetan architecture, damaged 343 buildings and affected 246 households, according to the county government.
Only one person was hospitalised for minor injuries in the huge fire, Liu said. By Sunday night, some 2,600 residents were evacuated and 532 were living in temporary shelter while the rest stayed with their families. The county government would pay each affected household 13,000 yuan (HK$ 16,700) in emergency assistance, Liu said.
Watch: A CCTV news report on Shangri-la fire