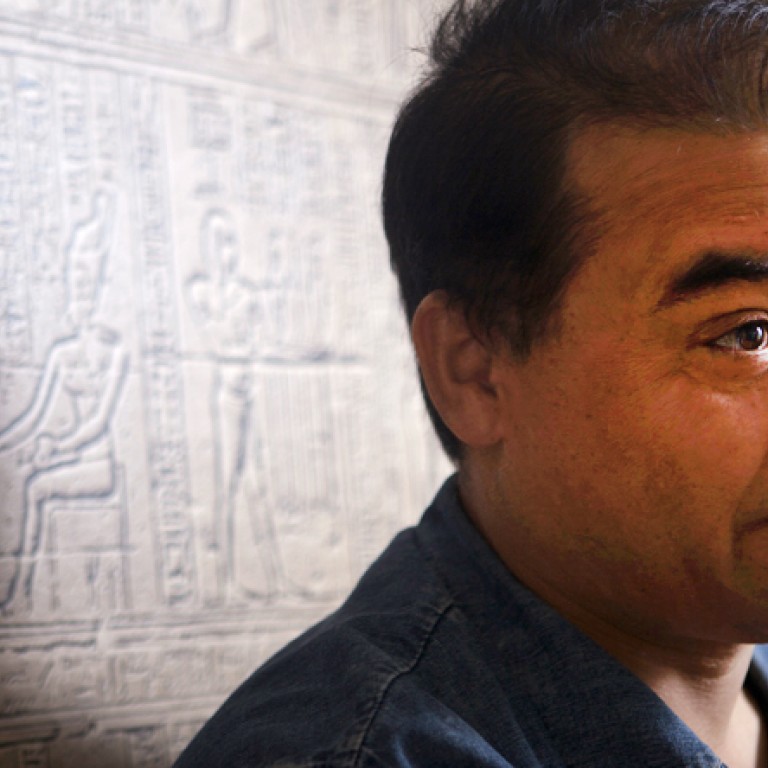 New
Wife of detained Uygur academic fears 'stronger measures' from Beijing
Wife tells of raid on their Beijing home, where cellphones and papers were seized, as Beijing faces flak from US over the arrest
Mainland police who hauled away outspoken Uygur economist Ilham Tohti had raided his home, seizing computers, cellphones and even his students' thesis manuscripts, Tohti's wife said on Thursday.
About 30 police officers raided their Beijing home in a six-hour operation on Wednesday afternoon after taking away her husband, Guzaili Nu'er said.
"The Uygur people have become outsiders in the development of their own homeland and survival," Ilham Tohti wrote in a post on his mobile social media account on Wednesday morning. "It is here that the people's anger begins to grow. Uygur people need an avenue to express their aspirations and protect their rights."
The scholar's wife said she feared the authorities meant to take stronger measures against him this time. Although he has been taken away for questioning before, she said, he usually returned late at night.
"This time it's different. They sent so many security officers, including police from Xinjiang, Beijing and the nearby police station. This time it is more serious," she said.
Guzaili Nu'er said police seized four computers, several mobile phones and Ilham Tohti's students' thesis papers, and refused to answer her questions about where he had been taken to, or why.
On Thursday afternoon, two men in plainclothes were stationed in the hallway outside the apartment and they tried to block reporters from entering the apartment.
Atilamu, 22, who was one of two undergraduate students of Ilham Tohti's at the apartment on Thursday, said that police took them away for several hours of questioning on Wednesday before releasing them near midnight, and that their cellphones, computers and class notes also were seized. The students said they knew of at least about a half-dozen other Uygur students who were similarly questioned.
Tohti's detention was the most serious of recent actions by Chinese authorities in apparent retaliation against the scholar, who is arguably the most famous mainland-based critic of the ruling Communist Party's restrictive policies in Xinjiang in western China.
The United States on Thursday urged China to guarantee the freedoms of a prominent academic from the Uygur minority, saying his detention marked a trend of repression against peaceful criticism.
State Department spokeswoman Jen Psaki said the United States was "deeply concerned" by the seizure of Ilham Tohti, a Beijing-based economist who has criticised China's treatment of the mostly Muslim Uygur community concentrated in the western region of Xinjiang.
"We call on Chinese authorities to immediately account for the whereabouts of Mr Tohti and his students and guarantee Mr Tohti and his students the protections and freedoms to which they are entitled under China's international human rights commitments, including the freedom of expression," Psaki said in a statement.
Psaki called the detention "part of a disturbing pattern" of arrests of lawyers, activists, journalists "and others who peacefully challenge official Chinese policies and actions".
Chinese Foreign Ministry spokesman Hong Lei said that Tohti had been "criminally detained" because he was "under suspicion of committing crimes and violating the law," suggesting he is likely to face criminal charges. No further details were provided.
The United States frequently chides China for the detention of activists, a clampdown that rights groups say has accelerated since President Xi Jinping assumed power a year ago.
The vast Xinjiang region, which borders central Asia, has been hit by a series of violent clashes in the past year that have killed dozens. China's government has sometimes blamed the violence on "terrorists."
Rights groups and outside scholars say unrest is spawned by cultural oppression, intrusive security measures and a wave of immigration by China's Han majority.