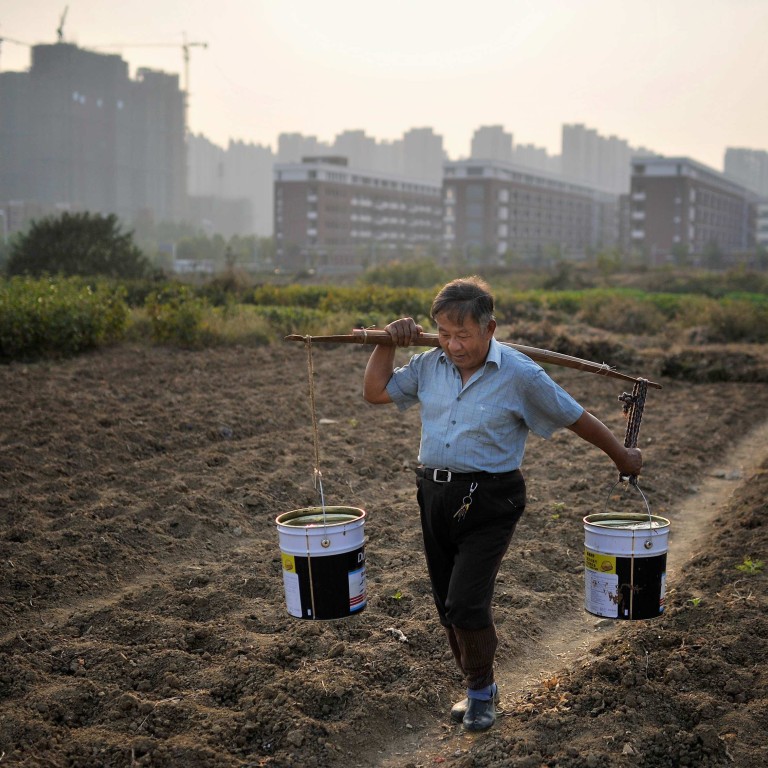 Update

|
Beijing vows respect for farmers' rights as it pushes rural land reforms
Annual policy statement recommits country to meeting own grain needs while pushing ahead with Communist Party's goal of rural land reforms
The central government pledged in a key policy document yesterday to respect farmers' rights while reaffirming its commitment to grain self-sufficiency and rural land reforms.
The broad policy statement was released as part of the so-called No 1 Central Document, which is issued jointly every January by the Communist Party's Central Committee and the State Council. The document sets priorities for the 12 months ahead and has focused on rural matters for 11 straight years.
This document mapped out "three rural issues" - agriculture, rural areas and farmers - and eight focus areas, including improving food security, modernising agriculture, deepening land reforms, ensuring sustainable rural development and encouraging innovation in rural finance.
The document stressed that Beijing would continue to pursue "basic grain self-sufficiency" while allowing an "appropriate" amount of food imports from overseas. It also said the central government would respect farmers' creativity and support local experimentation with reforms. Uniformity would not be imposed and interim policies might be allowed.
Li Guoxiang, a professor at the Chinese Academy of Social Sciences' Rural Development Institute, said that respecting farmers' rights and taking the differences between villages in to account was conducive to healthy rural development.
Some local authorities had disregarded the needs of farmers in implementing reforms, especially after the Central Committee vowed to expand rural property rights and form a unified market for rural and urban construction after its plenum in November.
"The conditions among different villages are very varied, but some local authorities take implementing the central government directives as potential political achievements," Li said. "Some authorities took the land from the farmers and focused on attracting investment."
Ma Wenfeng, an analyst at Beijing Orient Agribusiness Consultants, said that the mainland's villages were in various states of development, and it was appropriate for local authorities to be given some autonomy.
Li said the country was facing growing risks as development consumed arable land and a richer populace consumed more food. "The nation will inevitably need to import some food, such as soya beans, from other nations," he said.
Ma said the country had a sufficient food supply, but added that the price differences between imported and domestically produced food should be reduced.
This article appeared in the South China Morning Post print edition as: Beijing vows respectfor farmers' rights