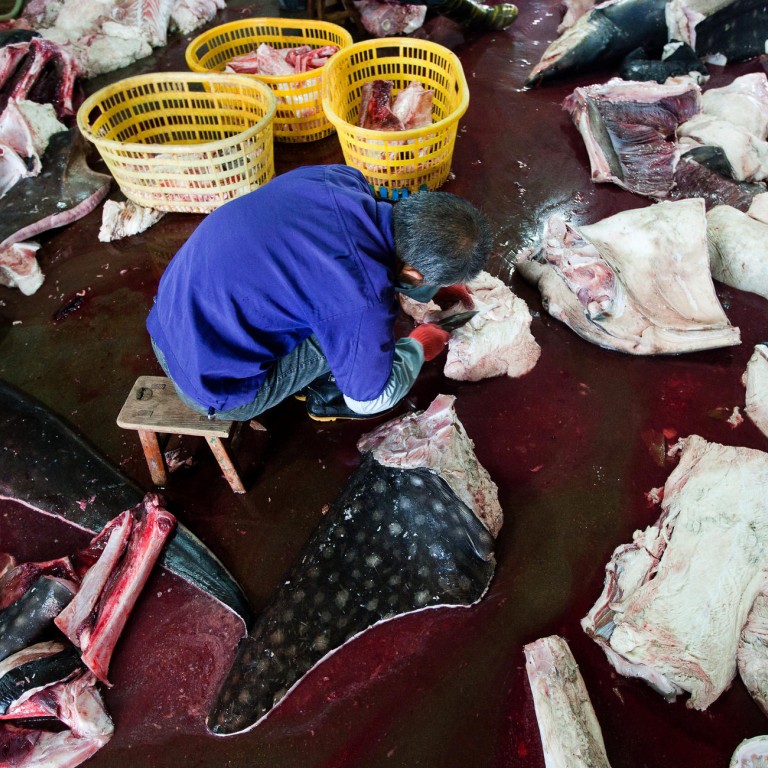 Inside the world's biggest shark abattoir: shocking pictures show scale of slaughter
Zhejiang plant 'processing hundreds of endangered specimens a year'
A Hong Kong-based conservation group claims a Zhejiang company is running the world's largest shark abattoir, processing hundreds of endangered specimens a year to produce health supplements and meat for restaurants.
The factory on the southeastern coast of the province processes more than 600 endangered whale sharks a year, as well as dealing in two other threatened species of shark, according to a four-year investigation by the marine conservation group WildLifeRisk.
"We went there three times in the past three years and each time the scale of the slaughter was truly staggering," directors Paul Hilton and Alex Hofford wrote in a report. "It's even more incredible that this carnage is all for the sake of non-essential lifestyle props, such as lipsticks, face creams, health supplements and shark's fin soup."
Hilton said WildLifeRisk was tipped off about the factory by a local wildlife conservation group in 2010.
"We went undercover, posing as an international seafood trading company looking for new products," he said. "The general manager of the plant was filmed saying more than 600 whale sharks were processed there each year."
Watch: Massive shark slaughters in China revealed by a Hong Kong conservation group
DNA testing of oil samples given by the manager, who also owns a wholesaler of shark products, confirmed traces of basking and great white sharks, which he said were processed in lesser quantities.
The investigation found that whale shark skin was sold as leather to the bag trade, the meat went to Chinese restaurants in France and Italy, and dried fins were sold to restaurants in Guangzhou.
But the real money-maker is shark's liver oil, according to WildLifeRisk. It is used in skincare products, lipstick and Omega-3 health supplements.
Hilton said the oil was taken to a factory in Hainan where it was blended, turned into capsules and exported to the United States and Canada as fish oil.
The investigation found the sharks were caught, either targeted or as by-catch, in the South China Sea, the Pacific Ocean and in waters off the Philippines, Indonesia and Mexico.
Hilton said there were probably other factories along the mainland coast.
Mainland media have reported that a whale shark can sell for up to 200,000 yuan (HK$254,000).
"There's nothing like this on this scale," said Hilton. "The amount of fins on the floor in the courtyard was phenomenal."
He said when he first visited the plant, there were at least 30 fins on the floor and more hidden under tarpaulins.
"It is legal to have a shark-processing plant, but the species they are actually processing are protected internationally and in China," Hilton said.
Whale sharks are protected by the Convention on International Trade in Endangered Species of Wild Fauna and Flora. China is a signatory and bans the export of products that come from endangered species.
WildLifeRisk is calling on mainland authorities to close the factory and investigate the company.
Hilton said it was a positive time for conservation on the mainland, citing as examples the crushing of six tonnes of ivory earlier this month and a ban on shark fin soup at official banquets.
This article appeared in the South China Morning Post print edition as: The world's largest shark abattoir?