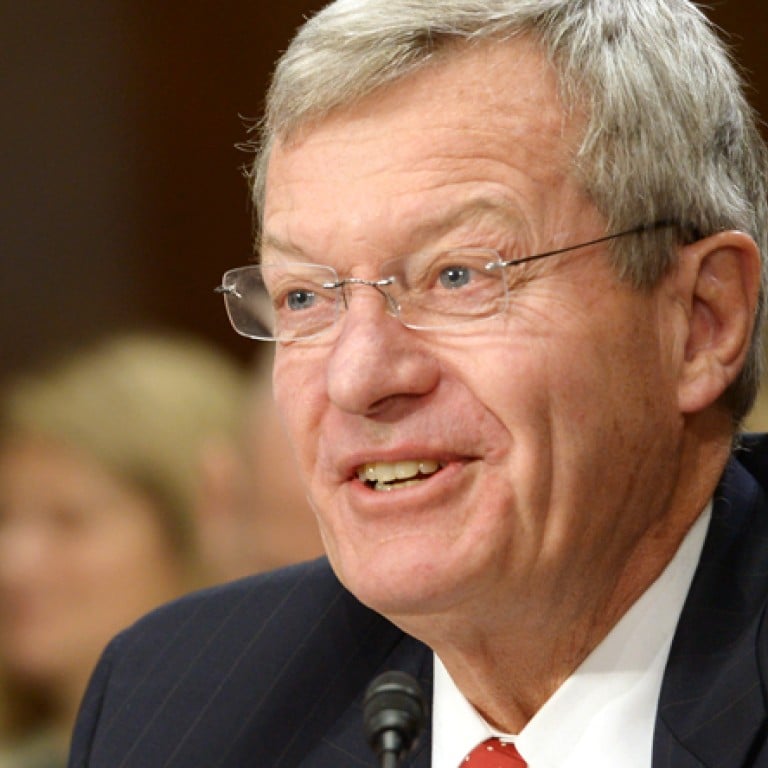 Nominee US envoy to China Max Baucus seen tough on security
Max Baucus expected to maintain rigid stance of Obama administration regarding China's expanding Asia-Pacific presence, observers say
The expected next US ambassador to China is likely to take a tough stance when security or commercial disputes arise even if he makes economic co-operation his priority, observers say.
The situation facing Senator Max Baucus is more delicate than in 2011, when outgoing ambassador Gary Locke took up his position.
That is because of mistrust between the world's two most powerful economies over issues including China's rising economic power, both nations' increased presence in the Asia-Pacific region, and Beijing's territorial spats with its neighbours.
"It is not expected that Baucus will be overly friendly towards China," said Shi Yinhong , professor of international relations at Renmin University. "He is expected to continue the tough stance of the Obama administration regarding China's expanding presence in the Asia-Pacific."
Testifying on Tuesday before a Senate Foreign Relations Committee confirmation hearing, Baucus said he had a "fascination" with China dating back to university, when he spent a year backpacking around Asia, but acknowledged that he was "no real expert on China".
He even said the US should be "very wary" of President Xi Jinping's frequent call for Beijing and Washington to develop a "new type of major-power relationship", saying the model was "not an approach that makes sense to me". He said his approach to Beijing would be "cautious" and he agreed with Republican Senator John McCain that China was trying to be the dominant power in Asia.
He said he would apply a straight-talking approach to advance US maritime and military interests, describing China's declaration of new air defence zones as "unfortunate".
Baucus did not offer new proposals for handling the territorial disputes between China and its Asian neighbours. He said he would tell China's leaders that the US "won't be taken advantage of".
Wang Fan , a professor at China Foreign Affairs University, said Baucus' remarks would have an impact on his dealings with China, at least in the initial stages after taking up the job.
"The US wants to deepen economic co-operation with China," he said. "But at the same time, Baucus' remarks indicate that Washington may press China for concessions on major issues, such as territorial disputes.
"By saying China wants to be the dominant power in Asia, it seems that the US believes its decline in Asia is largely triggered by China's rise."
Jin Canrong , a professor of international relations at Renmin University, said it was not yet known whether Baucus would be tougher than Locke, who plans to leave his post by March 1. "Locke, of Chinese descent, is under pressure to show that he is on the side of US interests, but Baucus has no such background."
Baucus' nomination is likely to be voted on by the foreign relations committee as early as Tuesday.
Jia Xiudong , a researcher at the China Institute of International Studies, said Baucus was under pressure from senators to make strong remarks and that his rhetoric would moderate once he took up the job.
This article appeared in the South China Morning Post print edition as: Likely new U.S. envoy talks tough