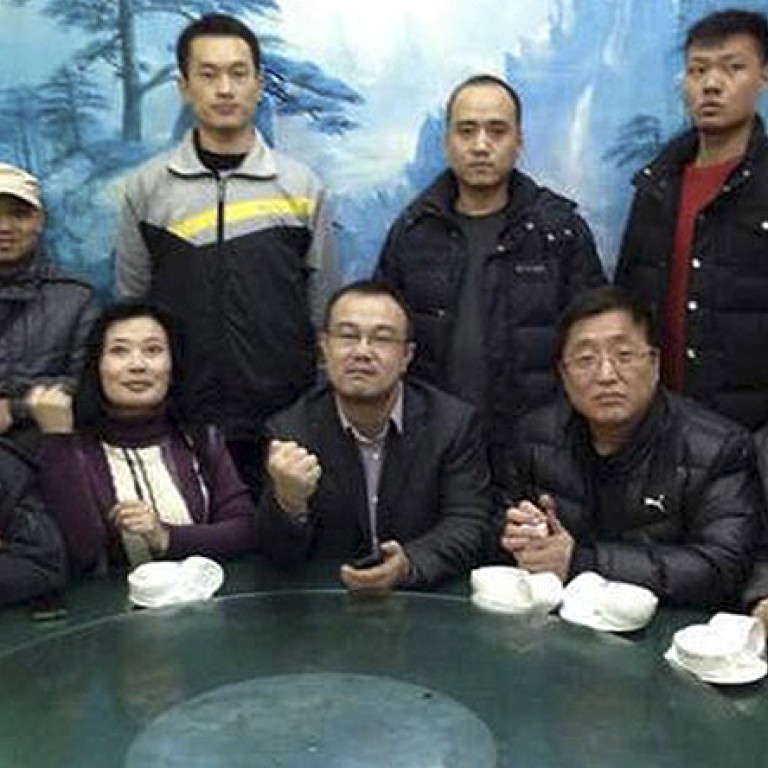 Breaking

|
Activists converge on Shandong city to demand investigation into death in custody
The death in custody of the father of activist Xue Mingkai, a dissident jailed twice for his opposition to one-party rule, draws scores of activists from around China
Scores of activists from around China have been converging on a town in the eastern province of Shandong during the Lunar New Year holiday to demand an investigation into the death of the father of a fellow activist at a government building.
Activists are pointing to the outpouring as a sign of resilience in their movement despite a recent spate of court convictions cracking down on rallies by fellow members of loosely knit grassroots groups. They estimate 60 to 100 activists have gone to the city of Qufu during a period usually devoted solely to family reunions.
"More of us should move from the internet to real life and show the power we have as citizens," Yang Chong, an activist who travelled from Guangzhou to Qufu for the rally, said in a telephone interview.
The Qufu gathering was triggered by the sudden death of Xue Fushun, the father of Xue Mingkai, a dissident who has been jailed twice for his opposition to China's one-party rule.
Friends and supporters say the elder Xue went to the prosecutors' office building in Qufu to argue for his freedom after local authorities kept him and his wife detained in a guesthouse – a common tactic to quell dissent by also targeting the relatives of dissidents. He fell to his death from the building's fourth floor on January 29.
Police ruled the incident a suicide and declined to investigate the death further. The family's lawyers and supporters say the death is suspicious and are demanding an unbiased investigation.
"He was seeking freedom from state security, and how on earth would he want to kill himself?" Beijing-based rights lawyer Jiang Tianyong said.
A worker at a Qufu police station said he could not reveal more details because the case is under investigation, but he confirmed that many supporters of Xue's family had visited the police station. He refused to give his name, as is common among government workers when speaking about sensitive cases. A man who answered the phone at the Qufu government said on Friday he had no knowledge about the case.
The first grassroots activist arrived on January 31 in Qufu, known as the hometown of the ancient Chinese educator Confucius. More arrived in the ensuing days, eventually numbering at least 60 and forming an impromptu citizen watchers group, according to interviews with six of them.
The visits began just days after the conviction and sentencing of Xu Zhiyong, the Beijing-based founder of the New Citizens Movement, to four years in prison for taking part in small public rallies, amid a broader crackdown on dissent. Several other members of the movement, as well as a key member of a Guangzhou-based group called Southern Street Movement, also were put on trial last month.
Many of the activists showing up in Qufu are from the Southern Street group, but they have been joined by other activists based elsewhere.
They say they have been rounded up, interrogated by police and sent away on trains, although many have managed to get off the trains and stay in the vicinity.
"The government tries to create fear, but as an awakened citizen, I must go forward even if there is fear," said Ou Biaofeng, who travelled from Hunan to join the Qufu rally.