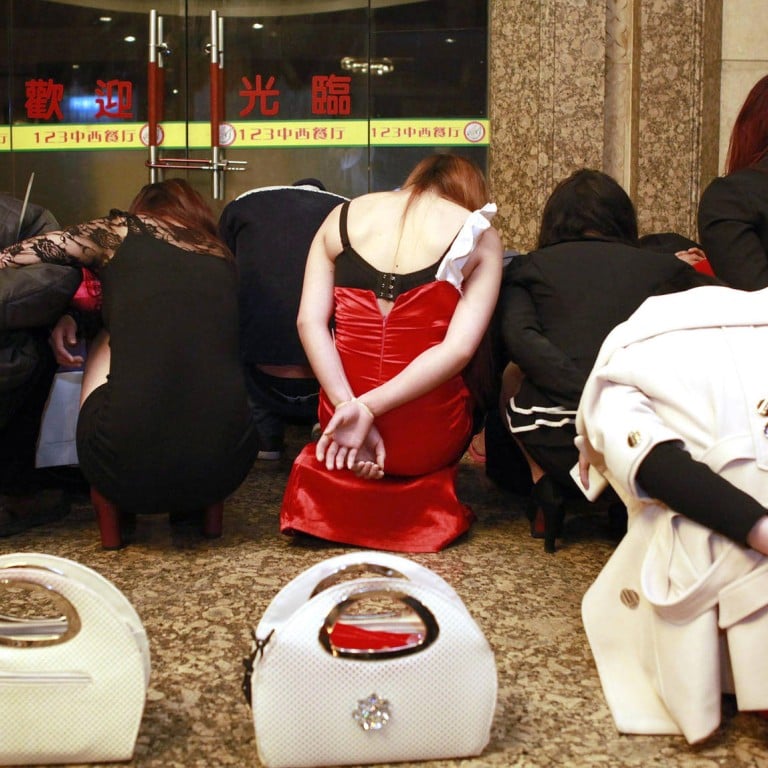 Dongguan police chiefs suspended in prostitution crackdown following CCTV report
Authorities in Dongguan, near Guangzhou, suspended two police chiefs and shut 12 entertainment venues allegedly involved in prostitution in a crackdown after state television reported on the sex trade in the city over the weekend.
Police detained 67 people after raiding the venues in five townships revealed by China Central Television on Sunday night, the Guangdong provincial public security department said yesterday.
Watch: CCTV news report on sex trade in Dongguan
In two news programmes, CCTV said local police ignored prostitution in the city and allowed the industry to thrive five years after the Ministry of Public Security had conducted a crackdown. In a citywide bust after raiding the venues fingered by CCTV, authorities detained another 162 people at 39 locations.
After viewing the CCTV reports, Guangdong's party secretary Hu Chunhua had ordered police to crack down on prostitution as hard as they did last year on drugs, reported.
The two suspended officers were the director of the Zhongtang township police bureau and the head of the police station where some of the hotels were located. CCTV said the city's prostitution rackets operated from luxury hotels and saunas, which according to brothel operators were backed by "untouchable" businessmen.
Liang Yaohui, chairman of the Crown Prince Hotel Dongguan, a five-star hotel involved in prostitution, according to CCTV, was a deputy to the National People's Congress, China National Radio reported. His business interests also included a separate luxury hotel and an oil company, Zhongyuan Group.
All of the venues exposed by the television programme had been empty since the raids, reported.
Brothels in the downtown districts of Fenggang and Houjie had been so busy they turned some customers away, CCTV said. Prostitutes charged 600 yuan to 2,000 yuan (HK$760 to HK$2,500) for their services.
CCTV said police in Zhongtang and Huangjiang townships had not responded to calls from reporters urging them to probe the suspected sex trade.
News of the crackdown attracted internet users' attention. One asked: "Why did it take more than 6,000 police officers to round up only 67 people?"
Video: Dongguan prostitution exposed by CCTV
Additional reporting by He Huifeng and Chris Luo
This article appeared in the South China Morning Post print edition as: Police chiefs suspended after report on sex trade