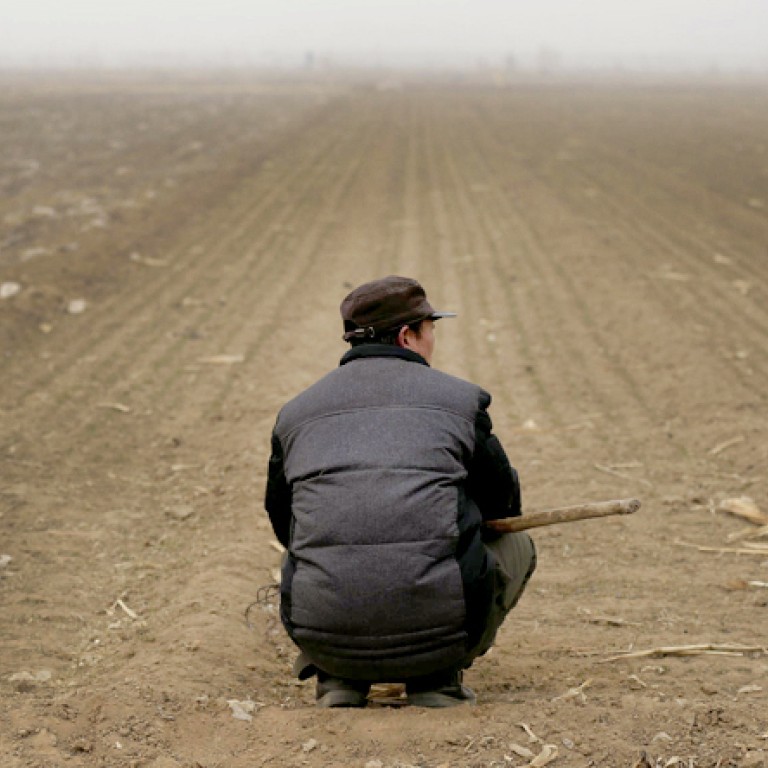 Agriculture feels the choke as China smog starts to foster disastrous conditions
Pollution is blocking natural light and threatening agriculture, say experts
Worsening smog on the mainland is blocking natural light and could spell disaster for agriculture, scientists have warned.
He Dongxian, an associate professor with China Agricultural University's College of Water Resources and Civil Engineering, said an experiment in Beijing over recent months showed a drastic slowdown in the photosynthesis process, which allows plants to thrive.
Applied on a larger scale, such a slowdown could affect agriculture, which contributes 10 per cent to GDP. Farm output was likely to be affected by serious air pollution in winter and spring, with the prices of agricultural products expected to rise.
Watch: Chinese weather officials: 15 per cent of China blanketed in heavy smog
The warning comes as choking air is blanketing a quarter of the mainland and scientists say they are already seeing the detrimental effects. In He's tests, chilli and tomato seeds, which normally take about 20 days to grow into seedlings under artificial light in a laboratory, took more than two months to sprout at a greenhouse farm in Beijing's Changping district.
Membranes and pollutants sticking to the greenhouse's surface cut the amount of light available to the plants by half, He said.
Depriving plants of light means photosynthesis - the process by which plants convert light to chemical energy - can barely be sustained.
Most seedlings at the farm were weak or sick. "They will be lucky to live at all. Now almost every farm is caught in a smog panic," He said, adding that the poor seedling quality would cut agricultural output this year.
And if the smog persisted or intensified, the country's food supply would face devastating consequences, He warned.
"A large number of representatives of agricultural companies have suddenly showed up at academic meetings on photosynthesis in recent months and sought desperately for solutions," He said.
"Our overseas colleagues were shocked by the phenomenon because in their countries nothing like this had ever happened."
Greenhouse farms, which occupy more than four million hectares and supply most of the mainland's vegetables, would be the first to be hit.
"Orange" and "yellow" smog alerts - among the highest on the scale - are in force in Beijing and other cities and the air quality is not likely to improve until tomorrow, the authorities said.
In the capital, the US embassy air quality index recorded smog levels of 457 yesterday, classified as "hazardous".
Gao Tanggui, a sales manager for the Beijing Shinong Seed Company, said their farms had been severely affected by smog. Their plants were sickly and growing more slowly than usual. "The impact is serious. Everyone in the company, from farmers to salespeople, are deeply concerned," he said.
Agricultural companies are experimenting with counter-measures, including installing expensive and electricity-guzzling artificial lighting.
Many farms have dramatically increased the use of plant hormones to stimulate growth, Gao said.
Dr Fu Qiushi, a researcher with the Chinese Academy of Agricultural Sciences' Institute of Vegetables and Flowers, said making an accurate estimate of smog's effect on photosynthesis would be difficult due to the limitations of lab simulations.
Even the best artificial light cannot match natural light in all spectrums, adding uncertainty to test results.
She said: "We can't put two plants in the same area and measure their growth at the same time, with one under smoggy conditions and the other under blue sky. Such experimental challenges must be overcome to produce convincing results for official estimates."
Meng Jihua, associate professor with the Chinese Academy of Sciences' Institute of Remote Sensing and Digital Earth, said scientists in other countries, including the United States, had measured the effect of smog on agricultural output.
But their models could not be applied directly to China because the smog on the mainland was quite different from that in London or on the US west coast.
Meng said Chinese scientists had sufficient tools and data from remote sensing satellites to come up with a fairly accurate estimate of smog's role in agricultural losses.
One challenge was to single out smog from other elements such as the level of rainfall and plant diseases.
With current technology, the estimate could be as accurate as 80 per cent. "Such studies are sensitive and their results will probably not be released to the public," Meng said.
"Some government officials might worry that linking smog to agricultural production would prompt a panic. But there is no denying the sunlight that reaches Chinese soil has been dramatically reduced in recent years."
This article appeared in the South China Morning Post print edition as: Smog could spell disaster for farmers