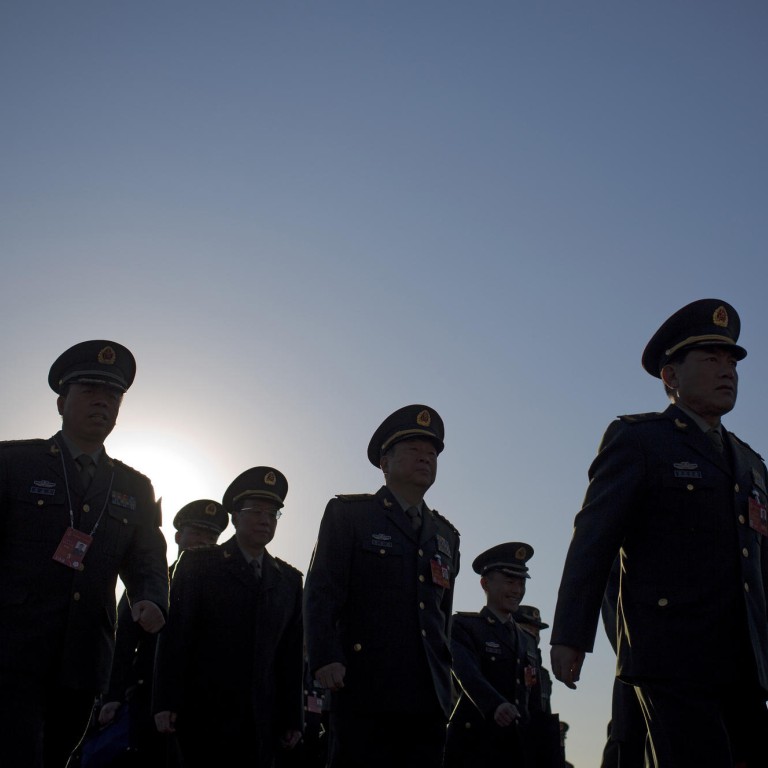 China boosts defence budget by 12.2pc after warning military will respond if provoked
Premier Li Keqiang vowed to bolster the capabilities of the People's Liberation Army as Beijing announced double-digit growth in national defence spending.
The government will spend 808.23 billion yuan (HK$1.022 trillion) on the military this fiscal year, according to the budget presented to the National People's Congress. The spending is 12.2 per cent more than last year and slightly higher than the annual average of 10 per cent.
Addressing the session, Li vowed China would "carry out co-ordinated planning for military preparedness in all scenarios and areas".
Beijing would continue modernising the nation's armed forces to "upgrade their performance, and continue to raise their deterrence and combat capabilities in the information age".
"We will resolutely safeguard China's sovereignty, security and development interests," Li said. "We will safeguard the victory of the second world war and the post-war international order, and will not allow anyone to reverse the course of history." The PLA would develop high-technology weapons and turn China into a strong maritime nation, he said.
The government also announced it would spend 205 billion yuan on domestic security, up 6.1 per cent, and Li pledged to crack down on terrorism.
The government increased military spending by 10.7 per cent last year, and by 11.2 per cent in 2012.
Tokyo expressed concern over the spending increase. "The lack of transparency of the Chinese military is a concern of the international community," said Japan's chief cabinet secretary, Yoshihide Suga.
China and Japan are butting heads over sovereignty claims in the East China Sea and their wartime pasts. Beijing reacted strongly to Japanese Prime Minister Shinzo Abe's visit in December to the Yasukuni Shrine, which commemorates war criminals among 2.5 million war dead.
In response to Suga's comment, Chinese foreign ministry spokesman Qin Gang said the growth in the defence budget was moderate. "The People's Liberation Army are not Boy Scouts with spears. Some foreigners always expect China to be a baby scout," he told a press briefing yesterday. "Even as a scout grows up, his former dress and shoes will not fit anymore and thus he will have to change into bigger ones."
Yang Dongming, a lieutenant general and deputy air force commander, said air force equipment was not as sophisticated as that used by overseas counterparts. Training should be stepped up, especially following China's declaration of an air defence identification zone over the East China Sea, Yang said.
"The chance of conflict with Japan is heightened, and therefore we have to strengthen related training," he said. "We need to take a close look and see what follow-up [steps] should be taken when we see foreign aircraft entering the air defence zone."
Lieutenant General Zhuang Kezhu, deputy commander of the Beijing Military Command, said China needed to boost border, coastal and air defences.
Yue Gang, a retired colonel, said the increase in defence spending meant "China is flexing military strength to push other nations to be more cautious before taking provocative actions".
This article appeared in the South China Morning Post print edition as: Premier pledges to boost military capabilities