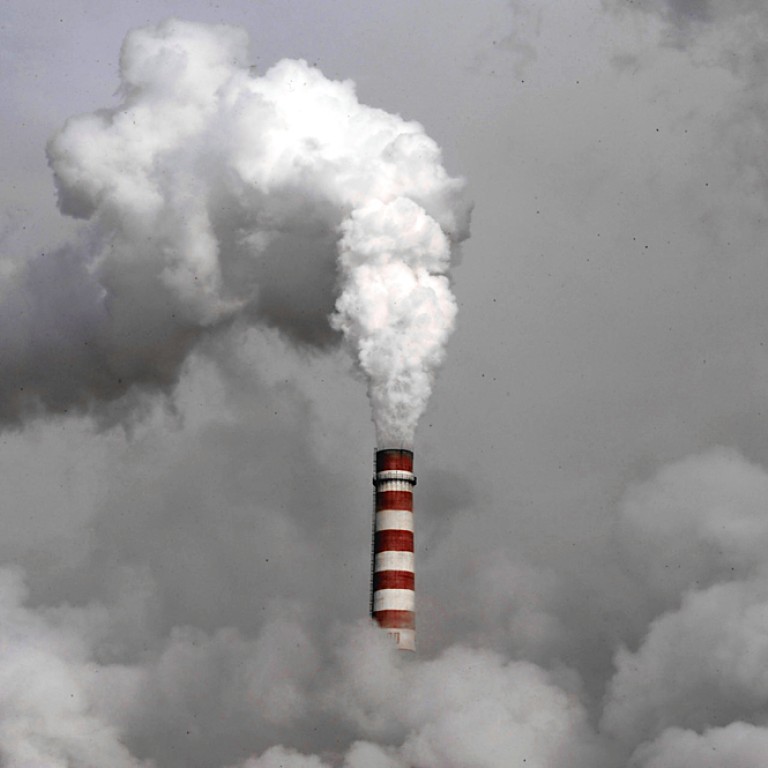 Chinese scientists urged to develop new thorium nuclear reactors by 2024
The deadline to develop a new design of nuclear power plant has been brought forward by 15 years as the central government tries to reduce the nation's reliance on smog-producing coal-fired power stations.
The deadline to develop a new design of nuclear power plant has been brought forward by 15 years as the central government tries to reduce the nation's reliance on smog-producing coal-fired power stations.
A team of scientists in Shanghai had originally been given 25 years to try to develop the world's first nuclear plant using the radioactive element thorium as fuel rather than uranium, but they have now been told they have 10, the researchers said.
"In the past the government was interested in nuclear power because of the energy shortage. Now they are more interested because of smog," said Professor Li Zhong, a scientist working on the project.
Premier Li Keqiang told the national legislature in Beijing on March 5 that the government had declared "war on pollution", and measures to tackle the problem included closing coal-fired power stations. About 70 per cent of China's electricity was produced by coal-fired plants last year, according to government figures. Nuclear power stations generated just over 1 per cent.
The Chinese Academy of Sciences set up an advanced research centre in Shanghai in January with the aim of developing the world's first industrial reactor using thorium molten-salt technology, according to a statement from the academy's Bureau of Major Research and Development Programmes.
All commercial nuclear plants in China, whether in operation or under construction, are designed to use uranium as fuel, but the country has run short of uranium and depends on imports from other countries.
The technology under development in Shanghai involves burning the radioactive element thorium in a salty "soup" to, in theory, release heat many times greater than today's reactors.
Other potential advantages of the technology are that China has large thorium reserves, at least the world's third-largest, according to some experts. The process may also produce less radioactive waste.
Professor Li, director of the project's molten salt chemistry and engineering technology division, said the smog crisis had provided huge impetus for their research.
"The problem of coal has become clear. If the average energy consumption per person doubles, this country will be choked to death by polluted air," he said. "Nuclear power provides the only solution for massive coal replacement and thorium carries much hope."
Researchers working on the project said they were under unprecedented "war-like" pressure to succeed and some of the technical challenges they faced were difficult, if not impossible to solve in such a short period.
They would also probably face opposition from sections of the Chinese public after the nuclear disaster at Fukushima in Japan and also from some senior officials with interests in the coal industry who were unlikely to give their backing to a new form of nuclear energy, they said.
One of the technical difficulties is that the molten salt produces highly corrosive chemicals such as fluoride that could damage the reactor.
The power plant would also have to operate at extremely high temperatures, raising concerns about safety. In addition, researchers have limited knowledge of how to use thorium.
"We are still in the dark about the physical and chemical nature of thorium in many ways," said Li. "There are so many problems to deal with but so little time."
Western countries such as the United States have experimented with thorium reactors but gave up on the technology because of the engineering difficulties.
Analysts have also suggested the US lost interest in thorium as a fuel for reactors because uranium was a more suitable material to produce nuclear weapons.
Interest, however, has been revived in recent years and research projects have been established in several countries, including the United States, France and Japan.
"This is definitely a race," said Li. China "faces fierce competition from overseas and to get there first will not be an easy task", he said.
The thorium reactor is not the only technology China is researching in an attempt to upgrade its nuclear power programme.
The Hefei Institute of Physical Science in Anhui province finished construction last month of the world's largest experimental platform for an accelerator reactor that burns nuclear fuel with a powerful "particle gun".
An experimental fast reactor is also operating in Beijing, and construction has started of a demonstration plant for a very-high-temperature reactor at Shidao Bay in Shandong province.
Professor Gu Zhongmao, an official at the China Institute of Atomic Energy, said so-called fourth-generation reactors were troubled by technological uncertainties, and to solve the smog issue the central government should approve and start construction of new nuclear power plants using existing technology as soon as possible.
The thorium reactors would need years, if not decades, to overcome the corrosion issue and the stability of accelerator-driven plants was also in doubt, he said.
"These projects are beautiful to scientists, but nightmarish to engineers," he said.
Smog would be reduced noticeably if nuclear power produced 5 to 10 per cent of the nation's electricity, according to Gu. China has about 20 nuclear reactors and is building nearly 30 more.
Its use of nuclear power is tiny compared with countries such as France, which produces about 75 per cent of its electricity from nuclear power plants.
After the Fukushima nuclear disaster three years ago, the central government withheld approval for new nuclear plants.
Part of the resistance came from the public, as many people were worried that nuclear plants would cause more serious contamination than the pollution created by coal-fired stations, Gu said.
Government agencies such as the Ministry of Water Resources also opposed the construction of nuclear plants in land-locked areas over concerns that radioactive waste would worsen river pollution.
"To completely get rid of smog, nuclear power is the only option," according to Gu.
"If we build as many nuclear power stations as there are in France and Japan, we will also enjoy blue skies and clean air like they do."
This article appeared in the South China Morning Post print edition as: Call for thorium reactors by 2024