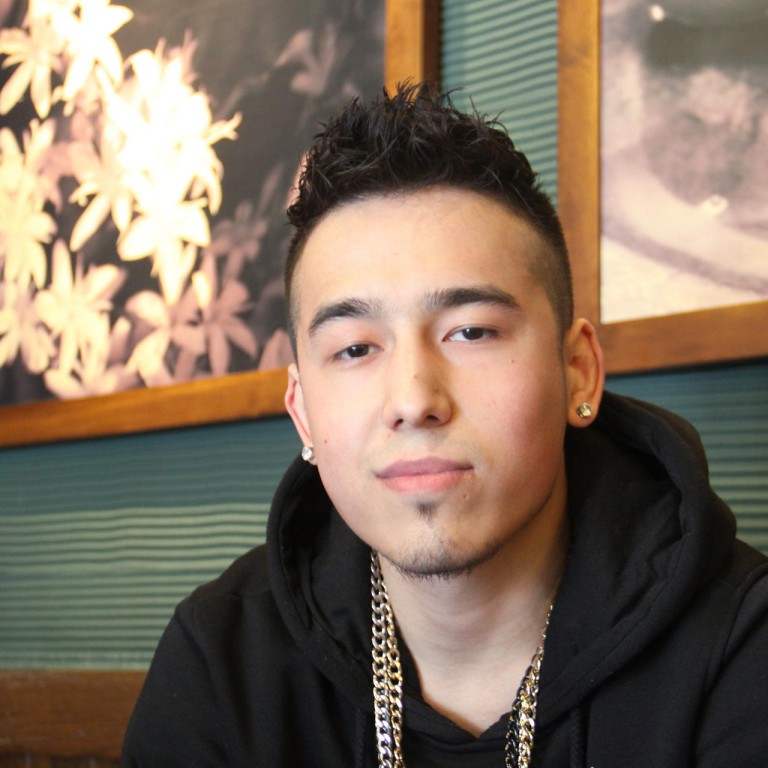 Uygur rocker Erfan Ishaq sings the praises of being true to yourself
Hip Uygur rocker moves to Beijing to follow his musical dreams and is determined not to be constrained by tradition-bound purists
Dressed in a military trench coat and pair of studded boots, Erfan Ishaq, a 25-year-old Uygur singer-songwriter from the Xinjiang capital, Urumqi, looks like he is being photographed for a magazine cover. Removing his mirrored aviator sunglasses, he flashes a warm smile and extends his hand: "Just call me Xiao Yi," he says, or "Little E". Ishaq's career has brought him to Beijing as an independent artist. He is also a member of Six City, a Urumqi-based hip-hop group founded in 2003 that raps in his native Turkic Uygur language. The performer has written more than 60 songs that reflect his determination to fight the prejudice of older Uygur generations against the music he loves while rejuvenating the ethnic group's traditional melodies.
I've always been passionate about R&B, hip-hop, jazz and soul. I started imitating Michael Jackson when I was six! I graduated from art school in Urumqi, majoring in dance, and joined a local troupe in 2006 as a dancer. But I'm the kind of person who always wants to climb higher and look for something new. I always wanted to go beyond the troupe and explore the wider world but did not dare take the first step for a long time. I had a good friend who studied music in Beijing and went to the US before returning to teach. When he returned to Urumqi, I just wanted him to stay and make music with me. But he said I should go to Beijing, where so many more people appreciated the music we liked. So I came to Beijing last April. There are so many opportunities here for me to learn and widen my experience.
In the beginning they didn't understand. "What are you doing? Why are you wearing those baggy clothes?" they'd ask. They also believed I shouldn't leave the troupe, which was seen as an iron rice bowl. But after watching my shows they began to change their minds. I now have their full support.
Several years ago, most people there found my music hard to accept because it was seen as too new, totally avant-garde. The audience then was very limited. Now it's getting better. Many young people in Urumqi like my music. There are also more and more young, talented people devoted to promoting music they truly like, which is fantastic. I believe my generation is the one making the sacrifices to fight against the conservative, narrow-minded beliefs of the older generation. The responsibility to get modern music through those entrenched beliefs has fallen on our shoulders.
Yes, I always want to. SixCity has been doing that for a few years. We rapped to a traditional Uygur melody in our 2010 album. I think people who haven't listened to Uygur music will find our songs fresh. Their interest is piqued, and they will try to find out more about our Uygur music. I once adapted a [an ancient type of melody used in the music of Xinjiang] and sang it jazz-style in a TV singing competition. Most people in the audience actually had no idea I wasa singing traditional Uygur melodies. They just felt the music was good.
I pointed out to some older artists back in Urumqi that they just kept doing the same things for decades without thinking of making it more appealing to today's people. Yes, our traditional music is good. But you have to promote it among our young people to really pass it along generations. I think it's totally fine to adapt our traditional music. When people fall for modern songs that are based on our traditional music, they will track down the old melodies behind them and try to look for the original work to appreciate. That's how they get to know the old stuff.
I do not think it's right to sing only songs of one's own ethnic group. I've always been a big fan of Michael Jackson. I listen to R&B, hip-hop, jazz, soul and so on. These are things I truly love. Why should I have to play just my ethnic music to please and entertain people? I'd feel like a show monkey. I think we should follow the path of who and what we are. At first you may not be able to appreciate how good your ethnic group's traditional stuff is. But as you go farther, there will be a day when it strikes you, out of the blue, that you should add something of your own ethnicity. I just do things I like, and people are free to like or dislike them. If you like what I do, enjoy my music with me. If you don't, then don't judge and don't tell me what I should or should not do - although suggestions are always welcome.
Music is sacred. There is no such thing as an ethnic group in music. I'm a musician. I only do music. My music is not affected by anything.
This article appeared in the South China Morning Post print edition as: Singing the praises of being true to yourself