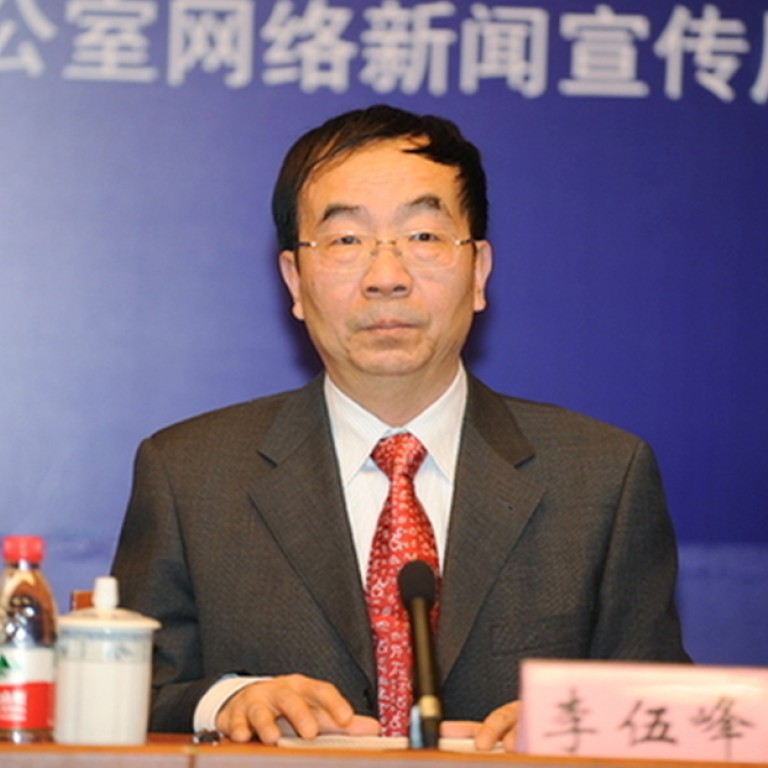 Senior information official leaps six floors to his death, sources say
Information office's deputy chief was questioned months before tragedy
A senior official from the State Council Information Office jumped to his death from his Beijing office, three sources familiar with the matter said.
News of the incident was censored on weibo.
Li Wufeng, 56, the office's deputy director, died after leaping from the sixth floor of his office building on Monday afternoon, the sources said.
His death was under investigation and it was not immediately clear what drove him to the act, according to a person familiar with Li.
One source said Li was questioned several times by Communist Party discipline officers over the past few months, but the nature of it was unclear.
"It could have been an extramarital affair or anything else," the source said.
A person who met Li many times described him as "a very friendly person". "Very scholarly and intellectual, too. And I don't think he cared much about money," the person said.
The information office did not respond to inquiries.
More and more officials from the party's highest to lowest ranks have been questioned by anti-graft agents since President Xi Jinping took power.
Li became the office's deputy chief in June after serving as deputy director of the government's internet censor beginning in 2012.
In 2007, Li was seconded as an assistant general manager of the China Three Gorges Dam Corporation for a year.
The state-owned energy producer, originally formed to build the world's largest hydroelectric plant, has been dogged by corruption accusations, with several of its officials found guilty of nepotism, and engaging in shady property deals and questionable building practices.
The corporation replaced its chairman and general manager in a major reshuffle after the investigation, the Central Organisation Department revealed on Monday.
Several provincial-level officials have killed themselves over the past decade and a half, including former Shanxi provincial standing committee member Wang Tongzhi in 2005; Song Pingshun, the former chairman of the Tianjin Municipal Committee of the people's consultative conference, in 2007; and former State Administration of Foreign Exchange chief Li Fuxiang in 2000.
In 1995, former deputy mayor of Beijing Wang Baosen took his own life for fear of a graft probe.
This article appeared in the South China Morning Post print edition as: Top official jumped to his death: sources