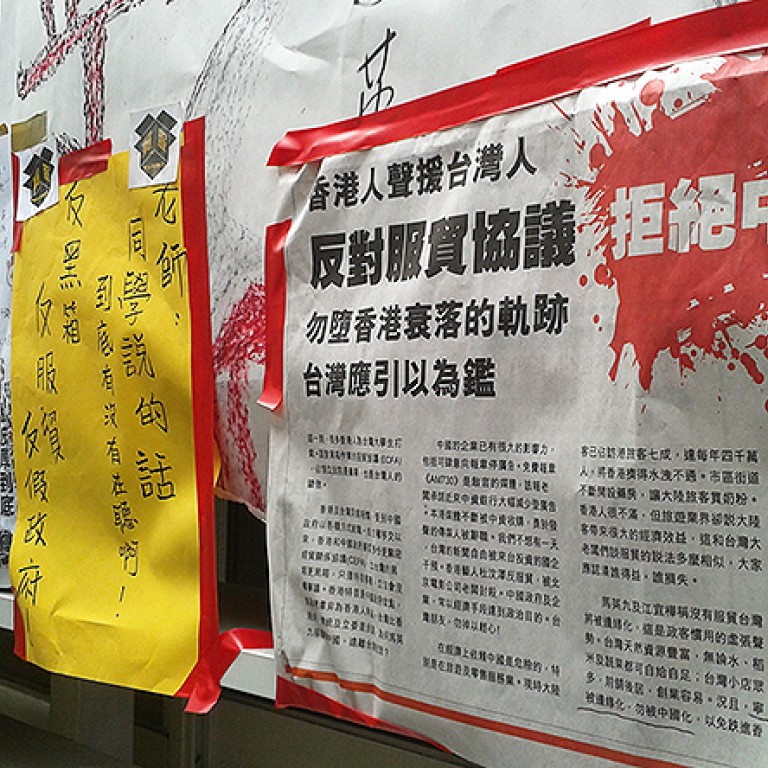 Advert by 'Hundreds of Hongkongers' warns Taiwan against trade 'Sinolisation'
Taiwan newspaper Liberty Times runs advert calling on the island's residents to learn lessons from Hong Kong over closer trade ties with Beijing
An advertisement placed under the name of "Hundreds of Hongkongers" appeared in a Taiwan newspaper on Thursday, calling on Taiwanese to "say no to Sinolisation" and to learn from Hong Kong's lessons in opening up trade with the mainland.
The commercial was published in the , a publication that takes a stance friendly towards the pro-independence political camp in Taiwan and against the mainland. It came on the tenth day of a massive student movement on the island protesting against a free trade pact with the Beijing, with activists continuing to occupy the legislature building in Taipei on Thursday.
"Hong Kong and Taiwan are in the same boat, both being targeted by China's united front work by all means," the advert reads.
"Since the transfer of sovereignty, the Hong Kong and Chinese governments have signed multiple pacts under CEPA [Closer Economic Partnership Arrangement], which is even more secretive than the black box pact in Taiwan. It only needs to be signed by the Chief Executive and the Legislative Council has no right to deliberate it."
The cross-strait free trade agreement at the centre of controversy has been criticised by opponents in Taiwan for a lack of transparency in the formulation process.
The advert went on to caution against economic over-reliance on the mainland, citing threats to the freedom of the press in Hong Kong due to a pulling of advertisements by mainland-funded companies and overcrowding of its streets since the opening up of tourism to mainland visitors.
Activist Roy Tam Hoi-pong said their concern group on population policy started pooling their funds last Sunday.
"Each of us has to commit HK$300 and a lot of the participants have paid HK$100 already," said Tam, who would only reveal the ad cost "a few ten thousand dollars".
Gary Fan Kwok-wai, a lawmaker of the NeoDemocrats, is also among the signatories.