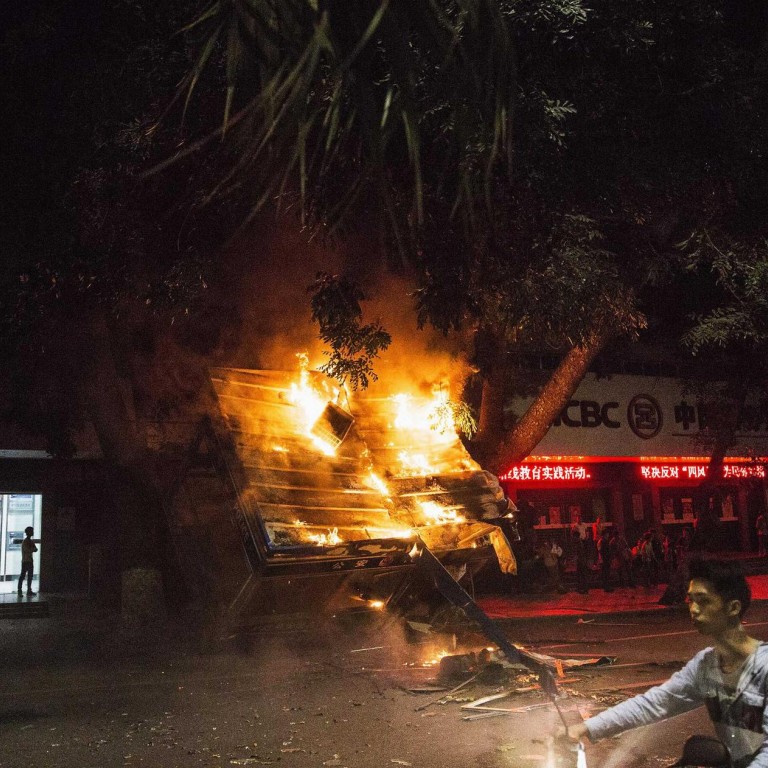 People in Maoming and Shenzhen stage fresh protests over planned PX plant
Hundreds demonstrate in Maoming and Shenzhen against proposal; school pupil and parents asked to sign pledge not to join in
Several hundred people in Maoming in southern Guangdong staged another rally yesterday against a proposed chemical plant, with the public still apparently deeply distrustful of assurances from officials that no decisions have been made on whether to push ahead with the scheme.
Protesters marched from outside Maoming government headquarters to People's Square in the afternoon, carrying red flags and placards condemning the authorities' use of force against demonstrators and demanding that the controversial scheme to build the plant be scrapped.
Some of the placards said "justice for the killed and injured" and "the Maoming government is ruthless and brutal", according to photographs of the march posted on social media. The pictures were later deleted by censors.
Watch: Hundreds protest against chemical plant in China's Maoming city
The city's public security bureau has admitted that police "accidentally injured" 11 protesters in the first protest on Sunday and has apologised. More than 1,000 people took part in the initial demonstration.
A deputy chief of the bureau denied online accounts that several protesters were killed in Sunday's protest.
Maoming residents have been demonstrating against the proposed construction of a 3.5 billion yuan (HK$4.4 billion) paraxylene (PX) plant at the city's existing petrochemical complex run by the local government and the state-owned oil giant Sinopec. They fear it will pose a threat to public health and the environment.
Paraxylene is a chemical essential to the manufacture of plastic bottles and polyester clothing. Proposals to build PX plants have sparked mass protests since 2007 in cities including Xiamen in Fujian , Dalian in Liaoning and Kunming in Yunnan.
Demonstrations over the Maoming plant spread to Guangdong and Shenzhen even after the local authorities held two press conferences promising that construction would not start before consensus was reached.
In the second day of protests in Shenzhen yesterday, about a dozen protesters gathered outside Luohu train station despite a heavy police presence, Hong Kong's Now TV reported.
In Maoming, a local resident said her niece, a seven-year-old primary school pupil, had been taught at school that the project would have little impact on the environment and would bring huge economic benefits to the city.
"Both my niece and her parents were also asked to sign a letter promising that they would not join any protests," she said.
"The government is just trying to calm the situation and put a lid on the whole thing as it's determined to push ahead with the PX project. We will protest until it is cancelled," she said.
A deputy mayor of Maoming told a press conference on Thursday the project was still in the very early planning stage and there was no timetable yet for construction. However, an official document released in April last year by Guangdong's planning agency - the provincial development and reform commission - said construction was slated for between 2011 and this year.
The Maoming government said the planned plant, with capacity to produce 600,000 tonnes of the chemical each year, would help build the city into a world-class petrochemicals base.
This article appeared in the South China Morning Post print edition as: Protests over PX plant bid continue