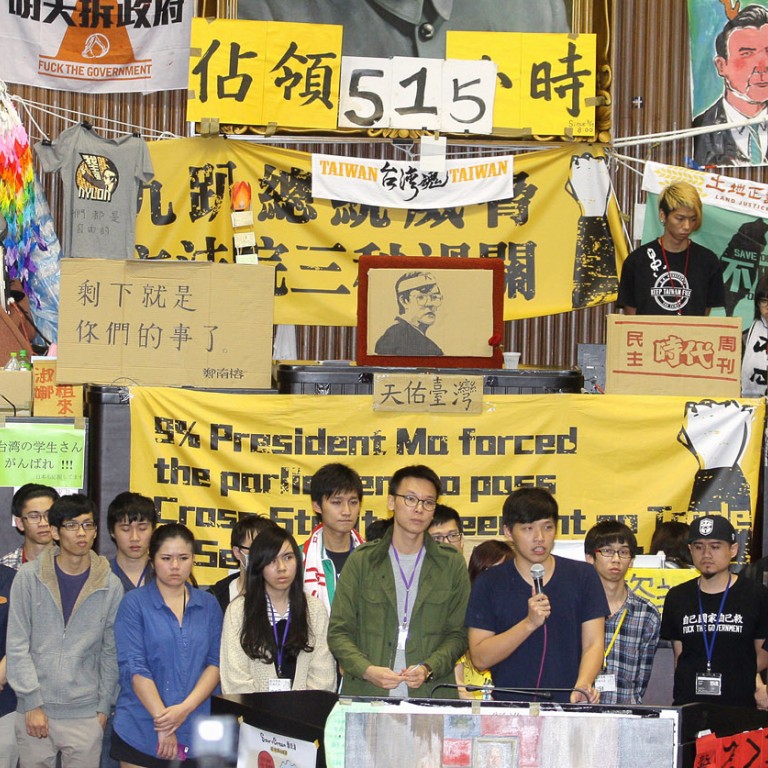 Update
Taiwan protesters agree to end parliament occupation after talks with speaker
Protesters' decision to end three-week stand-off comes after parliamentary speaker agrees to prioritise supervision bill for cross-strait deals
The student-led protest in Taiwan opposing a services trade pact with the mainland will end on Thursday, after demonstrators pledged to leave the parliament building they have occupied since March 18.
The planned departure was welcomed by Taiwanese President Ma Ying-jeou, whose decision to have the pact reviewed and ratified by the legislature before the end of June sparked one of the island's biggest protests.
Ma insisted on the pact review, noting that it was confirmed by the caucuses of both the ruling and opposition parties and that it represented the will of the majority.
Claiming the pact would threaten jobs and endanger the island's democracy, some 200 students stormed the legislature.
Legislative speaker Wang Jin-pyng vowed on Sunday to press for the enactment of an oversight bill, hoping to persuade students to leave the premises.
His pledge, in line with students' demands, was perceived as a goodwill gesture, and rally leaders announced at a news conference last night they would end the three-week protest.
"We call on all protest supporters to gather at the legislature on Thursday at 6pm to leave parliament with us," said Chen Wei-ting, a student leader.
Chen said the action showed the people of Taiwan understood they "no longer needed to be restrained by the old political establishment".
With four of their demands already met or pending, Chen said they decided to leave the building so the protests - dubbed the "sunflower" movement by local media - would not alienate the majority.
The students had demanded a new oversight bill to safeguard the interests of Taiwan in any agreement with the mainland.
Lin Fei-fan, another student leader, said students were willing to take legal responsibility for the occupation.
In a meeting with Kuomintang legislators yesterday evening, Ma said the decision to end the occupation "meets the expectation of the majority of the public".
Calling for unity among the people of Taiwan, Ma said he had responded to the demands of the students, including their early calls for a meeting.
Yang Lixian, a researcher with the Chinese Academy of Social Sciences' Institute of Taiwan Studies, said the students' decision to leave the legislature would indefinitely delay the trade pact between Taiwan and the mainland.
"This will make any future pacts between Taiwan and the mainland difficult to be approved, which will take a toll on cross-strait relations," she said.
Additional reporting by Li Jing
This article appeared in the South China Morning Post print edition as: Occupying students agree to leave Taiwan legislature