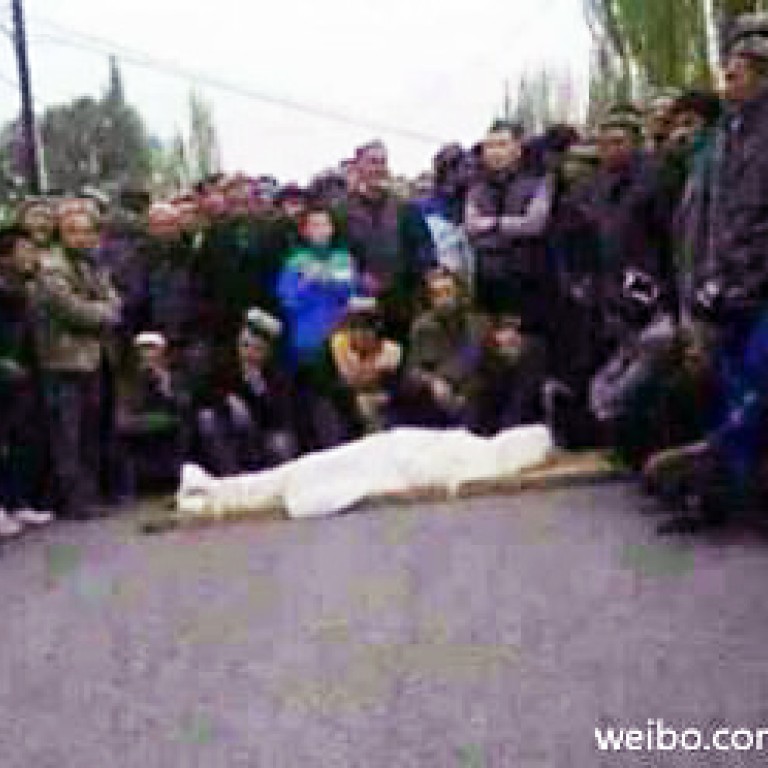 Uygurs protest over teenager's fatal shooting in Aksu city, Xinjiang
Residents parade body of student shot by police after 'refusing to stop at checkpoint'
Uygurs, reportedly in their hundreds, have taken to the streets in a Xinjiang county to protest the shooting of a 17-year-old student, allegedly by police officers, during a traffic incident.
Residents in the Uygur-majority Keping county in Aksu city, carried the body through the streets, a local information official confirmed.
The official refused to give details about the scale of the protest or what triggered it. "There is still no conclusion about the incident yet," the official said.
The high-school student reportedly ran two red lights and refused to stop at a checkpoint on Saturday, Radio Free Asia reported, citing a Uygur police officer. Armed policemen shot him dead, sparking rallies on the day and into Sunday.
About 1,000 special police officers and helicopters were deployed to quell the protests, and more than 30 people were detained, the radio station said.
Photographs circulating online showed Uygurs marching while carrying a man's body, along with what appeared to be a close-up of bullet wounds on the victim's chest.
A police officer in Aksu said on a verified Weibo account that, "even worldwide", the refusal to co-operate with checkpoint officers justified the shooting.
News about the shooting and protest was censored on the mainland, and social media accounts of the incident were scarce.
The Keping county government has ordered local police to increase security and crack down on "rumours" to safeguard "the big picture of social harmony".
Local officials must not spread rumours and must "bravely expose the truth of terroristic violence", the county government said in a now-deleted statement on its website yesterday.
Keping has 49,000 residents, 97 per cent of whom are Uygurs, a Muslim ethnic minority concentrated in Xinjiang.
This article appeared in the South China Morning Post print edition as: Uygurs protest over teen's fatal shooting