Focus
Get more with myNEWS
A personalised news feed of stories that matter to you
Learn more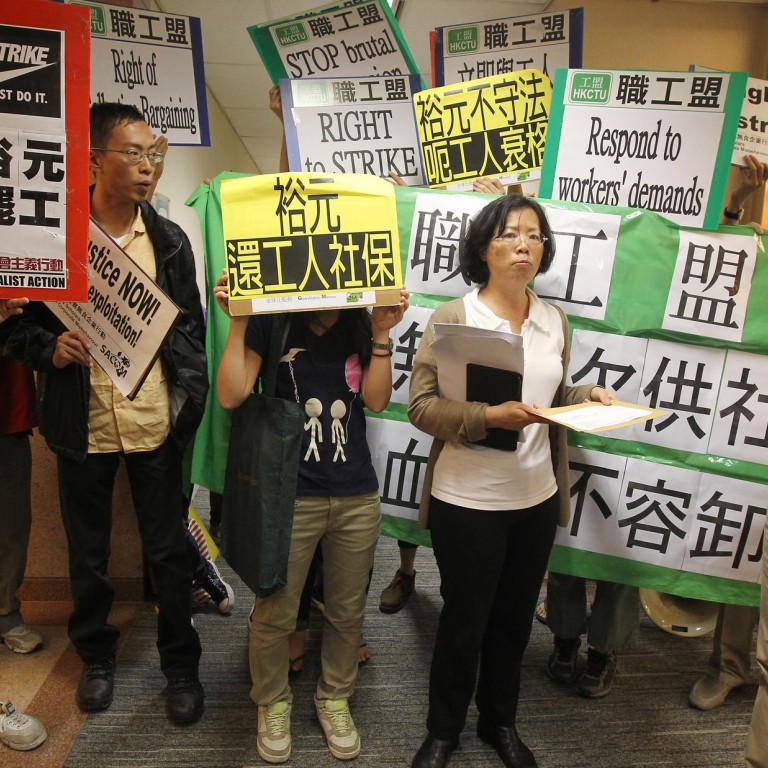 Yue Yuen strikers vow to continue until benefit contribution deficit paid in full
Industrial action over social insurance system at world's largest shoemaker forces a concession, but it's not enough for employees
The world's largest shoemaker caved in to some demands by striking workers yesterday, but the four-day labour stoppage involving tens of thousands of employees continued to brew over company benefits.
Yue Yuen Industrial Holdings, which makes shoes for Nike and Adidas, said it would increase employee benefit payments for its Guangdong factory workers.
The strike began after negotiations broke down over Yue Yuen's contribution to workers' social insurance, which covers retirement pensions, medical insurance, housing allowances and injury compensation as required by mainland law. Workers and employers contribute.
Employees renewed a strike on Monday after learning that the company's contributions were below the legal minimum. They refuse to end the strike, and criticised the company's plan to increase contributions in stages through next year.
"I think today is a small step of victory for workers. But the factory did not show enough sincerity. I feel numbed, weak and powerless to make real changes," said a female worker from Hunan province.
Workers who were interviewed declined to reveal their names, fearing retribution from the company.
Yue Yuen spokesman George Liu said some workers had given a "positive response" to a planned May 1 increase in company payments to a social insurance system. Employees were expected to return to work or face action by the company, he said, without specifying possible actions or giving an estimate of the number of workers on strike.
The workers have also demanded a pay rise. The factory employs about 60,000 workers. The strike has been one of the mainland's largest and comes amid signs of increased labour activism as the economy slows. Several workers said some 50,000 workers at seven Yue Yuen plants were on strike yesterday.
In Dongguan, several were injured after clashing with police, with some needing hospital treatment, workers said. Most of the factories have been guarded by a large police presence.
Workers said a senior factory manager in Gaobu town who tore strikers' posters was barred by employees from leaving the plant. They said the man jumped into a river to escape strikers and was rescued by police.
Yue Yuen, a company listed in Hong Kong, is owned by the Taiwan-based Pou Chen Corp. The group makes shoes for more than 60 brand names including Nike, Adidas, Reebok, Timberland and Converse.
According to workers, the employer's social benefits contribution was based on 21 per cent of average workers' wages, calculated at about 1,800 yuan (HK$2,260) per worker. Workers, though, said the average monthly wage was about 3,000 yuan, meaning that employer contributions were short by about 250 yuan a month.
A 40-year-old worker said employees learned of the gap last month when a 50-year-old woman from Hunan, who had been employed for 18 years, failed to get her retirement pension. The woman checked her social insurance balance with authorities and discovered that the company had not contributed the full amount, the worker said.
The news prompted workers to check their social insurance balances, discovering that they too had been shortchanged. "We are very angry and feel we've been lied to over the years,'' said another 52-year-old worker. "How are we going to live after we retired?"
Pou Chen said management had agreed to meet worker demands to start paying the money needed to make up for the social insurance shortage from May 1 until the end of next year. It warned shareholders that the payout would hurt the company's financial performance.
Liu Kaiming, director of the Institute of Contemporary Observation, a labour rights NGO in Shenzhen, said Yue Yuen's compromise gave workers a victory.
"The company should pay up the amount in full. It's too early to tell whether the offer can be honoured," he said.
Most workers vowed to continue the strike unless their company immediately paid the shortfall. "We can't be fooled by the management any more," one worker said. "The strike must continue as long as the money is not realised."
Workers estimated that in Gaobu alone, Yue Yuen owed up to 800 million yuan for social insurance and the figure for all its mainland workers could be as high as 4 billion yuan.
Lin Dong, a representative of the Shenzhen-based Chunfeng Labour Dispute Service, who was blocked by Dongguan police on Sunday when his team tried to advise workers on a petition, said the workers lacked a well-organised body to negotiate with management.
"Not many are willing to take the lead for fear of retribution. This could be quite problematic," Lin said. "Even with a peace offer as such, workers are not willing to trust the management."
He urged the government-affiliated Dongguan Federation of Trade Unions to represent workers' interests. "The strike has reached a critical stage today. It could go down the drain if the government steps up its crackdown and the company begins firing workers," Lin said.
This article appeared in the South China Morning Post print edition as: Striking workers put their foot down