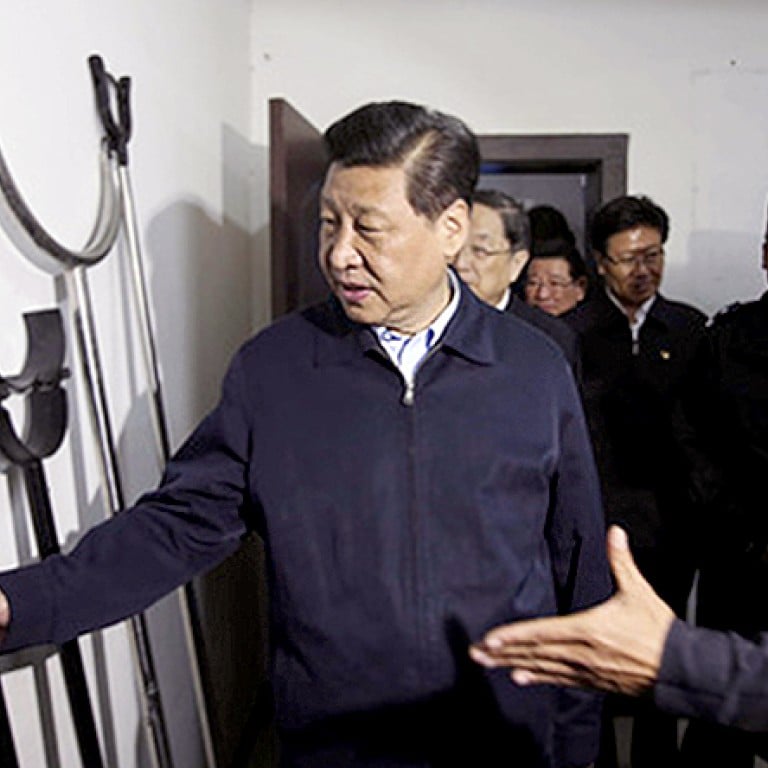 President Xi Jinping delivers tough message to 'frontline of terror' on visit to Xinjiang
President demands tough action against unrest in Xinjiang, but also urges steps towards Uygur integration and promotion of economic growth
Xi Jinping has made his first presidential visit to what he called the "front line against terrorism" in the restive region of Xinjiang.
Xi's tour of Kashgar came ahead of a work conference in June that will decide policies for the troubled region.
Xinjiang has seen a series of attacks in recent years, blamed by the government on Muslim ethnic-Uygur separatists. The authorities also blame them for last month's knife attacks at Kunming railway station that left 29 dead and 140 injured.
Xi visited a military unit and an armed police squad on Sunday afternoon. He also toured a police station in Kashgar on Monday and watched an anti-terrorism drill.
"You must have the most effective means to deal with violent terrorists," Xi was quoted by Xinhua as saying. "The more you sweat in training, the less you bleed in wartime."
Cracking down on terrorism has been top of the agenda for Xi's administration and is among the priorities of the Communist Party's newly created National Security Commission.
At least 100 people have been killed in violence in Xinjiang over the past year, officials say.
Over the past two months, Xi has publicly discussed the battle against terrorism 15 times.
Two days before Xi toured Kashgar, he vowed in a Politburo meeting to "resolutely crack down on terrorism and separatism with high intensity to safeguard national security".
During his trip, Xi also visited a nearby village and asked about the daily lives of Uygurs.
Later, while visiting a school, Xi urged ethnic Han teachers to master the Uygur language and to help Uygur students become fluent in Putonghua.
"It's important to [have] bilingual education for minority children. [They] will be able to find jobs easier in the future by mastering the Chinese language, and more importantly they will contribute more to national unity," Xi said.
Part of his visit also touched on promoting economic growth.
At a meeting yesterday, Xi told officials to develop the manufacturing and services sectors and to launch projects to create jobs in the region. "We should help people to get jobs, make a living and have hope," Xi said.
Pan Zhiping , a senior researcher at the Xinjiang Social Science Academy, said Xi wanted to see the situation in Xinjiang for himself ahead of the government work conference in early June.
"Xi wants to tell local officials and people in the south of Xinjiang that he is a leader who doesn't just sit in a Beijing office and read reports written by local officials, but a leader who goes to get in touch with them," Pan said.
"During the trip, Xi sent a clear message to the outside world that he would deal with terrorists with an iron fist, but might be more flexible when dealing with religious and ethnic conflicts, as well as other social problems."
Southern areas of Xinjiang have higher populations of Turkic-speaking Uygurs.
Human rights organisations and Uygur exile groups claim Beijing's policies discriminate against the ethnic group's culture and religion, stoking unrest.
The area is often marred by violent unrest. In April last year a clash between Uygurs and police near Kashgar left 21 dead.
Related violence has also spread to other parts of the country, including Beijing.
This article appeared in the South China Morning Post print edition as: Xi delivers message to 'frontline of terror'