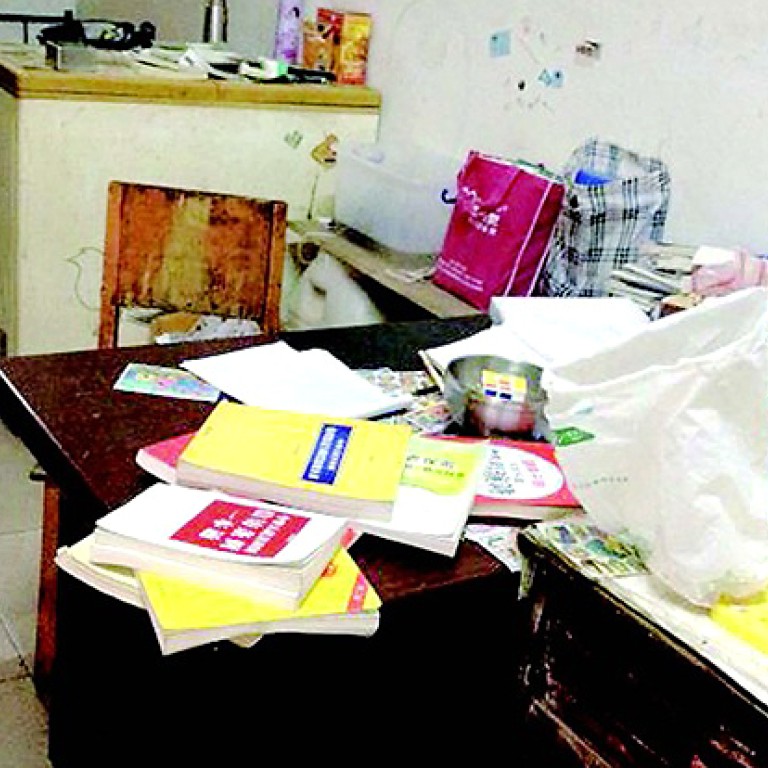 Dengzhou villager creates fake but effective 'government office' to fight illegal land grabs
Perhaps you can fight city hall: Zhang Haixin, a rural farmer, waged a quiet campaign of bureaucracy filing forged government documents on behalf of the rural poor
A Henan villager, "agonised" by the lack of action on illegal land grabs in her county, took matters into her own hands and created a fake government office there, preventing officials from seizing land from the rural poor.
Zhang Haixin, 46, a farmer in Dengzhou, was arrested last November on charges of forging government documents, after years of quietly working to protect the land of villagers who felt they had nowhere else to turn.
It all started in 2007 when Zhang, frustrated by local officials failing to pay their bill at her restaurant in the rural village of Jiang, complained to the local government. She was told the 6,000 yuan (HK$7,550) debt to her would not be repaid, but rather applied to a penalty she owed for having more than one child.
Her quest to obtain justice for herself turned into an activist campaign on behalf of many other villagers frustrated by a lack of government response to their complaints. She helped postpone a land grab in her village by leading a group of petitioners to the cities of Dengzhou, Henan's provincial capital Zhengzhou and even Beijing, starting in 2009. Though they never gained a formal resolution to prevent the seizure.
Zhang paid for petitioners' travel expenses, leaving her family in debt of more than 100,000 yuan (HK$125,000).
Desperate for a solution, Zhang went rogue. She set up her own government office, forging official documents and working round the clock to protect her fellow villagers' land rights, Southern Weekly reported.
Between October 2012 and November last year, Zhang, claiming to be a secret inspection agent from Beijing, issued forged papers to her village party committee and developers, ordering them not illegally confiscate or occupy land.
During the petitioners' campaign, Zhang set up a collective economic organisation for Jiang village, albeit a forged one.
The "government office" she established was less than a 1 kilometre away from the real Dengzhou city government. It was a room of about 30 square meters that was divided into a bedroom apartment. Her sitting room was piled up with mess but there was an old desk which she used to handle her cases.
She moved to the city from her rural home in 2007 when her daughter went to school there. News of Zhang's brazen manoeuvreing comes as the central government tightens restrictions on public input. Starting this month, members of the general public are officially banned from filing petitions — except graft complaints against provincial or state-level officials or complaints of national importance — with the central government in Beijing. Instead, they must take up their grievances with local officials, according to the State Bureau for Letters and Calls.
Ma Xianglan, a villager from Liaozhai, near Dengzhou, was introduced to Zhang last January by her neighbour Liao Chunzhou who told her "Zhang had connections in Beijing that could get things done".
As "soon as I saw her, I was disappointed. She was chubby and tanned, standing at 1.6 meters. You'll know she's a peasant once you see her," Ma said.
"But when we began to speak, my doubts began to clear as her speech is well paced and she knew a lot about land policy," Ma added. Other villagers described Zhang's office as run-down but said she was familiar with government procedure and her office was a friendly one. She once charged a villager five yuan to issue a certificate of land rights.
Zhang purchased books to study land law, election procedures and administrative writing style, and she even attempted to recruit legal talent, receiving resumes from law school graduates. Zhang also enlisted two villagers as subsidiaries to help her handle cases. Occasionally, the documents she sent out were enough to fool local government offices and land developers who thought "she really does have a connection with someone in Beijing".
This article appeared in the South China Morning Post print edition as: Farmer's ruse to stop official abuse exposed