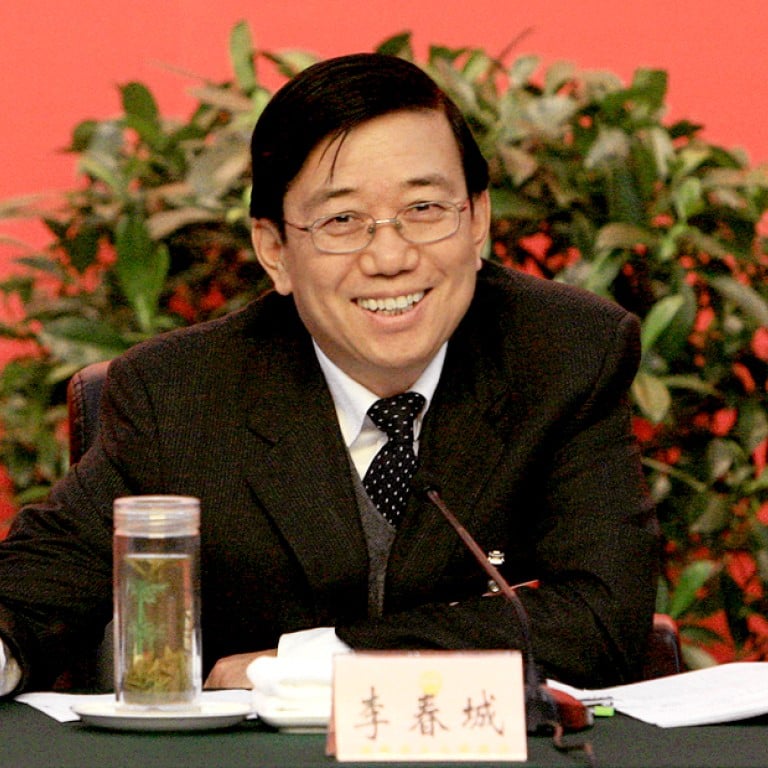 New
Superstitious world of corrupt politicians
State media has reported on officials' obsession with fortune tellers and fung shui amid concern by Communist Party bosses that some cadres are reverting to 'feudal' beliefs
Allegations that a senior official under investigation for corruption spent part of 10 million yuan (HK$12.5 million) on the services of a fung shui master has prompted state media to report on the "superstitious" beliefs of other cadres, amid government concern about an increase in "feudal" beliefs among some of the nation's politicians.
The government's anti-corruption investigation department said last week that Li Chuncheng, the former deputy Communist Party chief in Sichuan province, spent the cash on the fung shui adviser and for Taoist monks when he moved the tomb of an ancestor.
Li was stripped of his posts and expelled from the party last week.
The corruption watchdog accused him of taking massive bribes and engaging in "feudal and superstitious activities".
State-run Xinhua cited the case of Ye Shuyang, a former public security chief in Shaoguan in Guangdong province who took more than 34 million yuan in bribes.
On the night before he was arrested in 2008 he went to an adviser to have his fortune read.
Ye also went to visit monks on Wutai mountain in Shanxi province while he was studying at the Central Party School to forecast how his career was likely to go.
Xinhua said he also used the services of fortune tellers to advise who to bribe. He once requested the presence of a Taoist monk at a crime scene for pointers on which way a murderer had fled, according to the report.
The former propaganda chief in Chongqing, Zhang Zonghai, once spent 400,000 yuan for the right to be the first to offer incense at a Buddhist temple at the start of the Lunar New Year, Xinhua reported.
A former provincial police chief in Guangdong also advised that the front entrance to the Asia International Hotel in Guangzhou be changed to resemble a shield so it could deflect the bad fung shui of a television broadcasting building nearby, a source who asked not to be named said.
The China Youth Daily said in a commentary that Li's case was just the tip of the iceberg and many officials resort to superstition not for any spiritual reasons, but because it might help them get rich.
The Communist Party ordered officials in December not to hold lavish funerals because it was concerned about a return to "bad habits" by some officials with "feudal and superstitious activities making a resurgence".
This "damages the image of the party and the government and harms social morals", the government said in a statement on its website.