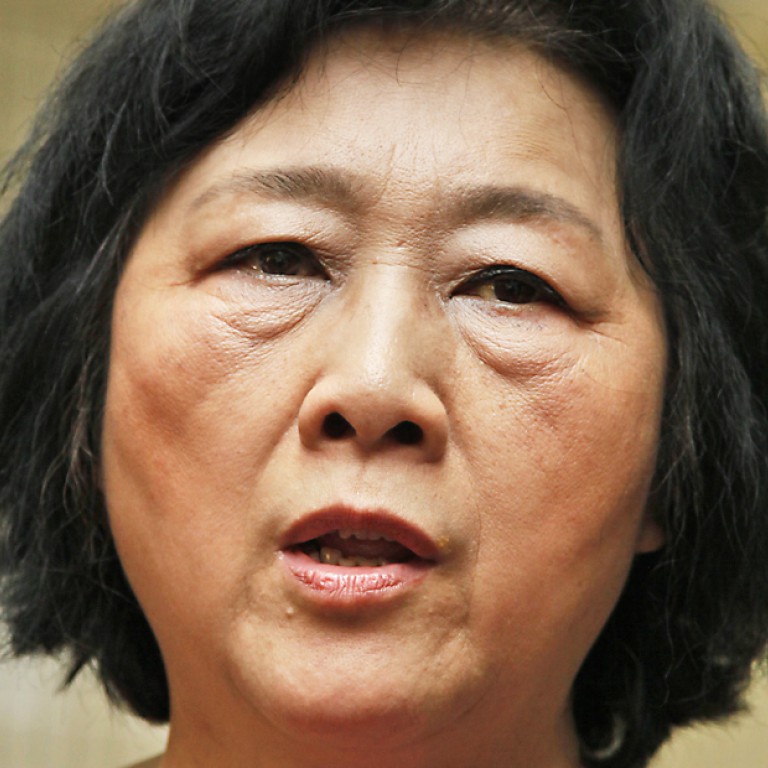 Journalist Gao Yu in detention for allegedly leaking secret Communist Party document
Detained writer confesses to providing state secrets to overseas website, Xinhua reports
Outspoken journalist Gao Yu has been placed in criminal detention for allegedly leaking a confidential Communist Party document and had admitted her guilt, state media said yesterday.
Gao, 70, who had already been jailed for a total of seven years for her political writing, is one of a number of intellectuals and activists who have been detained across the country ahead of the 25th anniversary of the crackdown on the Tiananmen pro-democracy movement.
State broadcaster China Central Television and Xinhua reported yesterday that Beijing police detained Gao on April 24 for leaking state secrets abroad, after a special task force seized a large amount of "important evidence" at her home.
Watch: Beijing parades journalist Gao Yu's confession for "leaking state secrets" on state TV
Xinhua said Gao expressed "deep remorse" and "was willing to accept legal punishment".
Her friends raised the alarm after she failed to turn up at a private gathering on April 26 to commemorate an event that led to the Tiananmen crackdown.
The news reports said that last August an overseas website published the full text of a secret Communist Party document that was then circulated widely on other websites.
"After investigations, the suspect Gao Yu accounted for the criminal act that she had illegally obtained the secret central (party) document and provided it to the overseas website," Xinhua reported.
The footage aired on CCTV yesterday morning featured Gao making a confession to police: "I believe what I did breached the law and endangered national interests. I was very wrong. I have sincerely learned a lesson and must confess my mistake."
Xinhua did not specify which secret document Gao leaked but said she obtained a photocopy in June and sent it electronically to the website.
The timing of the purported leak appeared to coincide with the reports of a confidential Communist Party circular known as Document No9 last year that ordered cadres to tackle seven subversive influences on society, including "Western constitutional democracy" and "universal values" such as human rights and free speech.
Detention of journalist Gao Yu and five others sparks fears of new crackdown on liberal intellectuals
This week's criminal detention of veteran journalist Gao Yu on charges of revealing state secrets and another five prominent liberal figures on public order charges have stoked fears that these are part of a new and co-ordinated government approach to deal with liberal intellectuals.
Yesterday, state media reported that 70-year-old Gao, who had gone missing for the past two weeks, has been placed in criminal detention for allegedly leaking a confidential Communist Party document.
On Tuesday, rights lawyer Pu Zhiqiang and liberal scholar Xu Youyu were among those criminally detained for "picking quarrels and provoking trouble" after attending a low-key event commemorating the 25th anniversary of the Tiananmen crackdown.
Political analyst Ching Cheong feared the latest detentions signalled a new strategy of targeting liberal intellectuals.
Ironically, Gao herself reported on the Chinese website of Deutsche Welle last year that, at a propaganda conference on August 19, President Xi Jinping purportedly told cadres that "a small bunch of subversive intellectuals" were using the internet to "smear and attack the party's leadership" and must be "seriously dealt with."
"These [detentions] appear to be the continuation of the spirit of Xi's August 19 speech," said Ching, a journalist who was jailed on the mainland for almost three years on what he called trumped-up espionage charges.
Sophie Richardson, China director at Human Rights Watch, said an "alarming trend in the past year has been the lowering of [Beijing's] tolerance of dissent."
She said the fact that the government detained people who attended a seminar held at a private home by only 15 people was a "profound sign of weakness".
Rights groups also expressed concern that Gao was shown on state television confessing after being held incommunicado in police custody for two weeks, probably with no legal counsel.
"There will be questions to answer about where she has been held, by whom, and how she has been treated for the past two weeks," Richardson said.
Rights lawyer Mo Shaoping said state-secret charges were vaguely defined and authorities often selectively classified information a "state secret" only after they target someone.
Mo and Ching also said that journalists should be able to report freely where it involved matters of public interest.
"This charge directly conflicts with the public's right to know," Mo said. "You can't call things state secrets at every turn."
Gao has served seven years in jail for her political commentaries: for 15 months after she was arrested on the eve of the June 4 Tiananmen crackdown, and again for six years in 1993 for leaking state secrets.
This article appeared in the South China Morning Post print edition as: Journalist Gao Yu held 'for leaking party document'