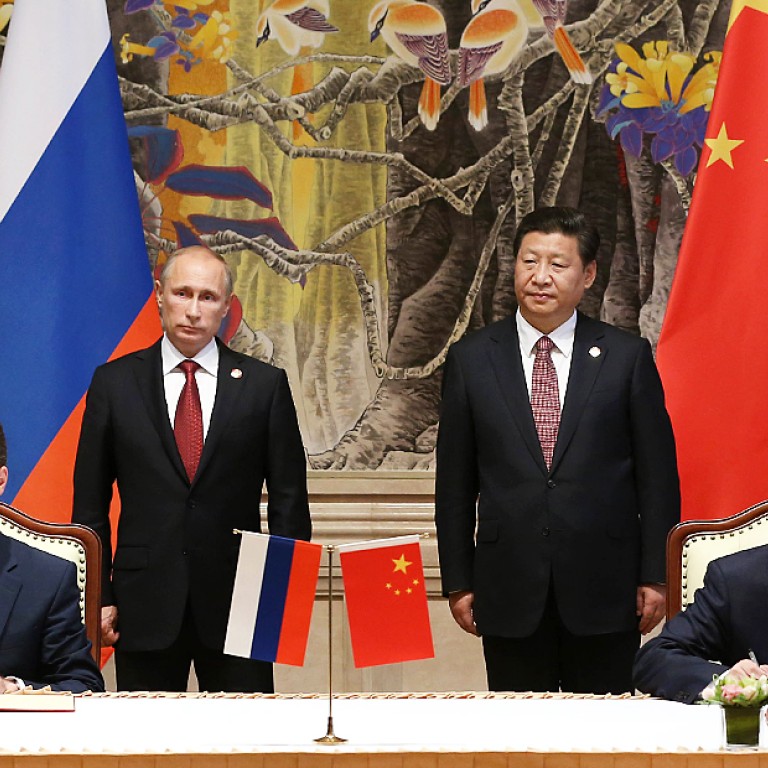 Update

|
China, Russia sign historic natural gas supply deal worth US$400b after decade of talks
Xi and Putin witness conclusion of long-awaited agreement under which Moscow will supply 38 billion cubic metres of gas annually for 30 years
China and Russia signed a long-awaited natural gas supply deal worth US$400 billion in a diplomatic boost to show the unity of the two nations.
The signing, witnessed by President Xi Jinping and his Russian counterpart Vladimir Putin, was made on the sidelines of a regional forum at which Xi warned against the establishment of military alliances in Asia and called for a new regional security co-operation mechanism.
Under the agreement, Russia's Gazprom will supply China National Petroleum Corporation with 38 billion cubic metres of gas annually for 30 years.
Gazprom CEO Aleksey Miller told Russian news network RT that the contract was worth a total of US$400 billion, but the price of gas stipulated in the deal remained a "commercial secret".
Hopes of a deal were running high when Putin kicked off his two-day Shanghai tour on Tuesday. But it could not be signed after talks between Putin and Xi that day, and representatives from the two sides continued negotiations until yesterday.
Watch: China and Russia sign huge gas deal
Observers said the signing of the deal after negotiations lasting more than a decade because of pricing differences was a boost to both nations, especially for Russia amid Western sanctions over its intervention in Ukraine.
The signing was a "tangible result" for Putin that he could get things done despite his difficulties with the West, said Rafaello Pantucci, a senior research fellow with the Royal United Services Institute, a defence and security think tank in Britain.
Industry estimates showed that the price of the agreement may have come in at around US$350 per thousand cubic metres, Reuters reported. The western European average is US$380.
Li Lifan, an expert in Russian affairs at the Shanghai Academy of Social Sciences, reckoned the gas price would be higher than original Chinese estimate. "China wants to show unity with Russia, and hopes to secure its support when making a larger presence in Asia," he said.
The deal was clinched shortly before Xi wrapped up the Conference on Interaction and Confidence Building Measures in Asia.
The previously little-known 26-member forum, established in 1992, was given added weight this year as Beijing tries to extend its regional influence. Russia, Vietnam, India and Iran are among the members, while the United States, Japan and the Philippines are observers.
Without naming any nation, Xi said: "Beefing up military alliances targeting a third party is not conducive to maintaining common regional security." Last month Beijing warned Washington against creating an "Asian Nato" by stepping up security alliances with China's neighbours.
Xi called for the forum's scope to be expanded to cover the whole of Asia, and for the establishment of a defence dialogue among member states to be explored.
"It is for the Asian people to uphold Asia's security," he said.
Observers said Xi's remarks were aimed at Washington, even though Beijing will not set up a bloc against the US.
"Beijing is saying that Asia is no longer the realm for US leadership," said Benjamin Herscovitch, a research fellow at Australian think tank The Centre for Independent Studies.
This article appeared in the South China Morning Post print edition as: China, Russia sign landmark US$400b gas deal after decade of talks