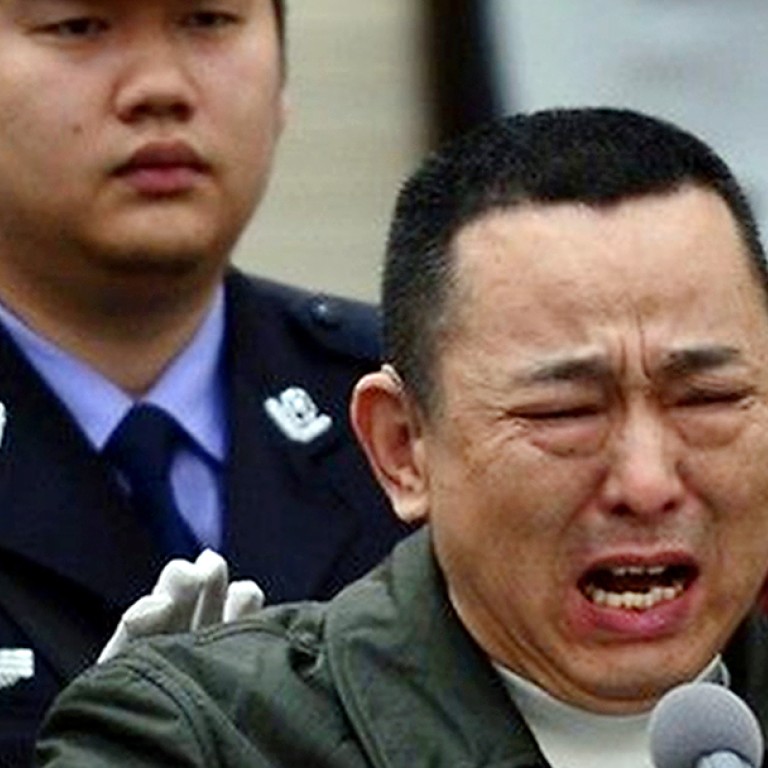 'I was framed': court outburst by mining tycoon Liu Han as he is sentenced to death
Convictions seen as prelude to anticipated case against ex-security tsar
A Sichuan mining tycoon with links to former domestic security tsar Zhou Yongkang erupted in anger when he was sentenced to death yesterday for leading a mafia-style gang.
In a brief hearing in Xianning, Hubei province Liu Han, 48, yelled "I've been framed" and "I've been wronged" to the court before guards took him away, two court witnesses said.
He was found guilty of 13 charges, including murder, running casinos and illegally selling firearms. His younger brother, Liu Wei, also known as Liu Yong, also received a death sentence, according to the microblog account of the Xianning Intermediate People's Court.
The case of Liu Han was considered by investigators to be a prelude to a highly anticipated case against Zhou, commonly referred to as the "giant tiger" who was closely connected with the mining magnate.
The term echoes President Xi Jinping's pledge to crack down on both "tigers" and "flies" (top and junior officials) in his anti-corruption campaign.
Zhou, a former member of the Politburo Standing Committee, is under detention while he is investigated for corruption.
People familiar with the situation said Zhou used to ask Liu Han to look after his elder son, Zhou Bin, who had at least two business dealings with Liu.
The court also ordered the confiscation of the Liu brothers' personal assets. Liu Han's Hanlong group - a conglomerate founded in 1997 with interests ranging from energy to real estate - was fined 300 million yuan (HK$377 million) for crimes including the use of fraudulent information to obtain bank loans.
"Liu Han and Liu Wei are bounded with heinous minds and sinister acts, which had extremely negative effects on society," the court said in a post.
Thirty-three other defendants were given sentences ranging from three years in jail to the death penalty, the court said.
Sun Xiaodong, a key player in the Hanlong Group, escaped punishment because he testified to the court.
Liu Han denied most of the allegations against him, including running a criminal gang, when he appeared in court in April. Liu Wei told the court his confessions were obtained under torture.
"The police beat me every day when I was detained in Beijing," court witnesses quoted Liu Wei as saying. "They said if I didn't make the confessions, they would arrest my wife and child."
Liu Han said he would forgive his brother for any wrong he had done. "We will still be brothers for the next life," he said.
"No, brother, I did not do anything wrong," Liu Wei replied.
A family member who declined to be named said earlier that Liu Han was innocent. "You could charge him with anything, including economic crimes. But he is not a gangster," the family member told the . "He is so rich and has wide connections. He has no reason to lead a gang."
Liu's political connections ensured his case was marked as a top priority by Xi, a source close to the case said earlier.
More than 150 Communist Party officials went to oversee Liu Han's trial, including the vice-president of the country's top court, Li Shaoping, deputy chief prosecutor Zhu Xiaoqing and other security and propaganda higher-ups.
"This might have set a very bad example for future cases linked to Zhou Yongkang," said another person close to the case, who indicated it would give the impression the court was not independent. "It is impossible for the judges to make independent rulings when this many senior officials supervise the case."
The has previously reported that Liu built his empire into a vast web connecting senior officials across the country. Sources said the long list of senior cadres who may have received money from Liu Han included high-ranking current or former officials from Hainan, Yunnan and the Sichuan capital of Chengdu .
Zhou and his son are under detention for corruption investigations, while the rest of the officials that had connections with Liu Han remain in office.
This article appeared in the South China Morning Post print edition as: Death sentence for tycoon Liu Han