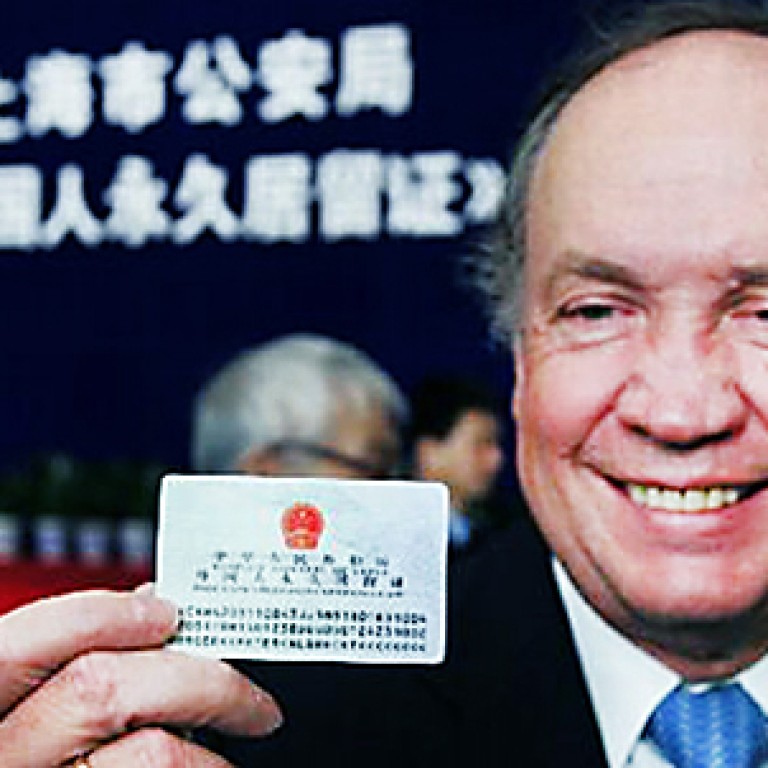 China may ease green card rules to attract foreign workers
Mainland authorities set to revise permanent residency rules to lure talented foreign workers
China may make it easier for foreigners to apply for permanent residency in an attempt to attract more talented workers to the country, the authorities said yesterday.
The government is considering revising the regulations to apply for permanent residency with "more flexible and pragmatic application standards", the Organisation Department of the Central Committee of the Communist Party said.
The green card system was introduced in China in 2004. Foreigners who meet a set of criteria can stay in the country for an unlimited period and enter without a visa.
The announcement to revamp the system comes after President Xi Jinping called for a more open policy to attract foreign talent. Xi said at a meeting with 50 foreign experts from 22 countries in Shanghai last month that government departments should improve the mechanism for bringing in talented foreign workers.
The government has rolled out a number of initiatives to attract overseas talent. One scheme called the "1,000 talent plan" has recruited about 4,100 overseas scientists since it was launched five years ago.
A report by China News Service, citing figures from the Ministry of Public Security, said only 4,700 foreigners were granted a green card between 2004 and the end of 2011.
Criteria for a successful application can include making an investment of at least US$500,000 and producing a good return on that investment for at least three years afterwards.
Watch: When Africa meets China in Guangzhou
Foreigners working in China for at least four years as assistant general manager, factory director, associate professor or assistant researcher can also apply. Those in higher positions are also eligible.
Spouses of foreigners with permanent residency can also apply for a green card, provided they have been married for more than five years and live in China for more than nine months each year.
Liu Guofu, a Beijing-based immigration law scholar, said the green card assessment gave more weight to job titles rather than applicants' abilities. The assessment standard also varied among government agencies involved in the process.
"Not all foreign experts hold management or directorate positions in their workplace," Liu said. "Such an assessment pattern has severely narrowed the scope of foreigners who are eligible for permanent residency in China, affecting the attractiveness of the green card system."
This article appeared in the South China Morning Post print edition as: China may ease green card criteria