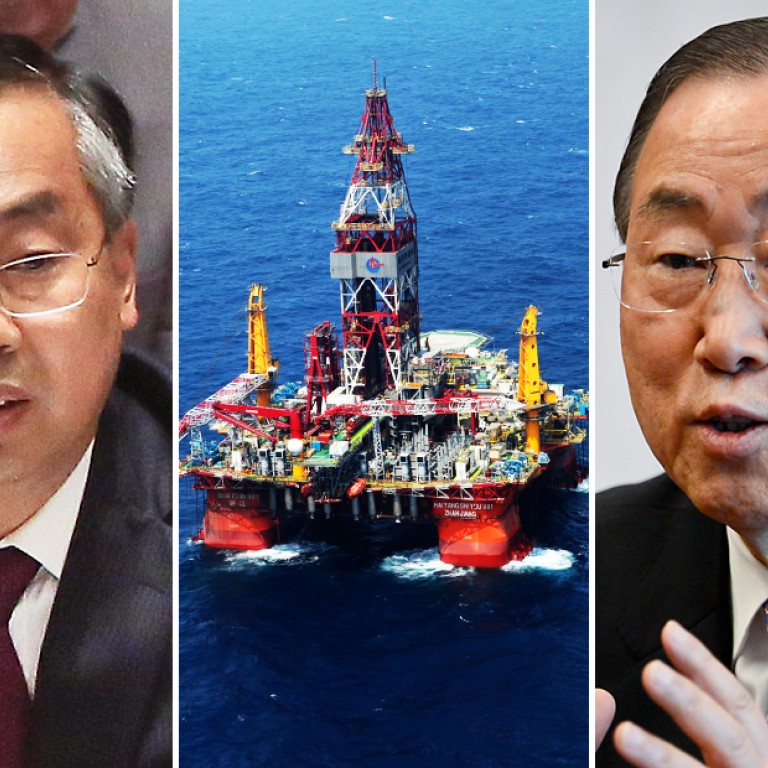 Beijing takes South China Sea oil rig dispute with Vietnam to UN
'Position paper' on rig's operation sent to Secretary general Ban Ki-moon asking UN chief to circulate it to the 193 members of the General Assembly
China took its dispute with Vietnam over its deployment of an oil rig in contested waters to the United Nations on Monday, accusing Hanoi of infringing on its sovereignty and illegally disrupting a Chinese company's drilling operation.
Deputy ambassador Wang Min sent a "position paper" on the rig's operation in the South China Sea to Secretary general Ban Ki-moon on Monday and asked the UN chief to circulate it to the 193 members of the General Assembly.
China sent the rig into disputed waters on May 1, provoking a confrontation with Vietnamese ships, complaints from Hanoi, and street protests that turned into bloody anti-Chinese riots. Hundreds of factories were damaged and Beijing said in the paper that four Chinese citizens were "brutally killed" and over 300 injured.
The oil platform is located about 32km from the China-controlled Paracel Islands, which Vietnam also claims, and 278km from the coast of Vietnam.
According to the paper, the state-run China National Offshore Oil Corporation has been conducting seismic operations and well site surveys in the area for the past 10 years and the drilling operation "is a continuation of the routine process of explorations and falls well within China's sovereignty and jurisdiction."
Beijing accused Vietnam of "illegally and forcefully" disrupting the rig's operation by sending armed ships and ramming Chinese vessels.
"Vietnam also sent frogmen and other underwater agents to the area, and dropped large numbers of obstacles, including fishing nets and floating objects, in the waters," it said.
The paper said Vietnam's actions violated China's sovereignty, posed "grave threats" to Chinese personnel on the rig and violated international laws including the UN Convention on the Law of the Sea.
It cited numerous references to back its claims that the islands "are an inherent part of China's territory, over which there is no dispute."
China has occupied the Paracel Islands, which it calls the Xisha Islands, since 1974, but they are also claimed by Taiwan and Vietnam. Vietnam calls them the Hoang Sa Islands.
Vietnam, which has no hope of competing with China militarily, said soon after the US$1 billion deep sea rig was deployed that it wants a peaceful solution, but a top official warned that "all restraint had a limit."