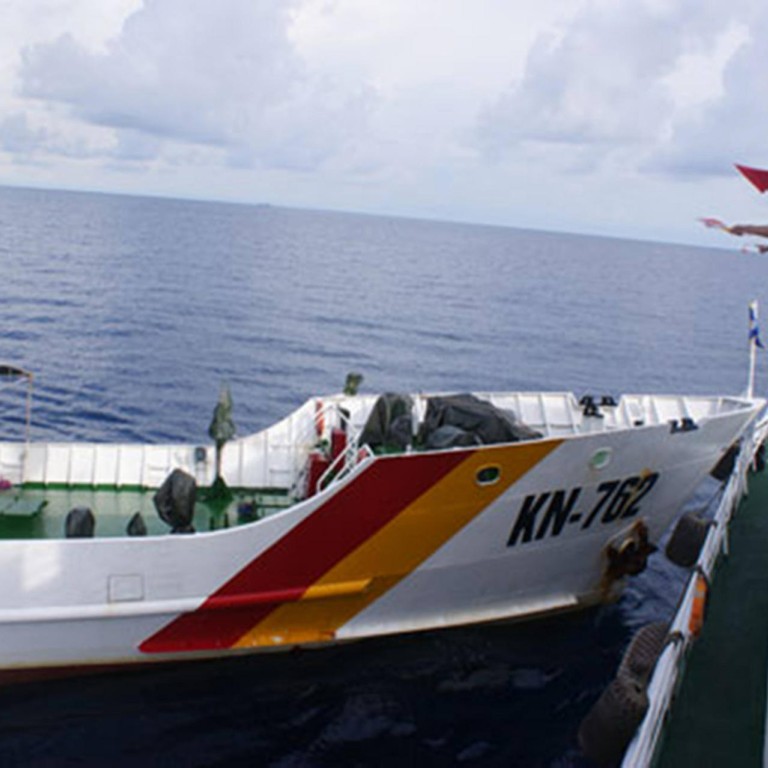 Video

|
Video shows 'Vietnamese boat ramming Chinese ships' in disputed waters
Territorial disputes continue to rise over alleged ship clashes near the Paracel Islands
The foreign ministry has released the first video clips of a Vietnamese boat ramming maritime police vessels sent by Beijing after a Chinese oil rig was installed in contested waters in the South China Sea last month.
The release of the footage of the close encounters in disputed territory appears to be Beijing's latest strategy to counter accusations from its neighbours.
On Thursday, the defence ministry released video of Japanese fighter jets flying close to Chinese military aircraft.
China has stepped up efforts to rebut Hanoi's claim it violated Vietnamese territory in the Paracel Islands, called the Xisha Islands by China and Hoang Sa Islands by Vietnam.
On Friday, China's envoy to the United Nations, Wang Min, also lashed out at Vietnam and the Philippines for "infringing upon Chinese territory" in the South China Sea.
Wang said Vietnam had violated a diplomatic consensus reached in 1974 by then premier Zhou Enlai and Vietnam's then prime minister Pham Van Dong acknowledging the entire Xisha Islands belonged to China.
Four video clips were posted on the foreign ministry's website yesterday, three of them showing the Vietnamese coastal surveillance ship KN-762 ramming Chinese maritime police vessels.
The video clips showing the collisions were first revealed at a press briefing on Friday by Yi Xianliang , deputy director general of the foreign ministry's department of boundary and oceanic affairs.
Another video clip shows Chinese sailors salvaging large floating barriers, including bamboo and fishing nets, that Yi claimed had been left by Vietnamese ships as obstacles to navigation in vital international shipping lanes in the South China Sea.
At the meeting of state parties to the United Nations Convention on the Law of the Sea on Friday, Wang accused Vietnam not only of "seriously infringing upon China's sovereignty, sovereign rights and jurisdiction", but also of undermining the freedom and safety of navigation in those waters, which he said threatened regional stability.
Zhang Mingliang , a Southeast Asian affairs expert at Jinan University, said that compared with Vietnam - which provided details of incidents between its vessels and Chinese ones as soon as they happened early last month - the reaction fromWang and Yi had come very late. "Beijing reacted much more slowly than Hanoi. It's the first time the foreign ministry has disclosed video of incidents that happened last month," he said.
Sino-Vietnamese relations have plummeted since the oil rig was put in place, worsening an already heated row over territorial claims in the area. Beijing said at least four Chinese were killed in anti-China riots in Vietnam; Hanoi said three died.
Vietnam has accused China of sending six warships to the area, but Yi said that Beijing had sent only maritime police vessels. He said that Vietnam now had 61 ships in the area, while China had 71, including government and auxiliary ships.
A senior US official in Washington rejected Yi's statement as "patently ridiculous" and said Beijing had used its air force and navy as well as coastguard assets "to intimidate others".
The official said that on any given day, there were also Chinese warships in waters disputed with the Philippines near the Scarborough Shoal, known as Huangyan Island in China and Panatag Shoal in the Philippines.
This article appeared in the South China Morning Post print edition as: Video shows Vietnamese boat ramming Chinese ships