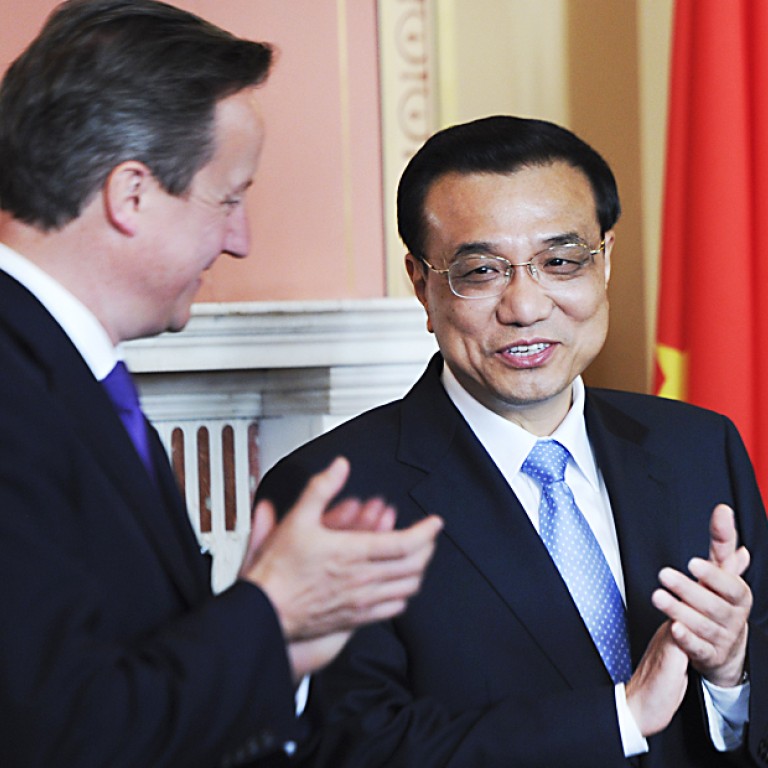 New

|
Premier Li Keqiang urges Scotland to remain part of the UK
China 'wants a strong, prosperous and united Britain, but will respect Scotland's choice'
Premier Li Keqiang has said he wants to see a "united" Britain, as Scotland prepares to vote on independence.
Asked about the September 18 referendum on whether Scotland should remain in the UK, Li said he wanted a "strong, prosperous and united United Kingdom".
He was speaking during his visit in London, at a joint press conference with British Prime Minister David Cameron.
Cameron's Conservative Party, their Liberal Democrat partners in government and the Labour main opposition want Scotland to stay in the UK.
Li's comments come after United States President Barack Obama suggested earlier this month that Scotland would be better off voting to remain part of the union.
"From the outside at least, it looks like things have worked pretty well," Obama said.
Li told reporters at Britain's Foreign Office that he welcomed a "strong, prosperous and united United Kingdom".
"I believe that the United Kingdom can stay at the forefront in leading the world's growth and development and also continue to play an important and even bigger role for regional stability and global peace," he said.
But "we certainly respect the choice you make", he added.
Li's comments were dismissed by the Yes Scotland campaign, which is backed by Scottish First Minister Alex Salmond's Scottish National Party.
"Unlike people in China, people here will have a free and democratic vote on September 18 when they will decide on the future of their country," a spokesman said.
"We believe that decision will be Yes."
A poll conducted by public opinion research company ICM for the Scotland on Sunday newspaper over the weekend put the "Yes" vote for independence on 36 per cent and the "No" vote at 43 percent, while 21 per cent said they were undecided.