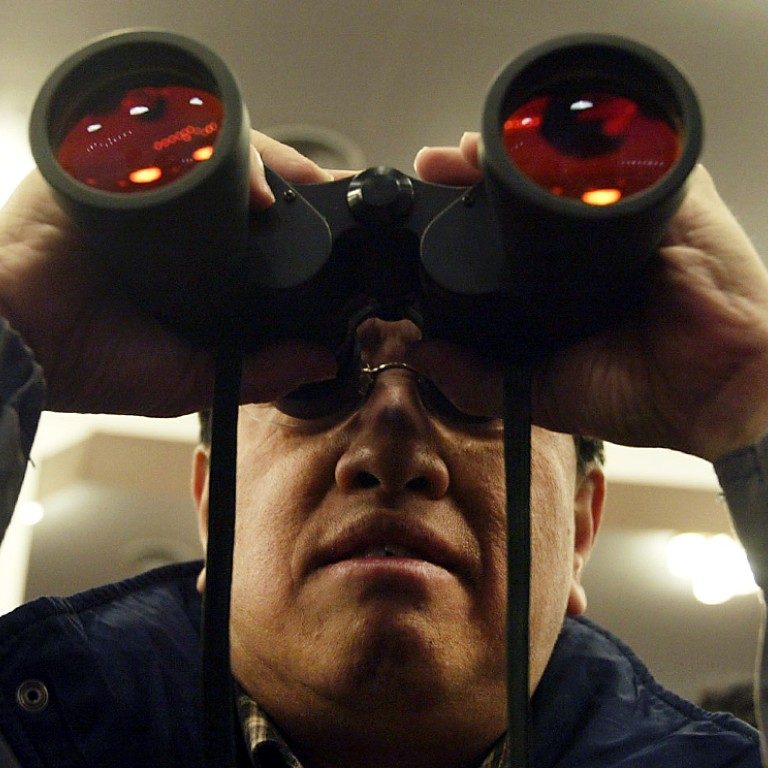 Update

|
New Chinese law steps up military zone security to keep out 'foreign spies posing as tourists'
New law gives PLA greater powers to prevent intrusions into restricted waters and military facilities, whether by innocent fishermen or foreign spies
The security of Chinese military bases is being threatened by illegally built high-rise buildings and fake tourists seeking access to sensitive sites to spy, state media said today.
This came after the state announced that a new law, taking effect next month, would step up protection of China's military facilities and its territorial waters following reports of inadvertent intrusions into restricted zones and concerns about spying.
In a report released at a legislative meeting on Friday, the People's Liberation Army general staff department said many of the nation's military zones had been probed by foreign intelligence.
There have also been more innocuous intrusions into secured areas, for example by fishermen sailing into military restricted waters, according to a military adviser quoted by the official .
Only a tiny fraction of the 4,800 local government and military bodies which are supposed to protect such facilities are currently doing their jobs properly, the official China Daily today cited senior military officers as saying.
On Friday, the National People's Congress Standing Committee enacted the Protection of Military Installations law, that will become effective on August 1, state media reported.
The law is a new version of a 1990 law that did not include the protection of restricted waters, airports and radio channels.
Military experts said the amendment would help raise awareness about the security of these zones, especially controlled waters that had long been used by fishermen.
"More detailed regulations will help prevent the public - for example, fishermen living close to the controlled waters - from leaking state secrets inadvertently," Li Jie , a Beijing-based navy expert, told the .
There had been many instances of fishing boats working in areas that included scheduled routes of naval vessels, military adviser Sun Qiang told the . "In extreme cases, the fishermen even raised flags commanding the naval vessels to change course," Sun said.
The revised legislation bans aquaculture, fishing and construction of civilian structures in prohibited waters.
In response to concerns about foreign spying, the legislature added several articles that tightened control of civilian facilities located near coastal defence zones, including banning low- altitude flights over restricted areas.
"Fake companies or sight-seeing tours are often used as pretexts by outside entities to approach sensitive Chinese facilities for the purpose of gathering military secrets," officer Song Xinfei told the China Daily.
Song Xinhui, another military adviser, told the that some foreign countries had set up intelligence posts near military zones - disguised as tourism or bilateral economic cooperation agencies - to monitor China's military activities.
"These foreign companies keep track of PLA personnel wherever they establish bases," Song was quoted as saying, without naming any countries or explaining what they had done.
Air bases have also been disturbed by high-rises built too close for safe flying operations, the China Daily added.
One government on the southern resort island of Hainan, a province which has responsibility for the disputed South China Sea, allowed villas to be built by a foreign firm inside a base, it added, quoting the military's newspaper.
"There are more than 1,000 high-rises that exceed their approved heights inside the flight security perimeters of our air bases, leading to the closure of nearly 20 bases and about 100 accidents," another officer, Shan Shaoli, was quoted as saying.
The revised legislation also lists what emergency action can be taken against intruders entering military zones or taking photos without the permission of the authorities.
"The administrators [of the military zone] can detain the intruders, transfer them to state security authorities, confiscate their cameras and halt data transmission if there is any", the amendment states.
According to the the General Staff Department, which oversees the daily operations of the military, is also amending the Measures of Implementation, an outline on how the new protection code can be effectively enforced.
This article appeared in the South China Morning Post print edition as: Law revised to tighten security of marine zones