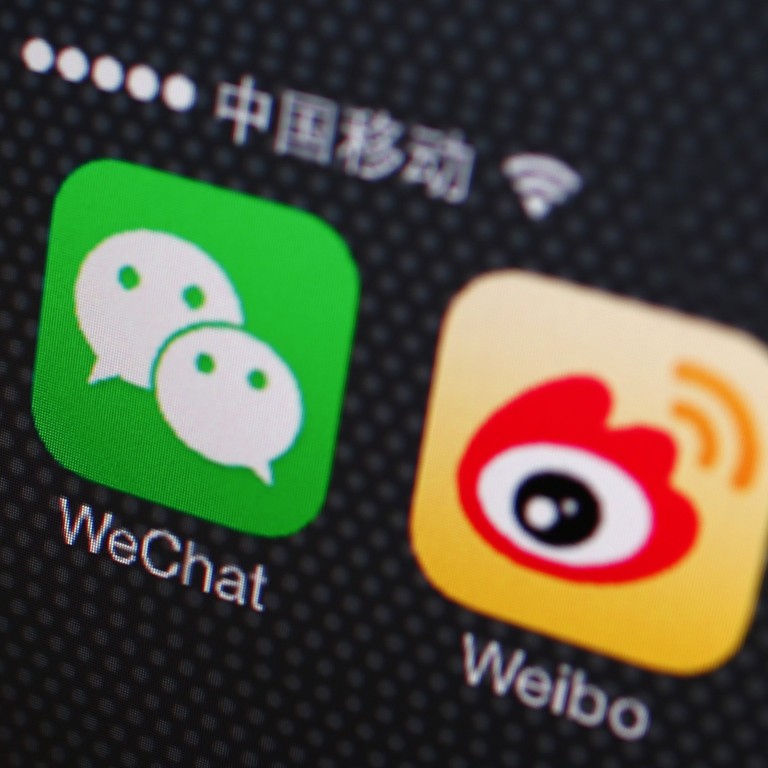 Food vendors using Weibo and WeChat warned 'you will be held responsible for food safety'
Warning comes as regulators say social messaging apps cannot be used as "trading platforms" and are only for individual use
Vendors selling food products via personal Weibo and WeChat accounts will be held responsible under food safety legislation, lawmakers have warned.
This is despite the fact such social media apps are not considered "trading platforms" by regulators and are set to be banned from being used to sell food products under a new draft law.
Lawmakers in Beijing are consulting the public on the draft amendment of the Food Safety Law. The new legislation promises tougher rules on food production, sales and regulation.
"Weibo and WeChat cannot be treated as trading platforms," Chen Xu, deputy director of the legal department of the China Food and Drug Administration (CFDA), told the Beijing Times.
"Trading platforms" instead refers to commercial websites such as Taobao and Jingdong,
By contrast, Chen added the Weibo and WeChat apps were for "individuals".
The draft amendment states food vendors would be allowed to trade online only after registering their shopping platforms – websites – under their real names. Their business permits would also be strictly reviewed.
These shopping websites would have to report any illegal conduct by the vendors to the food safety authorities.
Customers would be entitled to claim compensations from the sites if they failed to provide authentic information – including the full name, address and contact information – of offending vendors, according to the draft.
The central government has been trying to improve public confidence in food safety which has been severely hit by a series of scandals including recycled cooking oil and toxic beansprouts.
The mainland's top legislature has been reviewing the amendment of the Food Safety Law since last week. It will be the first amendment since the law was enacted in 2009 after the melamine-tainted milk scandal killed at least six children and made 300,000 more ill.
Although no cases of food poisoning from products sold online have been reported publicly, the food safety authorities are facing a growing threat from rogue vendors using the internet.
"There's a rising trend of crimes [from] trading food and drugs on the internet due to the fast-developing industry and logistics," Mao Zhenbin, a director from the CFDA warned during a joint press conference with the Ministry of Public Security in March.
More than 300 million mainlanders were shopping online, including for food, by the end of last year, according to China Internet Network Information Centre.
WeChat and Weibo, the most popular messaging and social media apps on the mainland, are trying to take a big slice of China's huge and growing online retail market.
WeChat, a mobile messaging app similar to WhatsApp which also offers a social networking function like Facebook, boasts nearly 400 million active users. It has allowed its users to establish in-app stores to sell goods to their friends and followers since May.
Meanwhile Weibo, a Twitter-like service with at least 129 million active users, announced last month its planned app called "Weimai" for vendors to provide services online.