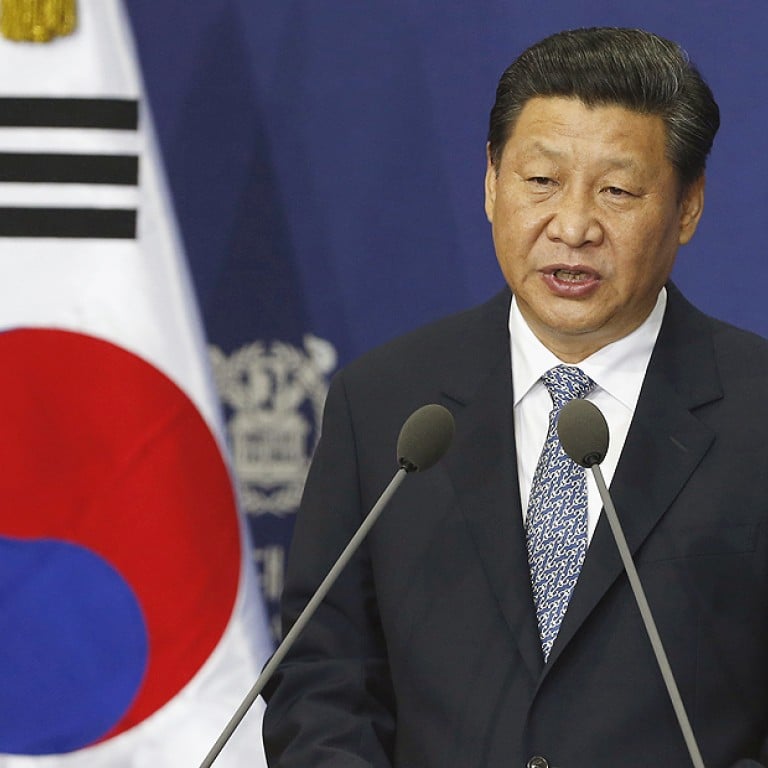 Update
President Xi Jinping highlights Japan's 'barbarous' militarist past in Seoul speech
Xi recalls Japan's repressive colonial rule and wartime aggression – a message guaranteed to go down well in South Korea
President Xi Jinping stressed the joint suffering of China and South Korea under Japanese militarism during a speech in Seoul on Friday that came days after Tokyo announced a landmark shift in military policy.
"In the first half of the 20th century, Japanese militarists carried out barbarous wars of aggression against China and Korea, swallowing up Korea and occupying half of the Chinese mainland," Xi said in an address at Seoul National University.
"When the war against Japan was at its highest pitch, the Chinese and Korean people shared their suffering and helped each other with sweat and blood," he added.
Xi's speech came on the second and last day of his state trip to South Korea which had been flagged as a snub to ally North Korea because of his decision to visit Seoul before Pyongyang.
But the hard-hitting language was saved for recalling Japan's repressive colonial rule and wartime aggression – a message guaranteed to go down well in Seoul.
Relations between Seoul and Tokyo are currently at their lowest ebb for years, mired in disputes related to Japan's 1910-45 rule over the peninsula.
China is also embroiled in a territorial row with Japan and analysts say Xi's efforts to stake out common cause with South Korea reflect a wider diplomatic strategy.
South Korea and Japan are the two key US military allies in the region, and exploiting any rift between them would help China in countering US President Barack Obama's strategic "pivot" to Asia.
Xi's evocation of Tokyo's military past carried particular resonance in the wake of Prime Minister Shinzo Abe's announcement this week that Japan's powerful military had the right to go into battle in defence of allies.
The shift to a policy of so-called "collective self-defence" marks a highly contentious change in Japan's pacifist stance and was viewed with deep suspicion in Beijing and Seoul.
Xi, whose two-day trip breaks the tradition among his predecessors to make Pyongyang the first port of call in Korea, held talks with South Korean counterpart Park Geun-hye on Thursday and witnessed the signing of cooperation documents to elevate bilateral ties. A joint statement said the nations would work to conclude negotiations for a free-trade deal this year.
On security issues facing East Asia, they said the development of nuclear weapons would seriously affect the stability of the Korean peninsula and the region, South Korea's Yonhap news agency reported. Favourable conditions should be created for the resumption of stalled six-party talks on denuclearisation, which also involve Japan, the United States and Russia, they agreed.
"In today's summit the two leaders agreed that the denuclearisation of North Korea should be realised by all means and agreed that [we[ resolutely oppose a nuclear test," Park said.
Xi adopted a more moderate tone, saying the Korean peninsula faced uncertainty and the concerns of different parties should be balanced and issues resolved through negotiations on an equal basis, state-run CCTV reported.
Pyongyang has conducted a series of rocket and missile tests since Kim Jong-un came to power in 2012.
Beijing is regarded as Pyongyang's ally, but diplomats said ties were not as positive as they once were because Xi and Kim have not exchanged visits.
North Korea may be moving closer to Japan, which yesterday eased some sanctions on the reclusive state in return for an investigation into the fate of abducted Japanese nationals.
Xi and Park also discussed recent developments in Japan. On Japan, both nations rebuked Tokyo after the cabinet voted to lift a 60-year-old ban on its armed forces fighting abroad.
Xi said the two nations could jointly commemorate the 70th anniversary of the end of war in the Pacific.
Watch: Xi and Peng welcomed by South Korea's Park Geun-Hye
This article appeared in the South China Morning Post print edition as: Beijing, Seoul oppose Korea nuclear weapons