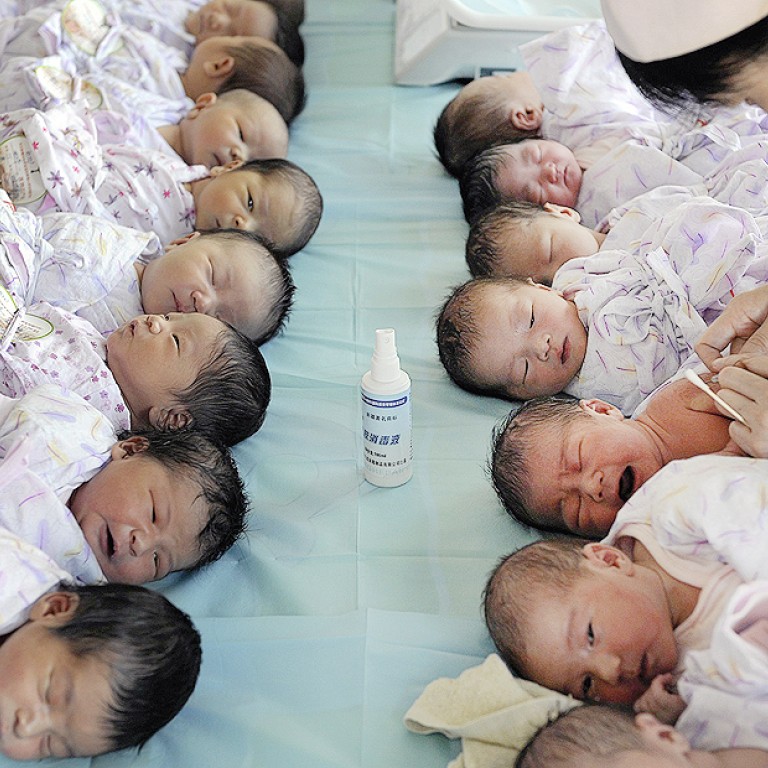 Birth rate holds steady after one-child policy eased, but there won't be further easing
A broader relaxation of the one-child policy would trigger a baby boom and introduce pressure on resources, family planners say
The birth rate has remained stable following the mainland's easing of the one-child policy, a senior official in charge family planning has said.
But the authorities would not allow all parents to have a second child, as the extra births would cause the population to spike, the official said.
Yang Wenzhuang, chief of the grass-roots family planning department of the National Health and Family Planning Commission, said about 271,600 couples had applied to have a second child, with permission given to 241,300.
It had been estimated there would be about two million extra births every year in the first five years after the easing.
"Many factors contribute to parents' decision to have another child, such as the attitude of the first child, the career plans of the mother, housing and employment. It also shows the influence of policy on birth is dropping," Yang said.
The commission estimates the population will hit 1.38 billion by next year, below the 1.39 billion target set out in the 12th five-year plan. The population is projected to reach 1.41 billion by 2020, also below the target of 1.45 billion set by the central government in 2006.
Twenty-nine of 31 provinces and regions - all except Tibet and Xinjiang - have relaxed the one-child policy since the National People's Congress approved the easing of rules but left it to provincial lawmakers to enact.
Zhejiang province, which became the first to relax the policy on January 17, has seen 43,100 applications and 2,444 extra children born. The province's health care and family planning authority initially predicted 80,000 extra births but now expects a quarter that number, said Wang Guojing, deputy director of the Zhejiang Health and Family Planning Commission.
"There has been no sudden increase in the birth rate and the birth order is very steady," Zhang said.
The mainland first loosened the one-child policy in 1984 by allowing couples in rural areas to have a second child if the first one was a girl. Rural and urban couples who are both only children themselves were also allowed to opt for a second child.
Under the recent relaxation, the policy extends to couples in which only one partner is an only child.
A survey by the commission last year found 80 per cent of married people aged 22 to 44 wanted to have two children.
Further easing the policy would sharply increase the potential number of births.
The number of fertile women who have given birth to one child but not a second is 139 million, according to the commission. But of those women, only about 10 million are only children.
"A universal two-children policy will introduce a serious baby boom in a short period of time and put a lot pressure on public services such as health and education," said Zhai Zhenwu, a demographer from Renmin University.
This article appeared in the South China Morning Post print edition as: Birth rate steady but easing rule any further unlikely