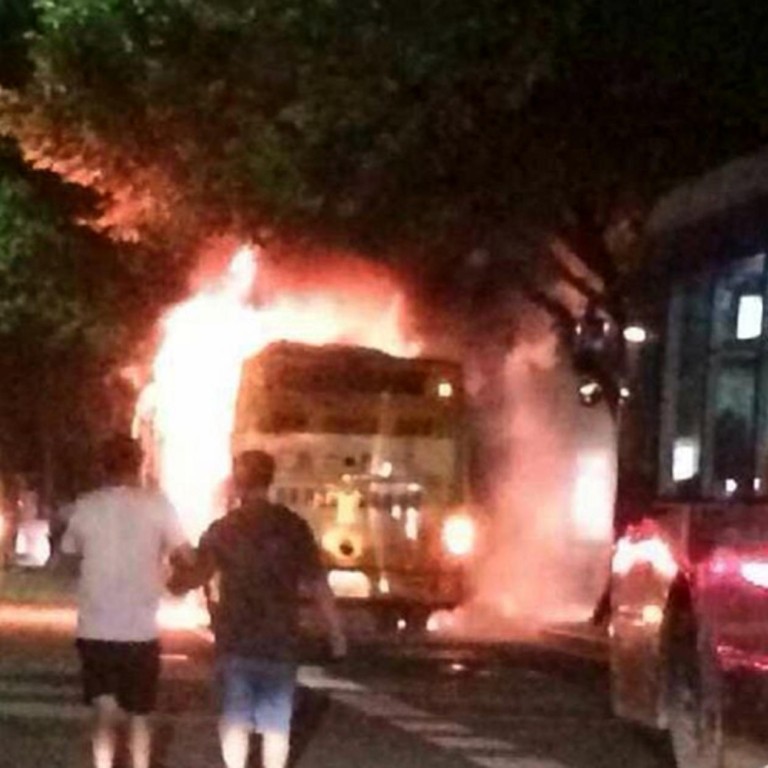 Update
Arson suspect arrested after Guangzhou bus explosion kills two, injures 32
Witnesses speak of blast followed by flames that engulfed the vehicle
Police in Guangzhou said today they had arrested a suspect who confessed to arson in relation to a bus explosion that killed two people and injured 32 others.
They identified the suspect as a 25-year-old man with the surname Ou who was originally from Hunan province.
The statement on the microblog of Guangzhou police gave no indication of a possible motive.
The bus burst into flames on a busy street in Guangzhou last night, local police said.
The injured included a woman who was three months pregnant. Eight were in critical condition, the police added in a Weibo post.
Watch: Surveillance video of Guangzhou bus explosion
China Central Television quoted police as saying that "forbidden items" carried by passengers might have caused the fire. "I heard a blast and then the entire bus was on fire," a witness told Xinhua. "I was less than 20 metres from the bus, but could feel the heat wave."
He described how people from roadside stalls tried in vain to put out the flames with fire extinguishers.
The incident occurred as passengers were getting off the packed route 301 bus at the Nandunhe Bus Station on Guangzhou Avenue at around 7.30pm, according to mainland media.
Many passengers were not able to get off, witnesses told the , as the flames spread so fast and the fire engulfed the vehicle within minutes. Some passengers waiting for the bus were also injured, the paper added on Weibo.
A passenger who fled the bus told Xinhua there were around 40 passengers on board. "I did not see or smell anything wrong beforehand," he was quoted as saying.
By 10.30 pm last night, the wreckage of the bus had been removed from the scene, though the area was still blocked off by police.
On July 5, 32 people were injured when a bus caught fire in Hangzhou , the capital of Zhejiang province. Security camera footage showed a passenger pouring a flammable liquid into the bus and setting it alight.
This article appeared in the South China Morning Post print edition as: Two dead in Guangzhou bus inferno