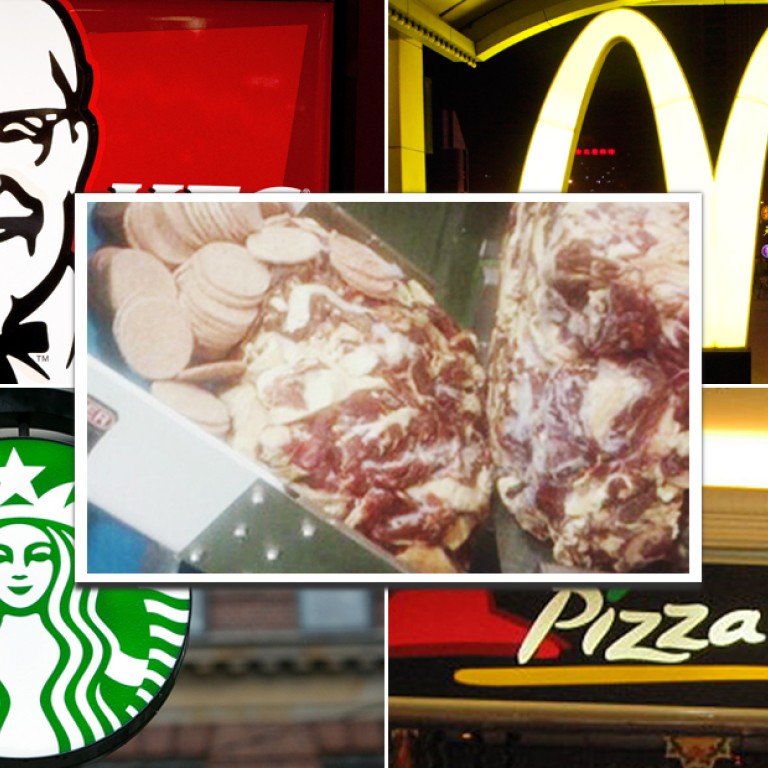 Update
Starbucks, Dicos withdraw sandwiches as China launches nationwide probe into 'rotten meat' firm
Starbucks has become the latest international chain to withdraw products from its shelves in the wake of the rotten meat scandal that has shaken China's fast food industry.
Starbucks has become the latest international chain to withdraw products from its shelves in the wake of the rotten meat scandal that has shaken China's fast food industry.
The news came as China's food safety agency announced a nationwide investigation into processing factories and meat suppliers used by the Shanghai Husi Food Company, accused of selling expired beef and chicken to McDonald's, KFC and Pizza Hut.
In addition to Husi's facility in Shanghai, inspectors will look at processing sites and meat sources in five other provinces in central, eastern and southern China, the China Food and Drug Administration announced. Violations will be "severely punished," the agency said on its website.
Watch: China 'rotten meat' factory quality manager: It was a company policy
Seattle-based Starbucks said it had removed chicken and apple paninis from cafes in Shanghai after discovering that it had used meat purchased from the company, amid reports of food safety violations.
Mainland fast-food chain Dicos yesterday said it had taken breakfast sandwiches off its menu because its ham had been sourced from the meat processing firm.
A statement released by Starbucks said: "Our review has identified one product, the 'Chicken Apple Sauce Panini', sourced from one of our suppliers, that uses chicken provided by Shanghai Husi." The sandwich was sold in 13 different provinces and major cities.
Swedish retailer Ikea also said it had bought chicken meat for its mainland branches from the factory between September 2012 and August last year, adding that it was "highly concerned about the ingredient quality issue".
The affected chains have so far said no meat from the factory was used in their Hong Kong branches.
Shanghai food authorities on Sunday shut the factory, owned by a US-based company, as it investigates allegations that Husi falsified the expiry date on some of the meat products sold to international chains McDonald's, KFC and Pizza Hut.
The move followed a news report on Shanghai's Dragon TV exposing the malpractice at the factory.
Watch: China supplier of KFC, McDonald's accused of using rotten meat in fast-food products
The report showed an e-mail from management, which allegedly asked employees to extend the expiry date of 10 tonnes of frozen beef. The meat, reportedly already green and odorous, was reprocessed, refrozen and repackaged with a new expiry date, the report alleged.
The report featured footage showing staff picking up food from the floor and throwing it into processing machines.
Discarded Chicken McNuggets, a McDonald's staple, could be seen being reprocessed until they passed inspection. The report indicated that clients did not know about the practices.
McDonald's and Yum Brands, owner of the KFC and Pizza Hut franchises, reacted by saying they had stopped sourcing meat from Husi and had started investigations. Both companies apologised, and said their mainland restaurants could now face a shortage of certain products.
Yum Brands identified its sausage and egg burger and a "spicy roasted burger" as being affected. McDonald's did not specify any products.
Husi's parent company, the Illinois-based OSI Group, apologised, saying it had formed an investigation team and was fully cooperating with inspections conducted by the authorities.
"Our ... management believes this to be an isolated event, but takes full responsibility for the situation and will take appropriate actions swiftly and comprehensively," its statement said.
The China Food and Drug Administration has launched an investigation into the company.
Xinhua said administration investigators visited the processing facility in Shanghai's Jiading district on Sunday evening, but were stopped by security guards until police arrived.
The agency said it had since closed the processing facility and seized suspected raw food items. It ordered clients to take the factory's products off their shelves.
The factory was licensed to export to Hong Kong and Japan, its website said. The Centre for Food Safety said it had no record of any meat imports from the Shanghai factory to Hong Kong.
A spokeswoman for McDonald's Hong Kong said it did not receive any products from Husi Shanghai but had been using meat supplied by OSI group branches outside Shanghai.
KFC and Pizza Hut told media that they did not use any products from the factory in question.
James Button, director of the Shanghai-based consultancy SmithStreetSolutions, said the Husi case will make it more difficult for international brands such as McDonald's and KFC, to compete for costumers in China.
"When they first entered the market, they offered unique experiences in terms of novel food choices, clean environment and perceived higher quality and safety vs. other options," he said.
"This latest scandal is yet another reminder to consumers that no one is above food quality issues in China."
The Shanghai factory processed 25,000 tonnes of food annually. It received a food safety award from Jiading district this year.
OSI, which has close to 60 manufacturing facilities worldwide and had revenue of over US$5 billion in 2012, has been supplying McDonald's in China since 1992 and Yum since 2008.
McDonald's has about 2,000 restaurants in China. Yum has 6,200 branches in China, while Ikea has 16 stores.
This article appeared in the South China Morning Post print edition as: Chains sourced food from factory in meat scandal